Tub & Shower Installation Houston
Tub & Shower Installation by John Moore Plumbers
Bathroom Tub & Shower Remodeling, Upgrades and Makeovers
Who doesn't love to submerge themselves in a relaxing bath drawn at the perfect temperature? Bathtubs are a chance to step back from the day and take time for ourselves when we need it most. Refine your home's bathroom with upgrades installed by Houston's original plumbing and remodeling experts at John Moore services - serving Houston since 1965.
Get the Perfect Shower or Tub with John Moore
Sink into Your Oasis: Finding the Right Bathtub for Your Home
Bathtubs today come in thousands of styles, with enough upgrade options to ensure a truly unique bath-time experience, but working through the choices yourself can be overwhelming. Fortunately, John Moore's renovation team is here to help you on that journey. We can work with you from the start to eliminate impractical choices, hone in on what you truly want, and match choices to your budget.
We offer quality models from a variety of manufacturers including Jetta, Kholer, bootz, and Mustee. With names you trust, you can rest easy knowing that your new bathtub will last you and your family for many years to come. Best of all, styles offered change and expand each year, so there are always new options to explore.
Selecting the Right Style Tub for Your Space
Would you prefer to live on a ranch or at a beach resort? Would you rather slip back in time or imagine the future?
Along with any health and safety needs, personality is a driving factor in choosing the right bathtub for your bathroom. Features like tiling and upgraded fixtures can lend a degree of added elegance, and John Moore can help you coordinate the look you're going for with any accessories needed along the way.
Tiling can also be customized as part of the installation process, with John Moore offering thousands of tile options. Whether you want a tiled enclosure for your tub or a simple surround to keep water from wicking up your walls, we can design a look that fits with your new tub and the overall feel of your bathroom. An elegant and durable expression of your bathroom's personality, tiling patterns can range from harlequin and herringbone to brunswick and brick. Need a way to tie in your bathroom design with the rest of the home? Consider replicating some of the colors and designs from your kitchen backsplashes or countertops.
More common bathtub styles range from antique inspired models like the classic clawfoot tub to sleek, modern designs like whirlpool tubs, but the primary design of any bathtub will be based on where the tub actually sits within your bathroom. For this reason, it is particularly important to always go with a professional team like John Moore for home bathtub installations to ensure proper sizing and fit for your new tub.
Stand-Alone Tubs
Standalone tubs are all about free movement and space.
Standalone tubs require larger bathrooms for installation but are easier to remove and install than tubs that must be fitted to an existing wall. Standalone tubs can range in size and design, but many homeowners enjoy them because they act as a focal point to inspire the rest of the bathroom's design. As the oldest and most timeless design choice, standalones are always in style and built to last.
Clawfoot bathtubs are named after the unique claw or paw shaped legs that support the unit and are popular throughout the United States, recalling a time when bathing was the mark of true luxury. While actual antique units can be expensive and structurally unsound, we offer a variety of classically inspired clawfoot bathtubs to make your bathroom come alive.
Slipper designs are another possibility when considering standalone tubs. Shaped with ends that rise at either side, slipper tubs are built to cradle the bather and naturally allow users to slide back and relax. While these tubs are typically seated on a rounded base, they can also have claw foot legs or other supports.
Alcove Bathtubs
The most common bathtub design.
Alcove bathtubs are the most common bathtub design and the most space conscious choice. Typically shorter than corner or stand alones, the basin of an alcove tub fits neatly against three sides of the bathroom with the plain front panel of the basin facing outward. Alcove baths are still very customizable even though they are more affordable than standalone tube and typically come with the familiar tub/shower combination.
Corner Bathtubs
The largest of the three major bathtub styles.
Corner tubs are five sided, surrounded on two sides by the walls of your bathroom with three front panels for the tub itself. Corner bathtubs are the ultimate in luxury and are the largest of the bathtub options, often capable of fitting more than one bather at a time. Upgrades like air jets are well suited for corner bathtubs, and the corner tub is the perfect choice for families wanting the at-home spa experience.
Find Your Waterfall
Selecting the Perfect Shower for You and Your Family
Beyond our bathtub choices, John Moore offers a variety of shower options. Everything from the spray faucets to the trim, doors, and tiling can be customized to your liking. As with our tubs, we offer only the best names in home showering: Jetta, Moen, Kholer, and Mustee. Between these brands, customers can choose from thousands of catalogue options. If you need a little extra help deciding what to get, our expert consultants can help you narrow down design choices to find the perfect fit for your family's sense of style.
Why go with a shower instead of a tub? For some families, this choice is all about convenience. Showers are often easier to clean and maintain than bathtubs. Showers are also built toward customization; for tiled showers, the design options are endless and our team can create a totally unique look just for you.
Whether you want an intricate, multi-colored shower or a simple and clean look, we will help you find a design that fits with your chosen bathtub and compliments the lighting, style, and mood of the room while protecting your walls from moisture. Proper tiling can also be coated to make it non-slip or make the surface easier to clean, thus extending the shower's lifetime. You also have the choice to customize the style, number, and function of showerheads in your new shower. Whether you want a massage-head spray, sprayers on all three walls, or even a digital showerhead with smartphone temperature control, we can help you.
Walk-In Showers, Roll-in Showers, and Safety Add-ons
After we have poked a hole through the stoppage and allowed water to start draining again, we will ask to run a camera to make a visual inspection. A visual inspection will give us a better idea of where the stoppage is occurring and what's causing it so we can find the best solution.
Aside from aesthetic preference, many customers choose walk-in or roll-in showers for improved accessibility. Both walk-in showers and roll-in showers make washing up easier for everyone and remove potential fall hazards. While you can always add grab bars and seats to a tub too, walk-in and roll-in showers are always the easiest home washing unit option for aging or disabled homeowners.
Both roll-ins and walk-ins are built without major lips, steps, or other barriers between the floor and the shower's entrance, making it possible to simply step inside or roll in on a wheelchair. (Some walk-in showers have a step, but most walk-in showers have just a small barrier so water doesn't get out). Walk-in showers are often wider than the average shower, coming in at around 32 by 60 inches, and roll-ins are even wider. Most models will also include a full fold out or fixed pre-installed shower chair for easy transfer. Textured flooring and hand bars can also be installed to prevent slips.
Additional safety add-ons include steel railing to help you remain upright and standing while the shower floor is slippery with suds. Showerheads can also be repositioned at non-standard heights for easier reach, and detachable showerheads may also be added so that you can easily clean hard to reach spots while sitting. Similarly, ledges for soaps and shower gels may be placed lower on an accessible shower to place bath products within easy reach.
Professional Service Makes the Difference
Committed to Excellence in Houston Since 1965
In 1965, John Moore started as a plumbing service here in Houston. Committed to excellence from the start, we employ and train experts and our professionalism means that customers never need to worry. We have over 50 years of experience in plumbing, bathtub and shower installation experience. Our team is dedicated to making sure your new bathroom looks just right. While we live in an era of do-it-yourself remodels, going with a professional service company that cares about quality craftsmanship means you'll waste less time, energy, and money when you choose John Moore. When a bathtub or shower is properly installed, families can use it for decades to come, and we want to make sure that you get the greatest enjoyment possible from your hard earned investment.
Whether you're coming to us fresh or are throwing in the towel on remodel, we promise to see you through to a clean and beautiful new bathroom. Get the bathroom you've always wanted and let us find options that fit your budget and needs.
The No-Sweat Installation Process
John Moore's tub and shower installation process is all about putting our customers at ease.
John Moore's tub and shower installation process is all about putting our customers at ease. We know it can be disruptive to have workers come into your home, which is why we work hard to make the experience as relaxed, efficient, and pain free as possible. As with all remodels, our process begins with a consultation and an estimate. We will work with you to figure out the perfect tub or shower and then estimate the total cost of replacement with labor included. The initial estimate is based on a non-invasive inspection and is subject to change if we find damage with your wall or pipes when we tear out your old unit, but we work hard to avoid hidden costs and keep you apprised of the project costs at each point in the process. After we have given our estimate, we will schedule construction based on your availability and figure out a work schedule that is as non-intrusive and comfortable for your family as possible.
The tear out of your old unit and actual replacement installation happens next, beginning with demolition. We start by covering the floor each time we come into your home and will then tear out and completely remove all traces of your old bathtub or shower unit. Our team members wear shoe covers throughout the job to keep your home clean, and we even take care of the disposal and recycling process so you don't have to. What happens after that depends on the kind of unit we are installing for you. For something like a tile shower, we will pour an initial layer of cement, a vinyl layer, a second layer of cement, and then tile the floor. Next, cement board goes up to protect your walls and then the tiles are added to these walls. Finally, we install the glass enclosure if your new shower calls for one. At the end of each day, we remove all debris from the bathroom to ensure a clean workspace.
For straightforward installations, the tear out and installation process may take only 4 to 5 working days. However, we will continue working until the job is done and address all plumbing issues that could impact your new tub or shower before wrapping up.
For bathtubs, the installation process requires fewer steps. After tear out, we will fit your new tub to its enclosure if it is a corner or alcove tub or simply place the new tub where you have designated if it's a standalone tub. If any tiling needs to be done, it will be completed last.
Still worried about the installation process? John Moore strives to be an outlier in the home service industry, bringing professionalism and exceptional customer service to each remodel. Whether you're concerned about past experiences with other contractors or are simply nervous about the time and investment required, check out "5 Misconceptions About Bathtub and Shower Replacements and John Moore's Commitment to Pain Free Remodels" to learn why choosing John Moore means you won't have to worry.
Know Your Home's Bathtubs and Showers
How they work
Bathrooms are the ultimate escape and sanctuary in your home. With promises of freshness and warmth, bathrooms rejuvenate us every day, and no component of a bathroom is more rejuvenating than the bathtub and shower. That's why John Moore is committed to delivering quality, custom bathroom solutions for each of our customers. Whether you want to change a tub to a shower for easier access; are looking to upgrade to a sleek, modern shower; or want to find an antique inspired clawfoot bathtub for a rustic look, we can help you find the perfect addition for your home.
When to Dive In and Get a New Shower or Tub
Because most bathtubs and showers are made as a single press piece of fiberglass, ceramic, or porcelain, repairs are difficult and oftentimes impossible.
Every tub or shower must be replaced eventually, and pouring money into an older unit only prolongs the inevitable. Worse still, putting off a needed upgrade deprives you of the luxury and comfort you deserve. Repairs are temporary and expensive, and living with a tub or shower that doesn't suit your needs can become more than just an inconvenience with time. Whether you're dealing with a broken unit, think it's time to remodel, or are struggling with an inaccessible tub or shower, John Moore can help.
If you notice that tiles are falling off in your bathroom, your tub basin is discolored, your grout is cracked, your floors are soggy, water damage has damaged your walls, or you smell mold and mildew in your bathroom, it is time to give us a call.
Out with the Old
Getting Rid of Problem Tubs and Showers
There are a few common ways tubs and showers can break or cause problems for families. Unfortunately, most major problems with tubs and showers also result in total replacement. By far the biggest problems you may face include sanitation and safety issues, ruined finish, and water damage.
As you age, getting out of a tub or showering can become more of a challenge thanks to stiff joints, poor flexibility, and imbalance. On top of that, when an older bathtub or shower is poorly positioned in the bathroom it can make entering and exiting all the more inconvenient. Furthermore, old tubs and showers tend to break down in a way that makes slipping or getting stuck more likely. In either of these cases, replacement is encouraged as newer showers and bathtubs allow for safer access and can be sized and fitted to make getting in and out easier.
Sanitation usually becomes an issue for older jacuzzi style tubs with jets. While it is possible to scour a tub, the jets are expensive to keep cleaning and bacteria can hide or become resistant to cleaning after years of build-up. This problem is most often seen in tubs with faulty or misinstalled jets and is perhaps more serious than any other because it represents a clear danger to you or your family.
Cracks in your tub or shower can also be dangerous. While tubs and showers are made from hard surfaces like porcelain or fiberglass, they can still break with enough force, creating a hole or jagged edge that could present a risk to whomever takes a bath, especially under slippery conditions. In addition, cracks are unsightly and ruin the entire bathroom's atmosphere. If your tub or shower is developing a crack, it is important to upgrade before the seam of the crack widens and becomes a hole.
Almost as unsightly as cracks and holes in a tub or shower, tarnished finish is a problem for most aging tubs. After years of treatment with harsh cleaning chemicals and inevitable sediment buildup, most surfaces become dingy or even change colors entirely. Tarnished finish destroys the look of an entire bathroom and can make the space feel dirty even when it is otherwise spotless. Tubs and showers with destroyed finish may also present a safety hazard as they often become slicker with the change, losing any texture that the unit may have come with to assist with standing up in the bathtub or staying balanced upright while washing.
Still not sure a new tub is worth the investment? Check out our blog "Wise investments: Five Added Benefits of a New Tub or Shower".
Upgrade to a Better Bathing Experience, You Earned It
Sometimes the change to a new bathtub or shower coincides with a larger overhaul of your bathroom or the simple need to upgrade.
If your family is already repiping or making other major changes to your home's plumbing system, it is often more cost effective to upgrade your bathtub or shower at the same time.
After all, installing a new piping system only to continue using a less than ideal shower simply trades off one less than ideal scenario for another. John Moore firmly believes in a better bathroom experience for our customers. Whatever your reasons for remodeling, we will make sure that this upgrade exceeds your expectations.
Safer Bathrooms for Everyone
Walk-In Showers, Roll in Showers, and Accessibility Add-Ons
Bathrooms are often the most dangerous room in a house even under the best of circumstances. For homeowners with chronic illness or mobility considerations, a poorly designed tub or shower can be a constant fight against injury. If you or a member of your household struggle to get in and out of a unit without rails, fight not to slip or trip each time you bathe, or have no way to sit down while showering, an upgrade can be a great way to bring some safety and peace back to your clean-up routine.
With minor adjustments, John Moore's shower installations can all be made accessible to those with mobility considerations, and our expert team of renovation specialists can help make decisions about unit positioning, height, and needed safety add-ons. Even if you are able bodied and healthy, considering an accessibility upgrade now is always a worthwhile investment for your future, particularly if you plan on staying in your home past retirement. Accessibility features add genuine value to your home while also making it safer for all.
Want to know more about accessibility upgrades and how they give you a more secure home bathing experience? Check out "Bathing is for Everyone: Getting the Most from Accessibility Upgrades".
Visualizing your Bathtub or Shower
Explore your Options
While most homeowners are perfectly capable of using a bathtub or shower, few can name the inner workings or mechanisms of their units. Learning more about your unit will help you catch problems early and get a better idea of what you might want when it is time to upgrade.
Rub-a-dub-dub, what's that in my tub?
Common Bathtub Components and their Function
Your bathtub is a complicated machine with many moving parts and potential failure points. Fortunately, our simple diagram can teach you the name and function of each component. Keep in mind that each of these components can act as a failure point for a bathtub as well. If you are having trouble with any point along the bathtub's system, John Moore will typically be able to diagnose the problem and recommend a solution.
Standard Components of American Bathtubs
Faucet – Controls the water temperature and pressure. Water leaves the home's pipes to enter your tub through the faucet. Faucets may rust with time and need replacement.
Rim – Varies in thickness, but acts as the wall of the bathtub and protects the rest of the bathroom from the water.
Paneling – May be decorative or practical, but acts as an enclosure for the front of the tub.
Outflow Pipe – Allows greywater to drain from your tub
P-Trap –Catches large objects that flow down the drain from the outflow pipe. May easily become clogged, but also prevents loss of important items
Waste outlet – Connected to the outflow pipe by the trap, this section of the tub drains to the main line drain of your home to take greywater out and away from your home.
Cold Water Supply Pipe – Controls the cold water supplied to your tub
Hot Water Supply Pipe – Delivers hot water to your tub.
Standard Components of American Showers
Shower Components and their Function
Showers can be complicated and heavily customized, but many components are the same across almost all models. The diagram below can help you learn more about the function of each part in your shower system.
Shower head – Water flows into the shower from this point. Controls pressure and flow of water for your shower. May be customized for various settings and may sometimes be detachable with an added hose for length.
Faucet Handles – Allows manipulation of water's temperature and flow from the shower head.
Shower Arm – Connects the shower head to the wall of the shower
Shower Tiles – These can come in a variety of designs but ultimately serve to protect the walls of your home from moisture while providing an easy to clean surface inside the shower
Drain – Allows greywater to leave your shower to begin its journey to the mainline drain pipe.
Trap – Prevents jewelry and other important larger items from disappearing directly to the mainline drain pipe
Hot water pipe – Delivers hot water to the shower
Cold water pipe – Delivers cold water to the shower
Shower Door – Seals in moisture from the shower to prevent any water from wicking up walls or floors.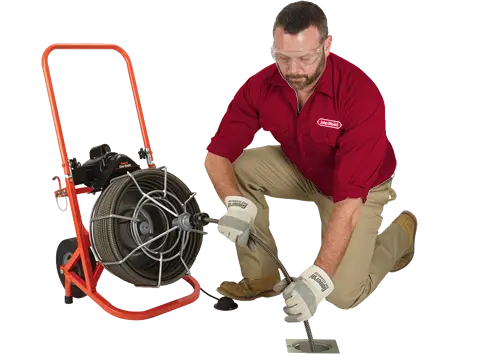 $69
Kitchen and Mainline Stoppages
*Kitchen and mainline stoppages with accessible cleanout. 60-day warranty. Attempt to clear with a cable machine.
*Mention this special.
Fall Furnace Tune-Up & Inspection
With a No-breakdown Guarantee!*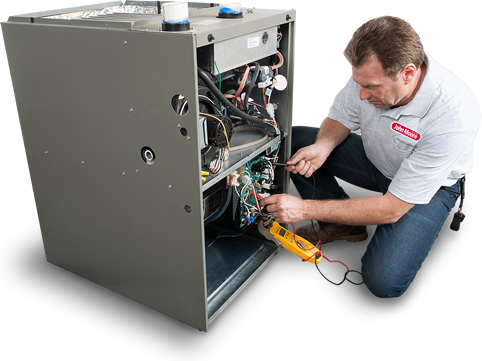 Get a 30-point inspection and tune-up to keep your system in optimal condition!
*If your heating system fails within one year of the maintenance, the cost of the $69 tune-up can be applied toward any repairs.
*Mention this special.
Hot Water Never Felt So Good!
*Traditional water heaters only. Price is per unit.
*Mention this special.