Residential Indoor Lighting Houston
Licensed Electricians and Indoor Lighting Experts for Your Home
From fixtures to floodlights, there are, quite literally, thousands of options when it comes to lighting your home. Indoors, a balance of ambient, accent and task lighting creates comfortable, inviting living spaces and work areas.
Lighting enhances landscaping, driveways and walkways, plus provides an important security feature. But how do you know which interior and exterior lighting choices are right for your home?
Our licensed electricians and residential lighting experts are ready to listen to your needs. Then we'll assess your home's current electrical system and lighting features, and devise a lighting solution that works for you. From updating fixtures in the kitchen to a full exterior lighting installation, John Moore's lighting pros can brighten your days and light up your nights quickly, safely and to your complete satisfaction using one or a combination of lighting solutions.
Indoor Lighting Solutions from John Moore
Ambient Lighting
Bathe your living spaces and entrances in soft, broad-coverage ambient lighting.
Hanging fixtures, wall sconces, ceiling elements and recessed lighting are popular sources of ambient lighting in homes, plus dimmer switches let you control brightness and mood throughout the day.
Accent Lighting
Directional lighting and accent spotlights create contrast to highlight specific areas within a room.
Accent lighting is quite versatile and can be installed within ceilings or achieved using fixtures such as track lights and shelving lights.
Specialty Lighting
Incandescent, fluorescent and halogen bulbs offer distinctive lighting qualities.
Your John Moore lighting expert will help you decide which choice is best for your indoor lighting needs — the soft glow of incandescent bulbs, the daylight brightness that fluorescent and halogen lights bring to workspaces, or a combination of all three.
Fall Furnace Tune-Up & Inspection
With a No-breakdown Guarantee!*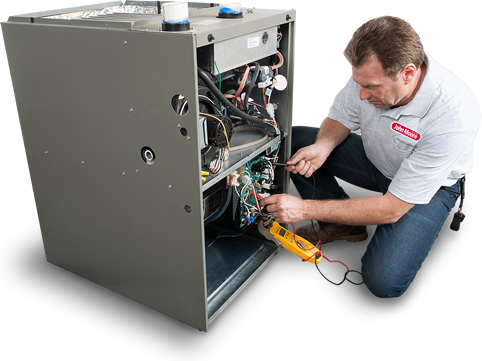 Get a 30-point inspection and tune-up to keep your system in optimal condition!
*If your heating system fails within one year of the maintenance, the cost of the $69 tune-up can be applied toward any repairs.
*Mention this special.