Sewer System Drain Backups & Repair Houston
Sewer System Backups and Repair by Licensed Houston Plumbers
You can trust your main sewer line backup, clean-out and system replacement to John Moore.
John Moore plumbers and trained sewer line technicians are fully equipped to solve all of your Houston sewer stoppage problems, including sewer repair and sewer line replacement. We are the residential Houston sewer stoppage and plumbing company that local homeowners have trusted with sewer and drain cleanings and repairs since our founding in 1965. Give us a call and see why. And be sure to ask out our In-House Financing Options.
Signs of a Houston Main Sewer Line Stoppage
Does foul smelling water come out of your tub or shower drain when you flush your toilet? Do you notice a gurgling sound coming from your toilet when you take a shower?
Does your toilet overflow when you use your washing machine? It may seem like your home has lost its mind, but these are all just signs that there is a stoppage in your home's main line.
What is a Main Line Stoppage in Houston?
Every drain in your home - your sink drains, shower drains, tub drains, washing machine drains, and toilets- are connected to your home's main sewer line in Houston.
When you wash something down your sink, take a bath or shower, wash clothes, or flush your toilet, that waste water goes down a vertical drain line that ties into a larger horizontal Houston main line.
Main lines in Houston are sloped so that gravity carries waste water down your main line and into a public sewage or septic system. But if your main sewer line becomes clogged, your waste water will eventually have nowhere to go except for up through another drain in your home, referred to as sewage backup.
First floor tub drains and first floor standalone shower drains are almost always where homeowners first notice sewage backup because they are the closest drains to the main line. If your home doesn't have a tub or shower on the first floor, then the toilets on the first floor of your home will make gurgling noises, and possibly overflow with water whenever you take a shower, use a sink, or wash clothes or dishes.
Having sewer water come back up through a fixture is a nightmare for some, but the Houston sewer stoppage experts here at John Moore are here to stop the problem and prevent it from ever happening again.
What Causes a Houston Main Line Stoppage?
Main line stoppages in Houston are always caused by an obstruction in your main line, and there are several main line obstructions we see over and over again:
Build-up in a Bellied Line in Houston
Remember how we said that Houston main sewer lines slope so that gravity carries your home's waste water to a public sanitation system? Well, sometimes this slope gets a belly, or dipped section of pipe, especially if it's a main line made out of PVC.
Houston Channel Rot or Broken Cast Iron
Before it became standard for Houston main sewer lines to be made out of PVC, they were mostly made out of cast iron that tied into a concrete main line before reaching the public sewer system. If your home was built before the 80s, it more than likely has a cast iron main line.
Tree Roots Intrusion in Houston
In older homes, it was common to have a cast iron or ABS main line that turned into a concrete main line after passing the edge of the home. Concrete main lines are made out of sections of concrete pipe that connect using bell and spigot joints.
Clearing a Houston Main Line Stoppage
When there's nasty water coming out of your tub drain or your toilet is overflowing, the first thing you want is to make that go away, which is why Houston main line stoppages are a priority call here at John Moore.
John Moore's immediate solution- and one of the first things we do at any job where we're fixing a main line stoppage- is clear the obstruction to allow your home's waste-water to flow through the main line again.
Before we attempt to clear the Houston sewer stoppage, we try to identify roughly where the stoppage is occurring in your main line, either under your home, or under your yard or driveway. We do this by noting the location of each fixture that's backing up and by opening the two-way cleanout outside of your home. If the two way cleanout is also backed up, then we know that the stoppage is somewhere past that point in the main line and can run a snake cable from there. If the two-way cleanout is not backed up, then we run our main line clean-out cable through a drain in your home.
When we run a cable in an attempt to poke a hole in the stoppage, eventually one of two things will happen: 1) We will hit the stoppage, poke through it, and then the water from your backed up drain will begin going down or 2) We will hit a tough spot indicating to us that we have either hit mud from Houston channel rot or a tree root intrusion in Houston. If we hit a tough spot, we can usually tell if it's mud or roots. And if it's roots, we will use an attachment and attempt to pull some of the roots off, allowing water to drain. If it's mud, we know we're probably dealing with channel rot or a hole in your pipe and will recommend a Houston main line reroute.
Visually Inspect the Main Line in Houston by Running a Camera
After we have poked a hole through the stoppage and allowed water to start draining again, we will ask to run a camera to make a visual inspection. A visual inspection will give us a better idea of where the stoppage is occurring and what's causing it so we can find the best solution.
When looking for a vendor of PEX piping solutions, John Moore found that Uponor provided an unmatched product and service guarantee when compared to other PEX manufacturers. Uponor's AquaPEX® piping system utilizes their patented ProPEX® expansion fittings. When compared to other PEX and metal pipe connection methods, ProPEX® expansion fittings are the only connection fittings designed to strengthen over time. How? Because Uponor PEX pipes have the ability to always return to their original diameter, they can form a tight seal around the expansion fitting, essentially squeezing around the fitting with over a thousand pounds of force. Unlike connections and tie-ins used in all other piping systems, ProPEX® connections are one of the strongest parts of a PEX piping system.
Hydro-jetting in Houston
Sometimes when we do a visual inspection, we find that there is a lot of grease and other build-up on the sides of the pipe.
This build-up not only decreases the inside diameter of your pipe, but also makes it difficult for us to identify the actual problem, whether it be a bellied pipe, tree roots, or channel rot. So our solution if we find a lot of build up is Houston Hydro-jetting, a second cable that shoots water out at up to 4000 psi, effectively clearing out any grease, gunk, and other goop getting in our way.
Typically, after doing the above three, we will have solved the immediate backup issue and identified what caused the main line stoppage in the first place. After this, John Moore highly recommends moving forward with replacing or fixing your main line so that a stoppage won't happen again anytime soon. After this, John Moore highly recommends moving forward with replacing or fixing your main line so that a stoppage won't happen again anytime soon.
Houston Main Line Repair and Replacement
To permanently fix a main line and prevent recurring stoppages, we have to dig.
Now, whether we're simply digging a trench or actually tunneling under your home depends on where the problem area is. For instance, if we find out during our visual inspection that the cause of your main line stoppage in Houston is tree roots, then we will dig a trench, remove the concrete pipes, replace them with schedule 40 PVC, and tie them into the city line. But if we find that the problem is a bellied PVC pipe or channel rot occurring underneath your home, then things get a little trickier.
Tunnel Repair
To fix any length of pipe under your home, we have to dig an access tunnel.
Sometimes, all that's needed is a spot repair, which is when we fix a little section of pipe. For instance, if we determine from our visual inspection that your main line stoppage is occurring right next to a fixture, like a tub or a toilet on the edge of your home, than we only have to dig a small access tunnel. But if your main line has a belly in the middle of your home, we need to dig a long access tunnel and either reslope the pipe or completely replace it. In instances where the problem is cast iron channel rot, we will replace sections or the entire main line with schedule 40 PVC.
Houston Main Line Reroute
When we're running a cable down your pipe to clear the stoppage, if we hit mud, we recommend a Houston main line reroute. Why?
Because mud indicates that there is a hole in your main line, and it's almost impossible to patch a hole in an underground pipe. So the easiest solution is to reroute.
For a reroute, we cap the old line and build a new one running from your fixture to the outside of your home and then back underground. We either tie this rerouted line past the area that's rotted through on your main line, or we reroute and replace the main line completely. John Moore always uses schedule 40, solid core PVC in our reroutes, and we try to use a thicker diameter pipe with steep slope to ensure your waste-water can easily flow down your main line and get where it's going.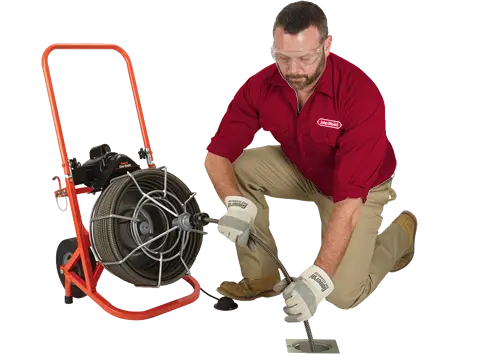 $69
Kitchen and Mainline Stoppages
*Kitchen and mainline stoppages with accessible cleanout. 60-day warranty. Attempt to clear with a cable machine.
*Mention this special.
Fall Furnace Tune-Up & Inspection
With a No-breakdown Guarantee!*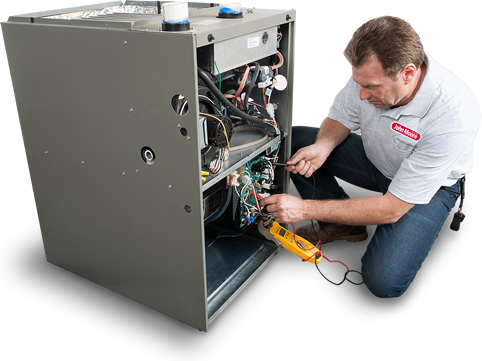 Get a 30-point inspection and tune-up to keep your system in optimal condition!
*If your heating system fails within one year of the maintenance, the cost of the $69 tune-up can be applied toward any repairs.
*Mention this special.
Hot Water Never Felt So Good!
*Traditional water heaters only. Price is per unit.
*Mention this special.