Whole House Surge Protection Houston
Whole-House Electrical Surge Protection Installation
Electrical power surges are spikes in your home's electrical current that can cause catastrophic damage to electronics in your home such as light bulbs, televisions, computers, appliances, mobile devices and electrical sockets.
What causes electrical power surges?
Typically when people think power surges, they picture a lightning strike causing a black-out and ruining their television. Lightning can cause a power surge, but the truth is that 80% of power surges are generated inside your home. Generators and motors found in A/C units and appliances send surges into your electrical system on a daily basis. Sometimes these surges are small and simply wear down electronics and lights. But if multiple motors turn on at the same time, it can send an electrical surge through your home's electrical system that's large enough to permanently destroy electronics plugged into your outlets.
Why whole-home surge protection?
Whole-home surge protectors control surges directly where your home's power is distributed: your breaker panel. Large appliances and systems that can cause surges, your air conditioning unit and power generators, each have a dedicated circuit on your breaker panel. When they send surges back to the panel, they are distributed to other electronics in your home. A whole-home surge protector monitors these surges and diverts excess power into the grounding wire while allowing normal voltage levels to safely continue powering your electronics.
With whole-home surge protection in place, light-bulbs and electronics will last longer because they will no longer receive surges from larger appliances. Not only will you save money, you can also feel better about your television, computer, and mobile devices being safe from large surges. John Moore only delivers the best to our customers, which is why we exclusively use industry leading products from Eaton Cutler . For more information on Eaton Cutler surge protection, visit their website here.
Fall Furnace Tune-Up & Inspection
With a No-breakdown Guarantee!*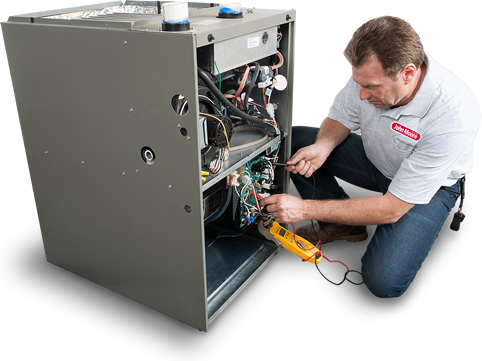 Get a 30-point inspection and tune-up to keep your system in optimal condition!
*If your heating system fails within one year of the maintenance, the cost of the $69 tune-up can be applied toward any repairs.
*Mention this special.