Electrical Panel Repair & Replace Houston
Electrical Panel Repair and Replacement by Licensed Electricians
Keep your home's electrical panel safe, on track and up-to-code with John Moore Electrical Panel Services
Here at John Moore, our licensed electricians are experts in electrical panel repair in Houston are committed to proper electrical panel maintenance and excellent customer service. Do you have rooms that lose power? Are you constantly turning circuit breakers on and off due to power surges? These can all be symptoms of problems with your home's electrical panel.
Houston electrical outlets can stop working for no specific reason, or you may be dealing with a blown fuse, a tripped circuit breaker, or a faulty outlet.
If a quick reset doesn't do the trick, John Moore's licensed Houston electrical panels experts will alleviate you from guesswork and potentially unsafe conditions. We know what to look for in determining the underlying cause of an uncooperative outlet – and we can uncover any safety concerns during our evaluation.
If you notice electrical issues in your home, schedule a visit from a licensed John Moore electricians online or by calling us at 713-730-2525.
Houston Electrical Panels 101:
The Parts and Purpose of Your Home's Electrical Panel
| COMPONENT | FUNCTION |
| --- | --- |
| Main Circuit | A single lever usually found at the top of the panel. Controls the power the panel puts out to the entire house. Can be shut off to power down a home's electrical system. |
| Circuit Breakers | Levers appearing in parallel down the center of the box. Used to shut off power to selective sections of the house or specific major appliances. |
| Busbar | A single strip of copper along the side or bottom of the electrical panel that helps conduct electricity. |
| Neutral Busbar | Looks similar to busbars, help maintain a safe voltage for the panel. |
| Open Circuits | A discontinuous circuit that prevents electricity flow, often caused by a cut wire or a blown fuse. |
Your home's
electrical panel
- also sometimes referred to as a circuit panel- consists of a variety of standardized parts that all work together to keep the lights on at your home and provide power to appliances and electrical devices plugged into your home's electrical outlets. You can think of it as the nervous system of your home, relaying signals from switches to devices and outlets. All Houston electrical panels contains
circuits
,
circuit breakers
, conductors, and safety devices to consistently and safely relay energy throughout a home. Use the chart below to learn more about the function of each component in your electrical panel:
Houston Electrical Panel Safety:
How to Take Precaution and Avoid Disaster
Live wires, electrical outlets, and electrical panels can all injure or even kill humans if handled improperly.
If you suspect a problem with your home's electrical panel, call John Moore for support as soon as possible. While we always encourage our customers to call the electrical company and emergency responders first if you notice sparks, smoke, or suspect an electrical fire, it is important to follow up with a professional Houston electrical panel safety specialist to repair and replace any damaged electrical panel components once crisis has been averted.
Your home's electrical system will not function at all without a working electrical panel, and short-term solutions to get your electricity back up and running could place strain on your home's electrical system and cause future shortage, surges, or a disruption of service. Sometimes, short term workarounds can even increase the risk of fire.
Old Electrical Panels
Over time, older electrical panels can lead to trouble as many are configured to never shut off, even if a circuit breaker is overloaded.
When an electrical panel continues to provide electricity in such cases, it can eventually lead to smoking panels, start a fire, and destroy any electronics allowed to pull too much power from the panel. Want to know if your panel is still safe for use? Check out
ismypanelsafe.com
. If you see your electrical panel on the list of discontinued or unsafe panels, we highly recommend that you call John Moore to have one of our
electricians  replace your old electrical panel with a newer, safer, and more efficient model.
Lifetime

Electrical Panel

Upgrade to a John Moore Lifetime electrical panel.
The John Moore Lifetime line offers homeowners a premium electrical panel that is covered by a Lifetime Unit Replacement Limited Warranty for as long as you, the original purchaser, own your home. If you have found your dream home, set up an appointment with a John Moore Technician to see if a John Moore Lifetime unit would be a good fit for you.
Pest Issues
Aside from aging panels, a variety of other problems can spell trouble for your home's electrical system.
Rodents like rats and mice are known to nibble on wires, and pests that make it inside of your electrical panel can electrocute themselves and create corrosion within the panel box. If we find that pests and rodents are interfering with your homes electrical system, we will refer pest control to take care of them first. Electrical surges can also limit the life of your electrical panel, and over time, parts can work themselves loose, requiring breaker panel replacement in Houston to re-tighten them.
How will you know when something goes wrong with your electrical panel? It's the first place most Houston breaker panels specialists start when called out for a power outage, and if there's a fire or sparking electronics, there's a good chance that your electrical panel may be involved somehow as well. As with all electrical problems, it is important that you contact a licensed electrician to inspect your electrical panel and the rest of your home's electrical system rather than trying to fix the problem yourself.
Houston Electrical Panels Solutions for Every Home
We start by checking everything.
Whether your home needs a new electrical panel or just a simple check up on an aging electrical system, John Moore's talented and licensed electricians specialize in electrical panel repair in Houston are ready to help whenever you need them. Our consultations are free during normal business hours on weekdays, and we start by checking everything from the breakers to the busbar in your electrical panel. By the end of the consultation, we will walk you through any potential problems and end with a plan for maintenance, repair, or panel replacement.
Houston electrical panels maintenance might involve changing out breakers, and this service can typically be performed the same day as consultation. Be aware, however, that John Moore and other Houston electrical panels electricians may not be able to service older panels with parts that are no longer readily available. If we discover that your home's electrical system runs on an outdated or recalled electrical panel, we will highly recommend that you let us replace it with a newer, safer, and more efficient model.
Panel replacement is typically selected as a last resort only when a significant portion of the panel has been damaged or is unrepairable. While replacements can be costly, they save the homeowner money from costly damages, repairs, and high electric bills in the future.
Is your homes electrical system giving you trouble? Schedule an appointment online or call us at 713-730-2525. After contacting you to confirm your appointment, one of our electricians will be out for a consultation.
Kitchen and mainline stoppages with accessible cleanout. 60-day warranty.
*Mention this special.
Fall Furnace Tune-Up & Inspection
With a No-breakdown Guarantee!*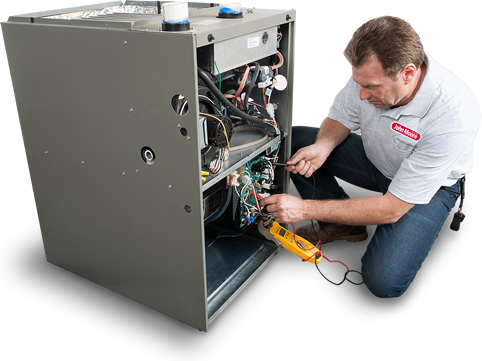 Get a 30-point inspection and tune-up to keep your system in optimal condition!
*If your heating system fails within one year of the maintenance, the cost of the $69 tune-up can be applied toward any repairs.
*Mention this special.