Residential Outdoor Lighting Houston
Licensed Electricians and Outdoor Lighting Specialists
From pathways to motion sensor lights, there are thousands of options when it comes to lighting your home. Outdoors, a balance of ambient, accent and safety lighting creates comfortable, inviting outdoor spaces and gathering areas.
Make the Right Outdoor Lighting Choice for Your Home and Community
Call John Moore at 713-730-2525 and schedule a qualified Lighting Specialist.
Beauty, security and cost are three main factors in an outdoor lighting project, but sometimes there's more to consider. Many Houston-area communities have ordinances regarding the type of lighting allowed. Some neighborhoods require dark sky-compliant fixtures to reduce both light and energy pollution, or sensors and timers to regulate lighting activation.
Your John Moore outdoor lighting professional takes all of these issues into account to come up with a lighting plan that suits your home's needs, your area's requirements, and your wallet.
Outdoor Lighting Solutions from John Moore
Motion Sensor Lighting
Motion sensor lights activate when they detect a person, car or animal moving nearby.
Sensors can be adjusted for both sensitivity and time of day, so lights trigger when you want them. Motion activated lights play a vital role in any home security plan, helping deter intruders from patios, entrances, garages, walkways, and yards.
Pathways and Driveways
Directional lighting and accent spotlights create contrast to highlight specific areas within a room.
Pathway and driveway lighting typically uses recessed or raised fixtures. The resulting look is tidy and organized, safer to navigate, and an inviting backdrop for gatherings and parties.
Spot & Flood Lighting
These outdoor lighting options concentrate light on one location or area.
They fulfill many purposes in landscape lighting plans, or can be used alone to illuminate patios, decks and driveways. A spotlight casts a narrow beam of light while a floodlight can have a larger spread and can illuminate a larger amount of space.
Landscape Lighting
Landscape lighting creates an ambiance that welcomes outdoor activities after the sun goes down.
Successful landscape lighting uses a combination of fixtures to highlight areas and features throughout the yard, plus illuminates dark corners to deter animals and intruders.
Fall Furnace Tune-Up & Inspection
With a No-breakdown Guarantee!*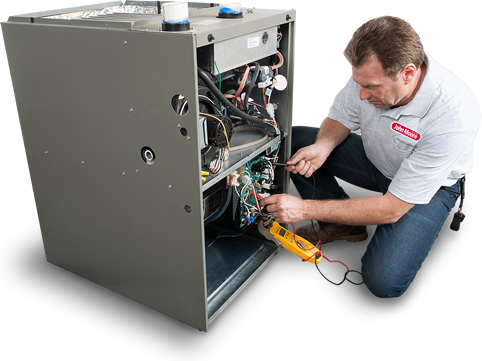 Get a 30-point inspection and tune-up to keep your system in optimal condition!
*If your heating system fails within one year of the maintenance, the cost of the $69 tune-up can be applied toward any repairs.
*Mention this special.