Drain Clogs & Stoppages Houston
Drain Clogs and Sink Clogs are no Match for the Plumbers at John Moore
Clogged sinks and drains is the most common call we get, so you're not alone. Call John Moore and we'll quickly clear things up for you!
How Do I Know if I Have a Drain Clog or Stoppage?
If you notice water backing up in the lower drains in your home like your tub and shower drains, then you have a main-line stoppage. Main line stoppages are different than simple drain clogs because they occur in the horizontal sewer pipe that runs underneath your home. If you are experiencing water backing up in your home, visit our Sewer Stoppage & Repair page. Also see Drain Jetting.
What Causes Drain Clogs in the Kitchen?
In the kitchen, food waste is the major culprit in clogged sinks. Sudden clogs often can be fixed by clearing the P-trap under the sink, but food particles and grease can also build up further along the line. This sludge can slow and finally cause a sink clog.
What Causes Drain Clogs in the Bathroom?
In bathrooms, hair and soap residue cause slow draining tubs and showers which, over time, can clog completely. And toilets are prone to a number of stoppages along the lines.
Often, drain clogs may cause backups that can result in water damage to the floors and walls of your home. After the clog is resolved, the John Moore Home Renovation and Remodeling team can assist with any additional home repairs that may be needed, such as drywall / sheetrock repair or replacement and painting.
How to Clear a Sink Clog With Plumbers Formula 6 exclusively from John Moore Services.
Request Plumbers Formula today and receive a FREE whole-home plumbing inspection!
We know that a slow drain or clogged sink doesn't always require a call to a professional plumber, but it does require a professional-strength formula to clear it completely and prevent future problems. That's why we make the same drain cleaning and maintenance formulas used by our licensed plumbers available to you. Shop our exclusive plumbers formula!
Tips for Clog-Free Sinks and Drains
Once we have things running smoothly, we want them to stay that way. Our plumbing experts will pinpoint the cause of your drain clogs and suggest preventative tips, including:
Never pour grease down the kitchen sink. Let it harden then dispose of it in the trash. Ditto coffee grounds.
Flush kitchen and bathroom sinks with hot water for one minute after use heavy use.
Use a drain screen or grate to catch hair and soap residue in tubs and showers. Your John Moore plumber can assist with selection and fit.
Maintain sinks and drains with our time-tested drain cleaners: Plumber's Formula 6.
There are many causes for drain clogs and sink stoppages. Don't let drain clogs and sink stoppages disrupt your daily routine or cause water damage to your home. Some drain clogs need professional assistance and other clogs can be solved using the right professional strength drain clog formula. Contact the professional plumbers at John Moore Services for fast and efficient solutions to your plumbing problems. Trust John Moore for all your plumbing needs.
Kitchen and mainline stoppages with accessible cleanout. 60-day warranty.
*Mention this special.
Fall Furnace Tune-Up & Inspection
With a No-breakdown Guarantee!*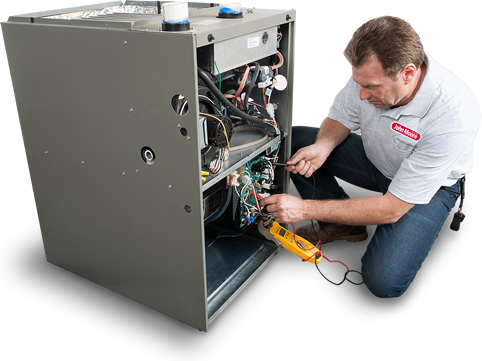 Get a 30-point inspection and tune-up to keep your system in optimal condition!
*If your heating system fails within one year of the maintenance, the cost of the $69 tune-up can be applied toward any repairs.
*Mention this special.
Hot Water Never Felt So Good!
*Traditional water heaters only. Price is per unit.
*Mention this special.