Tesla Wall Connector Installer In Houston |
John Moore is a Tesla Vetted Home Charging Installation Partner
John Moore electricians are professionally trained to handle the installation of Tesla charging equipment and maintain strict adherence to the quality standards, permitting regulations, and inspection protocols as required by Tesla.
The Tesla Wall Connector is an advanced home charging solution for your electric vehicle. With its sleek design and intuitive user experience, the Wall Connector delivers up to 44 miles of range per hour of charging, making it the fastest home charging option available. The Wall Connector also intelligently manages energy usage to minimize the impact on your home's electrical system, and is engineered to provide many years of reliable service.
John Moore Services has been vetted by Tesla as a trusted and qualified installer of the Wall Connector, ensuring that your home charging experience is seamless and worry-free. The installation process is painless. Call us today and one of our licensed electricians will come to your home, assess your charging needs, and have your Wall Connector installed in no time.
Vehicle / Model Compatibility
Model S, Model 3, Model X, and Model Y
The Wall Connector is designed to work with the Model S, Model 3, Model X, and Model Y and has the capability of delivering up to 44 miles of range per hour of charging, with an output that ranges from 11.5 kW to 48 amps, depending on the specific model.
Power Sharing for Multiple Vehicles
Charging Access Control
For households that require charging multiple Tesla vehicles at the same time but lack the power supply of multiple electrical circuits, power sharing is the perfect solution. This feature enables up to six Wall Connectors to share the power from a single circuit, ensuring that your vehicles receive a sufficient charge.
The Charging Access Control feature comes in handy when your Wall Connector is located in a shared space and you need to manage who has access to it. For instance, if you reside in a multi-unit dwelling where other electric vehicle owners may potentially charge their vehicles using your Wall Connector without your consent, this feature proves to be useful.
So, if you're looking for a convenient, cost-effective, and eco-friendly way to refuel one of these compatible models, John Moore Tesla Home Charging installation is the answer. It's the ultimate solution for electric vehicle owners. Contact John Moore today and get your Tesla Home Charging system installed and embrace the EV revolution from home!
Ready to Embrace the Revolution?
Connect with a John Moore Expert Using a Single Click
Schedule a Job | Save Money Membership | Learn About Financing
Fall Furnace Tune-Up & Inspection
With a No-breakdown Guarantee!*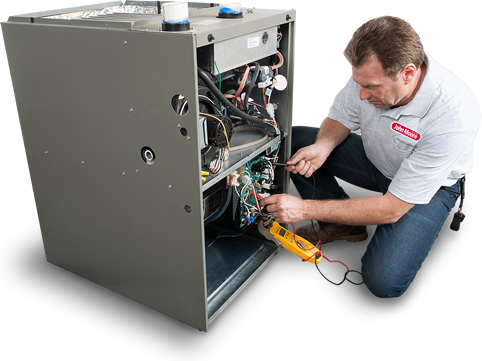 Get a 30-point inspection and tune-up to keep your system in optimal condition!
*If your heating system fails within one year of the maintenance, the cost of the $69 tune-up can be applied toward any repairs.
*Mention this special.