Custom Bathroom Remodeling Houston
Bathroom Remodeling and Renovations by John Moore
Whether contemporary or traditional, modern or rustic - John Moore's Houston bathroom remodeling master tradesmen will transform your ordinary bathroom into the space you desire.
Bring Your Vision to Life
With Houston's Most Reputable Home Service Company
From 1965 to today and beyond, John Moore's guiding promise has always been to give our customers more. We have grown to offer Houston homeowners a full suite of home services that cover every aspect of your home, from the inside out. What began as a service-focused Houston plumbing company has evolved to address the entire infrastructure, interior, and exterior of your home. Our team of plumbers, electricians, and Houston bathroom remodeling experts work together to provide homeowners with a truly unique experience: a start-to-finish, turn-key solution that not only solves our customers' problems, but also leaves them with a home they can feel completely comfortable in for years to come.
John Moore's interior designers are well-versed in all styles: traditional, modern, contemporary, rustic, transitional, and everything in between. We can help you find just the right hardware, appliances, and fixtures to give your new bath a personality that reflects you and family. From the little touches to the overall composition, we will work with you to build the bathroom of your dreams.
What Can You Expect?
Our Comprehensive Houston Bathroom Remodeling Process
When it comes to remodeling your bathroom, our Houston bathroom remodeling team is with you— every step of the way. From the initial design consultation to the big moment where we have a final walk-through, you can rest assured that John Moore will be there for you throughout the entire process. Every home and every project is different, but there are some universal steps you can always expect during your home's transformation with John Moore:
Planning & Design
Your project begins with an in-home consultation.
During the consultation, a John Moore designer will come view your space with you, understand your vision, and discuss your preferences. John Moore's experienced interior design team will assist you in choosing the right colors, countertops, fixtures and finishes.
During the consultation, a John Moore designer will come view your space with you, understand your vision, brainstorm, and discuss your preferences. John Moore's experienced interior design team and Houston bathroom remodeling specialists will assist you in choosing the right colors, countertops, fixtures and finishes.
Demolition
Out with the old so we can bring in the new!
Depending on the size of your project, demolition may take a few hours or a few days. Throughout the demolition process, the John Moore team will treat your home with care and respect. Everyone at John Moore is background-checked, licensed, and insured.
During the entire process, our team wears booties and cleans up each day before leaving so that your home stays neat and still feels livable from the day we start, until the day we're finished.
Infrastructure
Staring with a solid foundation
The room is cleared; now is the perfect time to replace outdated plumbing; install new circuit boxes, fixtures and switches; and make any necessary wiring or electrical changes. Having a solid infrastructure on which to build the rest of your room not only makes for a better work-flow, but also gives you peace of mind.
If you're having your bathroom remodeled, now is when the tub or shower will be installed and then carefully wrapped to protect it as construction continues.
Walls & Ceiling
Enclosing everything up
Once everything inside your walls is in place and connected, it's time to close them up. Our team will patch any holes, hang the drywall, and install cement board for any areas to be covered with ceramic tile. Our team will then carefully prep and paint the ceiling and walls. Your new room is really taking shape!
Floors
Precision installation makes all the difference
Once the paint has dried, we turn our attention to your floor. We measure, cut, and install your flooring with precision and care. Our craftsmen are highly-skilled in installing tile, laminate, and hardwood flooring.
Vanities & Trim Carpentry
New vanities provide both style and storage
We install vanities after the floor has been installed to give your new room a cleaner appearance. Vanity installation typically goes pretty quickly, as the layout and measurements are finalized during the design phase.
Once everything is in place, measurements and templates are made for the vanity tops. Your vanity tops have to be custom fabricated to fit your room's specific measurements, which may take a few days.
Final Walk-Through
We stand behind our work with a John Moore Quality Guarantee
Our mission at John Moore is complete customer satisfaction, and to that end, we conduct a final site visit to make sure that you are one-hundred percent thrilled with your new bathroom.
We want you to feel comfortable in your new space, and our team is happy to answer any questions that you may have. Sit-back, relax, and enjoy your new bath!
Ready to make your dream bath a reality?
Request a No-obligation Consultation with the John Moore Team
Fall Furnace Tune-Up & Inspection
With a No-breakdown Guarantee!*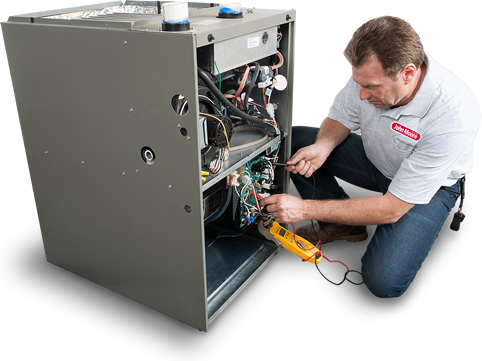 Get a 30-point inspection and tune-up to keep your system in optimal condition!
*If your heating system fails within one year of the maintenance, the cost of the $69 tune-up can be applied toward any repairs.
*Mention this special.