Houston Roof Repair from the Experts at John Moore
Local roofing contractors providing residential roof repair including finding and repairing roof leaks. We're here to help with all of your roof repair needs.
Your home's exterior keeps out the elements and deters pests and rodents from entering your home. Your roof, windows, doors, and siding all act to seal out moisture, mildew, storm winds and debris, and even pests, keeping you and your family comfortable and secure. Since exteriors are built to last, however, it can be easy to take them for granted. Often, homeowners may not know they need repairs until the roof starts to leak,a door or window stops working, or they notice rats, spiders, and other pests inside their home.
Repairing and Preparing Your Roof
Roofing and Whole Home Exterior Solutions
The taxing tropical weather, rain, heat, and humidity of Houston can contribute to deterioration and discoloration of your roof and mean that repairs must happen even sooner for Houston homes. When your home is damaged, it's best to act fast to ensure integrity. Remember that damage to your exterior can ruin the inside of your home as well with enough time. Your home's air conditioning system, attic, and walls are especially vulnerable when your roof leaks, and you'll want to act as soon as you find damage to prevent the problem from spreading.
Everything from roofing to windows, exterior doors, and siding are involved in sealing and protecting your home, and each requires special care to remodel and maintain. Even for the most intrepid handyman, most home exterior repairs are simply unsafe to tackle alone, especially without proper training and equipment. So if you're starting to notice wear and tear, contact John Moore to get our team of experts on your side.
Houston owned and operated, John Moore has helped Houstonians for over 50 years. We offer whole-home exterior solutions throughout the metro area and are equipped to tackle any exterior project, big or small. Best of all, because John Moore also offers interior services, we'll be able to assess the extent of any damage to your property and recommend any next steps needed after exterior remodeling.
Protecting Your Home's Exterior
Roofing Repair
John Moore's expert roofing team strives to deliver our customers stress-free solutions and excellent service. We know that for older homeowners, even climbing up to inspect your roof can be a hassle, and we work hard to free you from that burden. Professional and committed to your safety above all, our team of roofing experts provides solutions that match your budget and needs.
Want to get started right away? We can schedule repairs when you want them with our online service form. Unlike other roofing companies, we can even reach out to other teams at John Moore - including carpenters, plumbers, A/C experts, and our pest control professionals - should we notice that damage extends beyond your roof.
Leaks, Holes & Failing Shingles
Signs it's Time for Roof Repair
While regular maintenance for roofs is important, there are a few things you can watch for to let you know when more extensive repairs are needed. By far the most common cause of roof damage are leaks from heavy rain and moisture. Have you noticed any water damage in your home or attic? Do you smell mildew or musk in your attic? These can be key indicators that your roof is leaking.
Besides leaking caused from inclement weather, the age of a roof can play a major role in repairs, too. Has it been more than a decade and a half since someone looked at your roof? It may be time to call John Moore out to reshingle and touch up your roof.
Has your home been through a recent storm or been damaged by falling tree limbs? Call John Moore out for a service check, and we'll patch up any damage we find. Falling tree limbs aren't the only thing that can cause a hole in your roof, though. If you've noticed any animals in your home or signs of water leaks, a hole in the roof may be responsible.
From Shingles to Soffits
The Components of a Residential Roof
Understanding the makeup of your roof can give you a better idea of potential problems and the solutions we offer to fix them. The type of roof you have will also determine what materials we use. While flat roofs may be covered with gravel and pebble or more modern Thermoplastic polyolefin (TPO), slanted roofs may be covered in anything from metal to tile. However, the majority of residential homes still rely on asphalt or clay shingles.
So what are the parts of a modern home's roof? For most homes, shingles form the outer layer and are typically made from coarse, granular asphalt designed to keep the roof as dry as possible while also providing some indication of wear. As the grain begins to wear down (not to be mistaken with algae that causes black streaking), it may be time to consider repairs. Below your shingles, tar paper and decking provide additional protection for the home's rafters beneath. Soffit and facia form the rest of the roof, with soffit forming the underside of any overhanging ledges and facia acting as the border for roof ledges. Finally, your gutter system acts as a drain for any water or debris that find their way to your roof, with the actual gutter attaching to the roof via facia brackets and spouts providing a route for water to drain out and away from the home.
As a homeowner, you can choose from 20 year, 30 year, or 40 year shingles to fit your needs and budget, and we will work with you to identify any additional repairs needed for the rafters, soffit, or facia itself. If your home requires a less traditional roofing solution, we can provide everything from gravel to terra cotta shingles.
Getting the Job Done Right
John Moore's Roofing Process
Roof repairs can be surprisingly quick, often taking a single day for a reshingling job. However, each repair is different and we want to treat your home with the respect and time it deserves. After you set up an initial inspection with our roofing team, we'll come out and identify the problem. Based on the extent of damage and the repairs needed, we'll create an estimate and run you through the plans for repairs. We can even tailor plans to offer good, better, and best fixes that are priced to fit almost any budget.
Once you've selected and approved the plan that best solves your roofing problem within your budget, we'll move forward with repairs and recommend any additional fixes for other problems we find along the way. In most cases, you'll be able to stay in your home while we work on it. Bear in mind, however, that inclement weather may delay repairs.
Making a Goof Roof Better
Additional Roofing and Insulation Equipment
Want to get better circulation and greater protection from your roof? John Moore offers a variety of add-ons that can improve comfort in your home. If you are looking for improved circulation throughout the home, consider turbines. Turbines suck hot air from your attic and include vents that spin as fresh air passes through. Another add-on we can install is the Attic Breeze®. Solar powered to keep your home green, the Attic Breeze® acts as an attic fan to keep your attic and your home insulated and cool.
John Moore also offers insulation solutions for any home, and we can easily integrate re-insulation of your attic or walls with your roof repairs. Want to make sure rain stays out of your chimney? We can also install flashing to keep your chimney dry throughout the year and the fire going even in the worst winter storms.
Our
Guarantee
At John Moore, we want you to stay secure and dry in your home. That's why each of our repairs comes with a variety of warranty options.
While we offer touch-ups without warranty for quick fixes and unexpected damage, we recommend our standard one-year warranty for labor on more extensive work. With this warranty, we'll return within a year to correct any damaged shingles or problems with installation. Additionally, our shingles come with their own manufacturer's warranty, ranging from 20 to 30 and 40 years.
Fall Furnace Tune-Up & Inspection
With a No-breakdown Guarantee!*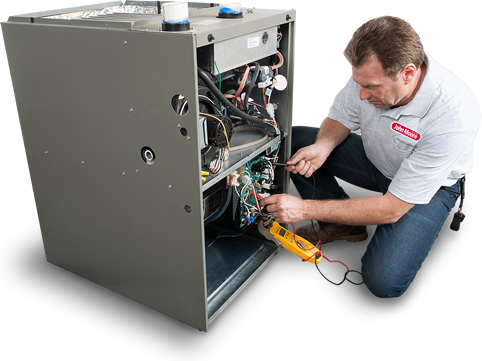 Get a 30-point inspection and tune-up to keep your system in optimal condition!
*If your heating system fails within one year of the maintenance, the cost of the $69 tune-up can be applied toward any repairs.
*Mention this special.
---
Repair.

Replace.

Remodel.
A wide range of personal loan options
Facing expensive repair costs? Bundle all of your home repairs/upgrades into one easy loan. Including plumbing, electrical, AC, remodeling & more!
LOW

MONTHLY PAYMENTS!
Learn More
0% Finance Available*
*Available for Qualified Applicants