Tomball's Neighborhood Experts in Repipe, Water Filtration, & "Moore"
Because we're just a few miles down 249 and Beltway 8, John Moore is one of the most recognized names across Tomball. For more than fifty years, we've been right by your side for everything plumbing. We've replaced damaged sewer lines, replaced rusty galvanized pipes with state-of-the-art PEX piping, un-clogged drains, and installed water filtration systems all over the Tomball area.
As Tomball continues to grow exponentially, John Moore is fully staffed and ready respond to any plumbing need with certified plumbers. So if you're dealing with a leak, sewage backup, or an overflowing toilet, our customer care center is open 24-7 to get you scheduled right away. Our goal at John Moore is to address your needs right away while providing solutions that protect your home and your family for many years to come.
John Moore's Plumbing Services Include:
Plumbing repair & inspections, Tankless and standard water heater repair & installation, Whole-house re-piping services, Rooter & drain clean services, Sewer stoppage & replacement, Water softeners & filtration, Slab leak detection & repair, Sinks, tubs, faucets, garbage disposals
Have a major leak or clogged drain? Call 713-730-2525 any day, any time to schedule a licensed plumber in Tomball right away.
Older Homes in Tomball Likely Candidates for Horizontal & Whole-Home Repiping Services
If your home was built before the 1980s, there's a good chance that your potable water system is made from galvanized pipes that are rusting from the inside-out, creating pinholes that sprout leaks. By now, you may be seeing warning signs of rust like brown-tinted water, rust spots on your pipes in the attic, or water marks on your ceilings and walls.
If you notice any of these signs in your home, our certified plumbers can perform a horizontal repipe or whole-house repipe to replace your galvanized pipes. The ideal solution is to have a whole-house repipe performed so that you won't ever have to deal with another rusty pipe again. With John Moore, your home will be safeguarded from leaks because we use PEX piping, an anti-corrosive piping solution that is able to withstand high water pressure. Our products are warrantied, and we back our work 100%.
Contaminants in Drinking Water Makes Water Quality a Concern for Tomball Residents
Did you know that one cup of Houston tap water contains about 25,000 contaminants? And think about everything we use that water for. Every time we drink, bathe, cook, and wash with this water, we are exposing ourselves to these unhealthy contaminants, including carcinogenic by-products. And high levels of calcium, magnesium, and limescale in Tomball's water can also build up and damage faucets and appliances.
Since you can't change our city's water quality, the best solution is to have a water filtration system installed in your home. If you want contaminants removed from your home's entire water supply, John Moore can advise you on proven whole-house water filtrations systems. And to address hard water, we can also recommend and install a water softener that will remove the minerals that make your water hard. But don't wait until your faucets and appliances are already damaged. Get ahead Houston's hard water and install a system before the buildup happens.
Concerned about hard water damage and contaminants in the water you're drinking? Schedule a water filtration system consultation with a John Moore plumber in Tomball.
Get Help from a Local Tomball Plumber!
Connect with a John Moore Expert Using a Single Click
Click this button so you can:
Schedule a Job | View Memberships | Learn About Financing
Fall Furnace Tune-Up & Inspection
With a No-breakdown Guarantee!*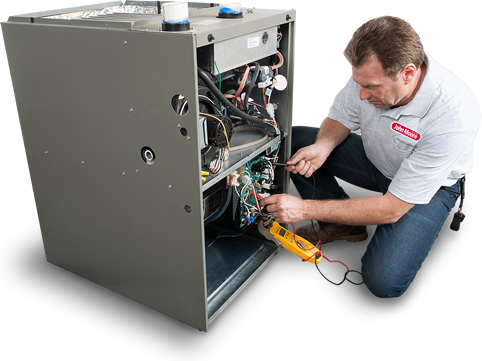 *If your heating system fails within one year of the maintenance, the cost of the $69 tune-up can be applied toward any repairs.
*Mention this special.
Kitchen and mainline stoppages with accessible cleanout. 60-day warranty.
*Mention this special.