Serving the Residents of Klein & Spring, Texas for More Than 50 Years
From the older 1970s homes in Huntwick Village to the newer homes in Lakes of Cypress Forest, John Moore tackles a wide range of plumbing issues in Spring.
Every year, we help many Spring homeowners with hard water and leaky pipe issues. Because you've worked hard for the beautiful home you have, John Moore offers solutions that will protect your home from water damage, like water softening systems that prevent hard water buildup on your fixtures and advanced and anti-corrosive piping that is more durable and flexible than galvanized or PVC pipes. Our plumbers in Spring are ready to respond to all of your plumbing needs, from early in the morning until evening time. Our customer service desk is open 24-7 to ensure we get you scheduled as soon as possible.
John Moore's Plumbing Services Include:
Plumbing repair & inspections, Tankless and standard water heater repair & installation, Whole-house re-piping services, Rooter & drain clean services, Sewer stoppage & replacement, Water softeners & filtration, Slab leak detection & repair, Sinks, tubs, faucets, garbage disposals
Have a leaky pipe or no hot water? Call 713-730-2525 to schedule our next available plumber!
Rusted Galvanized and Broken PVC Pipes Main Reason for PEX Repiping by Spring Homeowners
Spring is not only notorious for hard water, but many homes in Spring are also being repiped due to old, rusting galvanized pipes or PVC pipes that tend to bust from the pressure of the potable water running through your home. If you notice water spots on walls or ceilings, brown-tinted water coming out of faucets, or low water pressure, call John Moore to avoid further water damage to your home.
John Moore will target the root cause of your piping issue and offer long lasting solutions, such as a horizontal or a whole-house repipe. Although most leaks are visible in the horizontal pipes in your attic, we highly recommend replacing every pipe in your home with PEX piping. Unlike galvanized and copper pipes, PEX pipes do not corrode or develop pinholes that leak water. And because PEX piping has fewer connections and can expand three and a half times be
Water Quality Solutions in Spring to Reduce, Eliminate Contaminants & Hard Water
A common complaint we get from our Spring customers is the buildup of gunk on their faucets and water stains in toilets. That's because Spring is notorious for hard water. Just think, if hard water can leave residue on metal, tile, and porcelain, imagine what it's doing to your laundry and even your body. With a quality water softener system, you can safeguard the condition of whatever your water touches—skin, hair, fixtures, and clothes —by removing the minerals that make your water hard.
While hard water does a number on your fixtures and appliances, contaminated water can do damage to your health. Think about all the water we drink, cook with, and bathe in. Just one glass of Houston water contains up to 25,000 contaminants that expose you to many health risks. By installing a whole-house filtration system along with a water softener, you'll have the best of both worlds: water that is easy on your body and your home.
Ask us about our $0 down financing options for water filtration systems today.
Get Help from a Local Spring Plumber!
Connect with a John Moore Expert Using a Single Click
Click this button so you can:
Schedule a Job | View Memberships | Learn About Financing
Fall Furnace Tune-Up & Inspection
With a No-breakdown Guarantee!*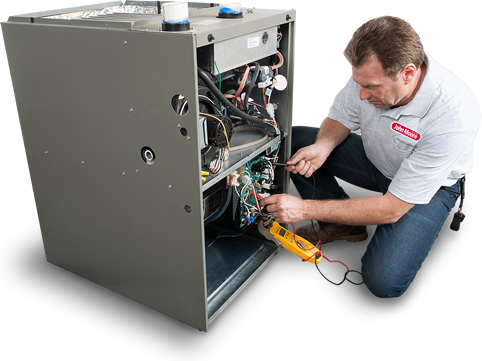 *If your heating system fails within one year of the maintenance, the cost of the $69 tune-up can be applied toward any repairs.
*Mention this special.
Kitchen and mainline stoppages with accessible cleanout. 60-day warranty.
*Mention this special.