John Moore – Plumbing Experts in Richmond Since 1965
Richmond is a city steeped in history and heritage, and its stately older homes remind residents of a time gone by. This quiet Texas town is perfect for the family that wants to get away from the city, but what happens when plumbing problems disturb your family's peace?
Do you live in an older home with leaky pipes? Maybe you live in a newer home, but you've noticed problems with your plumbing or water quality. Fortunately, John Moore has customized solutions for every home, regardless of age and layout. Whether you are remodeling an early 20th century estate or are just trying to maintain a modern system, John Moore's expert plumbers are here for you.
John Moore's Plumbing Services Include:
Plumbing repair & inspections, Tankless and standard water heater repair & installation, Whole-house re-piping services, Rooter & drain clean services, Sewer stoppage & replacement, Water softeners & filtration, Slab leak detection & repair, Sinks, tubs, faucets, garbage disposals
Is there a leak or major plumbing problem in your home? Don't wait! Call 713-730-2525 or contact us today to schedule our next available plumber.
Update your Richmond Homes' Plumbing with a PEX Repipe
Given the age of homes in this area, plumbing systems may be a patchwork of repairs and older pipes, leaving plenty of room for system leaks. Even PVC systems may burst given poor conditions or improper installation. Unfortunately, constant repair work can be a costly nuisance for your family, and every new repair takes away from quiet enjoyment of your home.
The best solution for many households in this area will likely be a whole-home repipe. John Moore works exclusively with PEX pipe when replacing older systems, and this material is the answer for families that want to live free from plumbing worries. Made from lightweight, flexible, and expandable material, PEX is the latest in synthetic materials technology and will not corrode or break like older pipe systems.
Improving Water Quality for Richmond Families with Home Filtration Systems
Are you worried about the water quality in Richmond? News reports are always telling us to watch out for chemicals and bacteria in our local water supply, but buying bottled water or using a standalone countertop filter can get expensive and wasteful. Our whole-home filtration solution is the perfect upgrade for your family and will supply tasty, safe water throughout the year, year after year. Partnering this system with our carbon block filters can even add an extra layer of security to your system. And for families with hard water in their homes, we also offer a water softener that can break up calcium and other chemical deposits in your water heater or prevent limescale build up on your fixtures and appliances.
Want better water in your home? Call John Moore at 713-730-2525.
Get Help from a Local Richmond Plumber!
Connect with a John Moore Expert Using a Single Click
Click this button so you can:
Schedule a Job | View Memberships | Learn About Financing
Fall Furnace Tune-Up & Inspection
With a No-breakdown Guarantee!*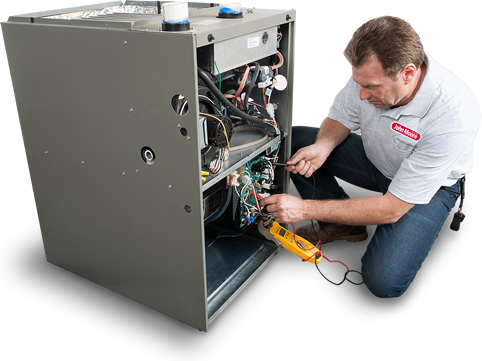 *If your heating system fails within one year of the maintenance, the cost of the $69 tune-up can be applied toward any repairs.
*Mention this special.
Kitchen and mainline stoppages with accessible cleanout. 60-day warranty.
*Mention this special.