Pest Control Pros in Pearland, TX
Call on Us to Remove Mice, Roaches, and Wildlife from Your Home for Good!
John Moore's Pest Control Promise
Why Pest Control Matters in Pearland
Removing rodents, wildlife, or insects by yourself can be a dangerous process. Why risk getting bitten or accidentally inhaling a toxic chemical when you can call a professional pest control company in Pearland, like John Moore? What many homeowners don't know is that it doesn't take getting bitten to pick up a disease. Insects can transmit disease by urinating or defecating on food while other animals like rodents can transmit disease simply by contaminating dust and air particles. With John Moore, we will not only get rid of insects and wildlife living in your home, but we will disinfect and make recommendations to prevent the spread of disease.
John Moore's Pest Control Services Include:
Standard Pests: roaches, spiders, indoor ants, millipedes, centipedes, wasps, moths, flies, Termites, Mosquitos, Rodents and other wildlife (possums, raccoons, squirrels, bats, and snakes), Bed bugs, Fleas and ticks, Bees, Fire ants

Looking for a pest control service in Pearland that knows what they're talking about? Call John Moore at 713-730-2525.
Free Termite Inspections in Pearland
Termites have caused billions of dollars in property damage every year, which is more damage than than fires, hurricanes, and tornadoes combined. But how bad are termites in Pearland? Being that there are three destructive types of termites in the area— formosan termites, subterranean termites, and drywood termites— termite damage is a threat to be taken seriously. To keep homeowners proactive about termite control in their home, John Moore provides free termite inspections. Because of the local humidity that allow termites to thrive, we recommend that Pearland and Houston homeowners get their home checked every year for termites.
If we find termite activity in your home, we will create a termite treatment plan that is customized around several factors: the type(s) of termite we find, where we find the termites in your home or yard, the age of your home, and how your home is laid out. With these variables in mind, we will apply a combination of foam and/or liquid termiticides that have been proven effective and cleared by the EPA for safe use around kids and pets. A wood treatment may also be applied to sections of wood with termite activity. We highly recommend that homeowners enroll in an ongoing termite protection plan to prevent termites from re-infesting, which happens quite often in Pearland homes.
Targeted, Effective Mosquito Treatment for Your Pearland Yard
Mosquitoes breed in stagnant water, and with the heavy rains and low-lying marshes found in Pearland, the area is a hotbed for mosquitoes. You may have already noticed mosquitoes plaguing your yard, making it a nightmare for you, your family, and your guests to be outside. Not only do you have to tolerate being bitten all over, but now you have to worry about diseases like Zika Virus that can potentially be fatal or life-altering.
To get rid of your mosquito problem for good, you may want to consider installing a drain system if your yard is prone to collecting water. Pools should be regularly treated with chlorine or you may want to consider switching to a salt-water pool to make breeding impossible for mosquitos. You should also remove or cover any structures around your home that collect water. For an expert opinion and ongoing mosquito treatment, call one of the leading mosquito control companies in Pearland, John Moore. Our bi-monthly Mosquito Plus treatment plan is one of the best ways to repel mosquitoes away from your yard all year long. As an added bonus, the chemical barrier that we use as part of our Mosquito Plus treatment also prevents standard pests like ants, roaches, and spiders from entering your home. We also offer one-time mosquito treatments as a temporary solution while you host guests in your yard.
For a leading mosquito control company in Pearland, call the experts at John Moore: 713-730-2525.
Pearland Rodent & Wildlife Removal Specialists
There are many ways that mice, rats, and other wildlife can get into your home: through gutters, cracks in your foundation, chimneys, and openings to utility lines. The chances of rodents and wildlife infestation only increase as your house gets older and more entry points for animals and rodents begin to form. Not only do rodents and other animals cause damage to different areas of your home including your appliances, attic insulation, wooden fixtures, and wires, but they also carry diseases like rat-bite fever and hantavirus. If you hear noises from your attic, find droppings, or see rodents or wildlife in your home, it's time to call a pest control specialist like the folks at John Moore.
Unlike untrained homeowners, pest control specialists are trained to locate any entry points that allow rodents into your home and seal them off using steel-wire mesh. At John Moore, our goal is to safely eliminate rodents and wildlife from your home using a three-pronged approach that involves exclusion (sealing off entry-points), capturing them by using traps, and disinfecting your home to neutralize bacteria and cover up animal pheromones that may lead other animals back to your home.
Wildlife such as birds, bats, possums, and raccoons will be humanely captured and released into a nature preserve, as required by Texas State Law.
Get Instant Pest Control Help in Pearland!
Connect with a John Moore Expert Using a Single Click
Click this button so you can:
Schedule a Job | View Memberships | Learn About Financing
Fall Furnace Tune-Up & Inspection
With a No-breakdown Guarantee!*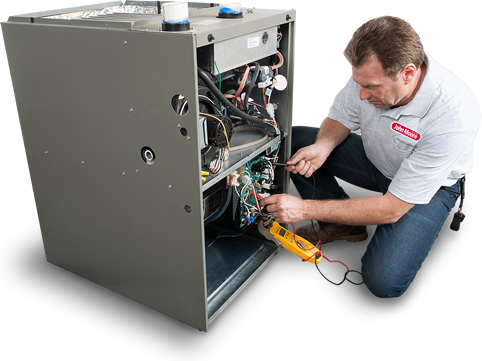 *If your heating system fails within one year of the maintenance, the cost of the $69 tune-up can be applied toward any repairs.
*Mention this special.
Kitchen and mainline stoppages with accessible cleanout. 60-day warranty.
*Mention this special.