Hire an Electrician in Jersey Village to Keep Your Home Safe
As is the case with many homes built before the 1990s, outdated wiring and circuit panels can compromise the safety of you and your family. Many older homes utilize Jersey Village electrical panels and wiring systems that are prone to overheating, overcurrents, and short circuits. These types of Jersey Village electrical problems can potentially lead to sparks, fires, and even explosions in your breaker box. Connecting new appliances to faulty breakers and outdated wiring could overload your electrical system, leading to one of those previously mentioned dangerous malfunctions. Even something as innocuous as a flickering light or an outlet that has stopped working could be a sign of a larger problem and should not be ignored. Whether you live in an older home, you're planning a renovation, or it's time to schedule a new home's first inspection, it is very important to have a licensed and insured Jersey Village electrical contractor inspect your electrical system to ensure that is up to code and has all safety features intact.
Notice: If you are currently dealing with a fire or sparking wires, immediately call your power provider and ask them temporarily turn off your home's electricity. Call the Jersey Village Fire Department at (713) 466-2130 or via 9-1-1 dispatch to extinguish any fires before calling one of the Jersey Village electricians here at John Moore.
John Moore's Jersey Village Electrical Services Include:
Jersey Village Electrical Repairs & Upgrades, Jersey Village Breaker Panel Inspection, Repair, and Replacement, Jersey Village Rewiring, Jersey Village Electrical Inspections, High-Voltage Repair, Jersey Village Whole-Home Surge Protection, Indoor and Outdoor Lighting in Jersey Village, Overhead & Underground Lines, Jersey Village Grounding, Electrical Outlets, Switches, & Dimmers, Ceiling Fan & Fixture Installation, Stand-by Generators, LED & Recessed Lighting, Jersey Village Code Corrections
Issues with your home's electrical system? Call 713-730-2525 to schedule a licensed, insured electrician for an inspection.
Call a Licensed Jersey Village Electrician for Breaker Panel Services
Your Jersey Village home's breaker panel (also sometimes referred to as a distribution panel, electrical panel, or breaker box) is the center of all electrical activity in your home. Your breaker panel in Jersey Village distributes power to each light socket, outlet, and appliance in your home as you use them throughout the day. If an excess amount of electricity is being used by one outlet or appliance, your breaker panel should automatically cut off power to that room upon detection of unsafe energy usage to prevent possible damage. Older breaker panels in Jersey Village may not include this important safety feature, which is why you should check to see if your panel is outdated or has been recalled. If your breaker panel is outdated, you should have it replaced with a safe, new panel as soon as possible.
Jersey Village breaker panels are not immune to age. Wear and tear, pests, and corrosion are just a few of the possible issues your Jersey Village breaker panels face as they age. Frequent power surges can also lead to internal malfunctions. If you notice black burn marks on your breaker panel or have a circuit that won't reset, its time for an inspection by a licensed Jersey Village electrician who can then safely make necessary replacements and upgrades. Even if obvious signs of wear aren't immediately noticeable, it's always best to have your breaker panel in Jersey Village inspected every few years to ensure the safety of your home.
Our Jersey Village Electricians Can Rewire for Safety and Efficiency
Contemporary Jersey Village electrical wiring installed in homes since the turn of the century has a core made of copper that is well-insulated with PVC (or other non-conductive material). Some Jersey Village area homes built prior to the 1990s may still utilize wires made of aluminum, insulated by a cheap plastic that was standard at the time but is no longer considered safe or reliable today. Aluminum is prone to overheating, which in turn may damage the plastic used to insulate it and can even cause fires. Our Jersey Village electricians and builders have since opted to use copper wires insulated with PVC to prevent electrical fires.
In addition to inspecting for aluminum wiring, the plastic insulation used in older wiring methods is known to brittle over time and can crumble away, leaving portions of wiring exposed. If exposed wiring comes into contact with a conductor behind the wall like metal piping or another live wire, it can lead to sparks and electrical fires. Even newer wiring systems insulated with PVC may become exposed.
If you are experiencing a buzzing sound from behind your walls, switches that don't work, or lights that flicker, no matter how old or new your home is, call our of our licensed Jersey Village electricians to inspect your home's wiring system.
Get Instant Electrical Help in Jersey Village!
Connect with a John Moore Expert Using a Single Click
Click this button so you can:
Schedule a Job | View Memberships | Learn About Financing
Kitchen and mainline stoppages with accessible cleanout. 60-day warranty.
*Mention this special.
Fall Furnace Tune-Up & Inspection
With a No-breakdown Guarantee!*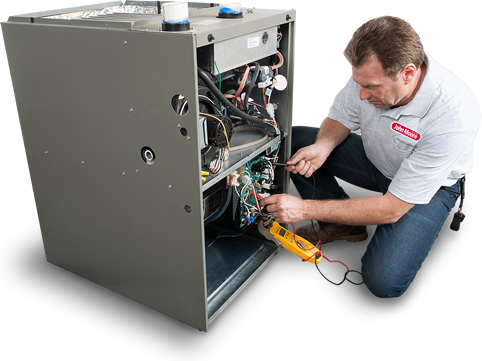 Get a 30-point inspection and tune-up to keep your system in optimal condition!
*If your heating system fails within one year of the maintenance, the cost of the $69 tune-up can be applied toward any repairs.
*Mention this special.