Pest Control in Friendswood, TX
Extermination and Animal Removal Services in Friendswood
Friendswood's Experienced, Effective Pest Control Specialists
Call John Moore for an Insect and Wildlife-Free Home
Unless you want a roach or mice as a pet, your goal should be to keep them out. Many pests are known to transmit disease and cause extensive damage to homes. Because of Friendswood's humid, subtropical climate, the area is ideal for different animals and bugs to breed. Many of these critters are hanging out in your friendly neighborhood with food, shelter, and protection close by. If given the opportunity, they will make their way inside and become the guests you never wanted.
Is your home a target? Pest problems happen in both older and newer homes. If there are openings around your house or certain conditions that attract pests, like food, moisture, or warmth, then your home is susceptible to pests. To figure out why you have a roach or rodent problem that won't go away, John Moore can provide expert insight and solutions to get rid of your problem for many years to come.
John Moore's Pest Control Services Include:
Standard Pests: roaches, spiders, indoor ants, millipedes, centipedes, wasps, moths, flies, Termites, Mosquitos, Rodents and other wildlife (possums, raccoons, squirrels, bats, and snakes), Bed bugs, Fleas and ticks, Bees, Fire ants
Have a mouse or bug infestation in your home? Call the Friendswood pest control experts at 713-730-2525 for a free inspection.
Professional Termite Treatment in Friendswood, TX
If you own a home in Friendswood, staying on top of termite control and prevention is important. Termite damage is fairly common across Texas because of the moist, warm weather that allows termites to reproduce. If you think you might have termites, John Moore will perform a free termite inspection both inside and outside of your home. We will look for signs of termites such as entry points around the outside of your home, wood-colored droppings near furniture, and cartons or dirt tubes. Depending on what type of signs we find and the areas of termite activity, we should be able to tell what kinds of termites you're dealing with— there are about five different species in the Friendswood area alone. The most common are subterranean termites, formosan termites, and drywood termites.
Once the inspection is complete, we will work with you to create a termite protection plan that will safely exterminate termites and provide continuous protection from termite infestations in the future. John Moore uses safe, EPA-cleared termiticide chemical barriers, spray, foam and wood treatments as part of our termite protection plans. Continuous termite treatment is essential to prevent new colonies from infesting, especially for those who live in the Houston-Gulf Coast area.
One of the Best Mosquito Control Companies in Friendswood, TX
Friendswood has become quite unfriendly with mosquitoes that are invading residential areas all over the Gulf Coast. Due to nearby lakes, marshes, and low lying land where water collects, mosquitoes can breed uncontrollably. Now, with the threat of West Nile and Zika across Texas, John Moore is encouraging homeowners to minimize their exposure to mosquito bites around their homes.
With John Moore's Bi-Monthly Mosquito Plus program, we will identify the primary cause of your mosquito problem and perform bi-monthly spray treatments with one of the best mosquito repellents in the industry. As an added benefit, this ongoing mosquito treatment program also includes extermination of standard pests like roaches, ants, and spiders.
Call John Moore today at 713-730-2525 for a free quote on our Bi-Monthly Mosquito Plus treatments in Friendswood
John Moore's Rodent and Wildlife Removal in Friendswood
Some of the most common home invaders in Friendswood and the Gulf Coast area are house mice, deer mice, birds, and possums. Because there are many places to hide in your attic, air ducts, and crawl space, you may not know that you have rodents or other animals living in your house until you have an infestation. Mice can breed in just twenty days and multiply by as many as fourteen in one litter. So, it's important for you to watch for signs like track marks in your insulation, black-pellet shaped feces in your cabinets or attic, gnaw marks, or foul odors coming from your vents or your attic.
John Moore will not only exterminates mice and rats with glue traps and snap boards, but we also get rid of wildlife in compliance with Texas State Law. Animals such as birds, nutria rats, and possums will be released to a state park or animal sanctuary at least ten miles away like Galveston State Park or the Turtle Bayou Nature Preserve. We will also point out anything around your home that is inviting rodents or wildlife to your property such as garbage, piles of wood, tall weeds, or foliage. Once rodents or wildlife are excluded from your home, John Moore will spray a DSV spray in your attic to disinfect areas contaminated by rodents or wildlife. This will neutralize the scent that would otherwise attract more animals to your home.
Get Instant Pest Control Help in Friendswood!
Connect with a John Moore Expert Using a Single Click
Click this button so you can:
Schedule a Job | View Memberships | Learn About Financing
Fall Furnace Tune-Up & Inspection
With a No-breakdown Guarantee!*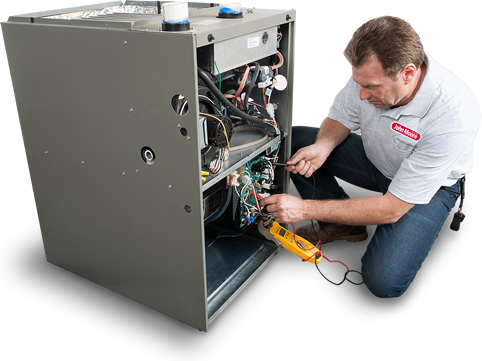 *If your heating system fails within one year of the maintenance, the cost of the $69 tune-up can be applied toward any repairs.
*Mention this special.
Kitchen and mainline stoppages with accessible cleanout. 60-day warranty.
*Mention this special.