Houston's Best Plumbers, Headquartered a Few Minutes from Copperfield.
From Copperfield Place and Easton Commons to Southdown and Westcreek Villages, John Moore has become a trusted home services provider and longstanding community member of Copperfield. The area's 2,000-plus acres lends a quieter, hometown feel just north of the bustling Energy Corridor with its mix of older and newer homes, parks, and jogging trails.
With many of the residences in Copperfield built in the 1980s, John Moore has been called upon to tackle various plumbing issues caused by outdated plumbing systems. We've repaired thousands of pipe leaks, water heaters, and sewer stoppages over the years. We're also called to perform minor plumbing services in Copperfield's newer homes, such as drain cleaning, unclogging, and water treatment installations.
John Moore's Plumbing Services Include:
Plumbing repair & inspections, Standard and tankless water heater repair & installation, Whole-house re-piping services, Rooter & drain clean services, Sewer stoppage & replacement, Water softeners & filtration, Slab leak detection & repair, Sinks - tubs - faucets - garbage disposals
Are you dealing with a major leak or sewage backup in your home? Call John Moore at 713-730-2525.
Potable Water Repiping in Copperfield
Older homes come with older pipes, which can eventually lead to costly damage to your home if leaks aren't addressed immediately. If you live in an older home in Copperfield, look out for signs of damaged pipes, including tinted water or low water pressure. Most homeowners with galvanized pipes are repiping their entire home with PEX piping. This is because rusted, galvanized pipes eventually sprout leaks that lead to water damage throughout the home. Unlike copper and galvanized pipes, PEX piping does not rust or corrode, so you won't have to worry about leaks or drinking rusty water. And by having your whole house repiped by John Moore, you'll also get all new shut-off valves underneath sinks and toilets, type-L commercial grade copper hard pipes from your water heaters, and all new PEX pipes. We'll even provide new hose bibbs and spigots to the outside of your home.
Water Quality Solutions in Copperfield
The Galveston-Houston area, which includes Copperfield, draws its water from underground areas containing limestone and clay strata. With that comes traces of limestone, calcium, and magnesium from the earth that end up creating hard water in your home. If you've seen  hardened gunk around your sink and shower fixtures, that's exactly what permanent hard water damage looks like. So before you decide to get beautiful new fixtures, think about how you're going to prevent hard water damage from happening again in the future.
With John Moore's water softener solutions, you can have peace of mind knowing that you have water that is gentle on your home—and  on your clothes, hair, and skin. If you're also concerned about the contaminants in your drinking and bathing water, John Moore can install carbon filters or a whole-home water filtration system to give you and your family safe, clean water to enjoy.
How do you install a water softener or water filtration system in your home? Call John Moore's plumbers in Copperfield at 713-730-2525.
Get Help from a Local Copperfield Plumber!
Connect with a John Moore Expert Using a Single Click
Click this button so you can:
Schedule a Job | View Memberships | Learn About Financing
Fall Furnace Tune-Up & Inspection
With a No-breakdown Guarantee!*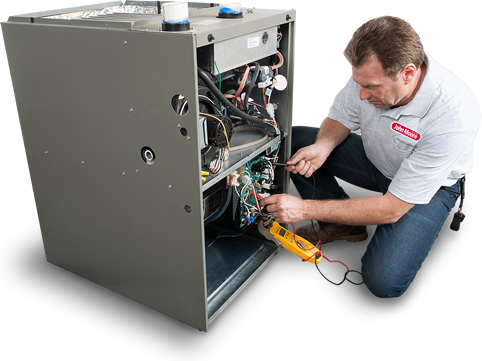 *If your heating system fails within one year of the maintenance, the cost of the $69 tune-up can be applied toward any repairs.
*Mention this special.
Kitchen and mainline stoppages with accessible cleanout. 60-day warranty.
*Mention this special.