Alvin Electrical Services
Licensed & Insured Electricians in Alvin, Texas
Dependable Rewiring, Replacements, and More
Providing Alvin with All Your Home Service Needs
John Moore began offering plumbing services in 1965. In 1997, we began offering air conditioning services to Alvin Homeowners. A year later, we added pest control. In 2005, we added electrical services to our expanding list of offerings. Since then, we have provided electrical services to thousands of Alvin homes, making them safer and more energy efficient in the process. John Moore is proud to have grown alongside Alvin, and we look forward to improving more homes for homeowners like you.
If you're currently dealing with an electrical emergency like sparks, smoking outlets, or fire, please contact your electricity company and have them shut off power to your home. Call the Alvin fire department via 9-1-1 dispatch to put out any fires before contacting John Moore.
John Moore's Electrical Services Include:
Electrical Repairs & Upgrades, Breaker Panel Inspection, Repair, and Replacement, Rewiring, Electrical Inspections, High-Voltage Repair, Whole-Home Surge Protection, Indoor and Outdoor Lighting, Overhead & Underground Lines, Grounding, Electrical Outlets, Switches, & Dimmers, Ceiling Fan & Fixture Installation, Stand-by Generators, LED & Recessed Lighting, Code Corrections
Outages? power outlets that don't work? Need an upgrade? Call 713-730-2525 to schedule John Moore's next available licensed electrician.
Alvin's Breaker Panel Experts
Your home's breaker panel (also referred to as a distribution panel or electrical panel) divides and distributes electricity to all of the outlets, lights, and appliances in your home. Depending on your home's design, your distribution panel may be located in your attic, garage, a closet, or in some cases on an exterior wall of your home. We recommend having your electrical panel inspected before moving into a home and before making any major renovations, especially if they involve installing new light fixtures, outlets, or large appliances. It's recommended that homeowners have their breaker panel inspected every few years to ensure that there are no short fuses or damage from pests that could lead to an electrical fire.
If you live in an older Alvin home built before 1970 with the original electrical system in place, you should make sure that your home doesn't have an outdated or recalled panel. Older electrical panels don't always turn off in the case of a power surge, which could lead to sparks or fires from the high levels of electricity being permitted through your home's electrical system. Finally, if you notice breakers on your panel won't reset; circuits that constantly short or trip; or outlets, lights, and appliances that don't work, then you may have faulty components within your electrical panel. Whatever the case, John Moore's licensed and insured electricians are ready to inspect and solve any and all of your breaker panel issues so that you can enjoy your home's electricity worry free.
Rewiring services in Alvin, Texas
Your electrical wiring system carries electricity from your distribution panel to the lights, appliances, and outlets around your home. If your home is relatively new (built after 1990) your electrical wires are most likely made of copper and are insulated with a durable, PVC plastic that prevents them from coming into contact with other wires, conductive materials, or flammable building materials within your wall. The use of this safer PVC does not, however, mean that your wiring is safe from being tampered by pests or rodents, which could lead to exposed wires or wires that have been completely chewed through. If you notice flickering lights or light switches that don't work, you may have faulty wires. If we do find evidence that mice or rats have chewed through your electrical wire insulation, we will refer our pest control specialists to take care of them so that the same problem does not persist.
If your home was built before 1990, your electrical wires may have an outdated type of plastic insulation that is prone to disintegrating, especially in the flux of Houston heat. Additionally, it's likely that your wires would be made of aluminum with a rubber protective coating. These older wiring systems are known to overheat, especially when used to power or charge modern electronics and appliances. If you live in an older home, we suggest you have your wiring system inspected and upgraded by a licensed electrician to prevent the chance of electrical fires. If you have two-prong, ungrounded outlets in your, you should have your wiring and electrical system upgraded to a newer, safer, more efficient system as soon as possible.
Get Instant Electrical Help in Alvin!
Connect with a John Moore Expert Using a Single Click
Click this button so you can:
Schedule a Job | View Memberships | Learn About Financing
Kitchen and mainline stoppages with accessible cleanout. 60-day warranty.
*Mention this special.
Fall Furnace Tune-Up & Inspection
With a No-breakdown Guarantee!*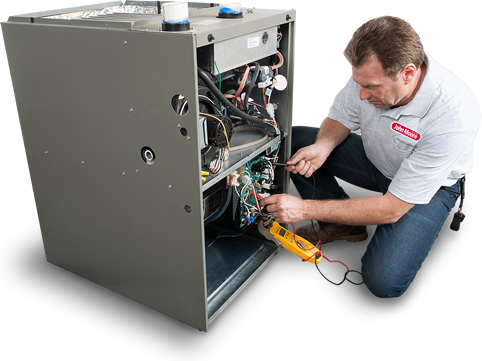 Get a 30-point inspection and tune-up to keep your system in optimal condition!
*If your heating system fails within one year of the maintenance, the cost of the $69 tune-up can be applied toward any repairs.
*Mention this special.