Glossary
Bathtub and Shower Replacement
Air jets
when activated, these jets will stream air into your bathtub to cause the water to bubble and move for a relaxing massage while you bathe.
Alcove Bathtubs
Fitted to your wall on three sides with one outward facing panel. Alcove tubs are a common design and are often smaller than standalone or corner tubs.
Bathtub/Shower Combination
Typically found in alcove bathtubs, this is simply a tub with an added showerhead. The showerhead may be customized to the user's liking.
Clawfoot Bathtubs
Classic tub design with paw shaped legs. Usually antique inspired, this is a type of stand alone tub. Can be made from a variety of materials.
Cold Water Supply Pipe
Controls the cold water supplied to your tub
Cracked Bathtub
Any tub that develops a seam or break in its surface. Must usually be replaced as the crack can become a hole, creating a drainage and mold problem.
Faucet
Controls the water temperature and pressure. Water leaves the home's pipes to enter your tub through the faucet. Faucets may rust with time and need replacement.
Faucets
Fixtures that dispense water and control the water's temperature and pressure. Can have multiple handles or one to allow for varied user control.
Hot Water Supply Pipe
Delivers hot water to your tub.
Jacuzzi style tub
Any tub with air jet upgrades, but typically seen only on larger corner style tubs.
Outflow Pipe
Pipe that connect to your drain. Allows greywater to drain from your tub Paneling"
Rails
A bar shaped accessibility add-on that give the person taking a shower a firm surface to grip while lifting themselves from a tub or showering.
Repiping
A critical process where a plumber removes faulty pipework from your home and replaces your old potable water system with new pipes to prevent further leaking, backups, and poor water flow. May need to be completed for homes with rusty or corroded pipes. Not uncommon in older homes.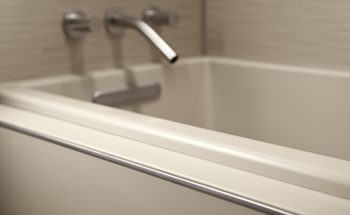 Rim
Varies in thickness, but acts as the wall of the bathtub and protects the rest of the bathroom from water damage.
Roll-in shower
Shower built for wheelchair users. Built without a barrier or impediment at the entrance and shaped with a wider entrance than both standard and walk-in showers such that a wheel chair may easily pass through. May have a built in shower chair for transfers.
Shower Arm
Connects the shower head to the wall of the shower.
Shower Chair
Typically a padded fold down chair that can be installed with your shower, making it easier for disabled or aging users to sit while they wash up.
Shower Door
Seals in moisture from the shower to prevent any water from leaving your shower. Shower head"
Shower Tiles
Waterproof tiles that line the inside of your shower. Shower tiles come in a variety of designs but ultimately serve to protect the walls of your home from moisture while providing an easy to clean surface inside the shower.
Slipper Bathtubs
Stand alone tubs that slope up at either side to allow bathers to relax back into the tub.
Stand Alone Tubs
Tubs that are not fitted to your wall or an enclosure. Standalone tubs stand on either a base or reinforced legs and are attached to your plumbing through a special drain. Can come in a variety of styles but require plenty of room.
Surround (also referred to as Backsplash)
Tiles along the wall of your shower or just above your bathtub that protect your drywall from moisture. Often seen between the rim of a tub and a windowsill.
Tarnish
Builds up along tub surfaces after years of use and is often impossible to remove. Tarnish can make a surface slicker, creating a potential slip and fall hazard. Trap"
Waste outlet
Connected to the outflow pipe by the trap, this section of the tub drains to the main line drain of your home to take greywater out and away from your home.