Sugar Land Plumbers You Can Count On
As one of the hundred best places to live in the entire country, Sugar Land is a city that many families proudly call home. And over the past 50 years, John Moore has been there with Sugar Land homeowners, watching the city grow into the outstanding hub for culture and education that it is today. But as the city itself grows, we have also seen the decay of plumbing systems in Sugar Land homes.
Along with growth comes change, and as your home grows older, you may find that it's time make changes to its plumbing systems. Today, John Moore's licensed plumbers are upgrading main lines and potable water systems all over Sugar Land, using the latest technology for solutions that will last well into the future. Whether you need a drain cleaned or a major rehaul of an old plumbing system, John Moore is committed to helping Sugar Land remain one of the greatest places to call home.
John Moore's Plumbing Services Include:
Plumbing repair & inspections, Tankless and standard water heater repair & installation, Whole-house re-piping services, Rooter & drain clean services, Sewer stoppage & replacement, Water softeners & filtration, Slab leak detection & repair, Sinks, tubs, faucets, garbage disposals
Are you experiencing a major leak or sewage backup in your home right now? Call 713-730-2525 to schedule our next available plumber.
Slab-Leak Detection, Repiping Services for Sugar Land Homes Built Before the 1980s
Your home's potable water system is responsible for distributing clean water to all the faucets and appliances in your home. But over time, the pipes that comprise your potable water system can fail, rust, or burst, depending on what they're made of. Galvanized pipes rust from the inside out, so after about 15 or 20 years, you will start to notice pinhole leaks and rust-tinted water in your home. PVC pipes, on the other hand, won't rust, but they do tend to burst open at connection points after years of being under pressure. And many Sugar Land homes rely on copper looped slab systems that not only rust and corrode like galvanized pipes, but can also bend and snap as a result of going through the foundation of your home.
The universal signs that something has gone awry with your home's potable water system are low water pressure and water spots. If you notice water spots on your walls and ceilings, rust has likely eaten its way through your galvanized pipes, forming pinhole leaks. And if you notice water coming up through your foundation, then you most likely have a copper looped slab system that is leaking as a result of a broken copper pipe.
In either situation, the best long-term solution is a whole-home repipe, where we replace the piping system in your home with a more reliable system. John Moore's whole-home repipes are carried out using PEX piping, a state-of-the-art piping material that won't rust or corrode like copper or galvanized pipes. And because PEX is flexible, it has less connection points than PVC pipes, meaning that there is virtually no chance it will burst open. All of our whole-home repipes come with a 25 year parts warranty and a 10 year warranty on labor, which excludes natural disasters and vandalism.
Contaminants Like Lead, Cyanide, & Radium Make Water Quality Solutions a Priority for Sugar Land Families
From award-winning schools to a bustling city center, there are many things that make Sugar Land a great place for families, but it's water quality isn't one of them. Although Sugar Land's water passes EPA regulations, there are still traces of contaminants like lead, cyanide, and radium in the city's water supply according to a 2016 Annual Sugar Land Water Report. Sugar Land works hard to remove many of these contaminants before they enter your home, but even traces of these chemicals can have a long-term effect on your health and the health of your family if they are consumed on a regular basis, especially if you or anyone in your home has a weak immune system or an autoimmune disease.
Instead of taking a risk on your tap water, you can have John Moore install a whole-home water filtration system that uses a combination of carbon filters to provide you and your family with clean water to drink and bathe in. And if you're worried about the hardness of Sugar Land's water damaging your fixtures, faucets, skin, clothes, and hair, we also offer whole-home water softeners that combat limescale build up and will leave your skin and hair feeling rejuvenated.
Are you ready for better water quality in your home? Schedule your consultation today!
Get Help from a Local Sugar Land Plumber!
Connect with a John Moore Expert Using a Single Click
Click this button so you can:
Schedule a Job | View Memberships | Learn About Financing
Fall Furnace Tune-Up & Inspection
With a No-breakdown Guarantee!*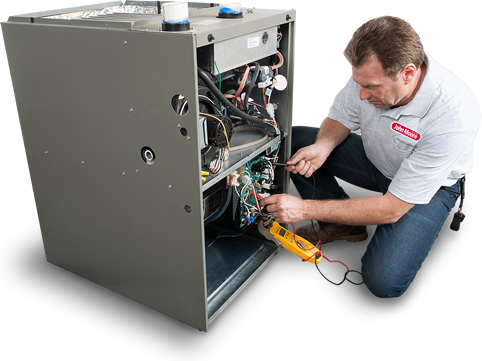 *If your heating system fails within one year of the maintenance, the cost of the $69 tune-up can be applied toward any repairs.
*Mention this special.
Kitchen and mainline stoppages with accessible cleanout. 60-day warranty.
*Mention this special.