John Moore, The Plumbers Stafford Homeowners Have Called On For More Than 50 Years
The City of Stafford is diverse in many things, including businesses, people, and homes. Among the many newer homes in Stafford, there are still a good amount of older homes that were built before the 80s and some that are over 60 years old! So you can imagine the types of plumbing repairs we've performed over the past fifty years: water heater replacements, leaky pipe repairs, sewer line repairs, drain cleanings, and even smaller jobs like sink and garbage disposal repairs. John Moore's plumbers have really seen it all.
And because Stafford is one of the hardest working cities in the Houston area, we strive to provide the same work ethic for you. Our customer care center is open 24-7 to take your call so that we can get a certified plumber out to you as soon as possible. John Moore plumbers stay on top of the latest advancements in plumbing solutions, including water filtration systems and drain cleaning technologies to keep your home running smoothly and you and your family at ease.
John Moore's Plumbing Services Include:
Plumbing repair & inspections, Tankless and standard water heater repair & installation, Whole-house re-piping services, Rooter & drain clean services, Sewer stoppage & replacement, Water softeners & filtration, Slab leak detection & repair, Sinks, tubs, faucets, garbage disposals
Do you have a major leak or no hot water in your home? John Moore's customer care center is open 24-7 to take your call at 713-730-2525.
Whole-Home and Horizontal Repipes in Stafford a Popular Recourse for Rusted Galvanized Pipe
If you're a longtime homeowner in Stafford, chances are that you've notice your home's water system doesn't perform like it used to. Most potable water systems built before the 80s are made of galvanized pipes, which are prone to rust the inside out, eventually creating holes that lead to water leaks and low water pressure in your home.
And if you have a newer home in Stafford with PVC piping, you might notice low water pressure or leaks caused by weak connections or "joints" that can even sometimes rupture leading to a big mess in the walls of your home. Thanks to a new piping solution that addresses both rust and durability, John Moore plumbers can replace your galvanized or PVC pipes with a longer-lasting solution that will protect your home for many years to come—if not forever. PEX Piping is not only anti-corrosive, it is designed to better withstand the high water pressure of your potable water system.
Water Softeners & Whole-Home Water Filtration Systems: Popular, Cost Effective Water Quality Solutions for Stafford
Beta/photon emitters? What's that? Although your water is deemed safe for drinking, take note that Houston is a densely populated, industrial city exposed to drilling waste, pesticides, and sewage. A beta/photon emitter is a radioactive contaminant found in your water along with traces of 25,000 other harmful contaminants, like cyanide.
When you can't control the water that flows into your home, your only option is to control how it comes out of your tap. John Moore offers top-rated whole-house water filtration systems that purify every drop of water you use for drinking, cooking, washing, and bathing. Our goal is to transform your water quality so you can protect the health of your family and your home. We also offer whole-house water softeners to treat hard water as well advanced limescale prevention systems like FlowTech to protect your faucets and appliances from limescale damage.
Questioning your water quality? Call for a John Moore plumber in Stafford at 713-730-2525 to discuss water filtration systems.
Get Help from a Local Stafford Plumber!
Connect with a John Moore Expert Using a Single Click
Click this button so you can:
Schedule a Job | View Memberships | Learn About Financing
Fall Furnace Tune-Up & Inspection
With a No-breakdown Guarantee!*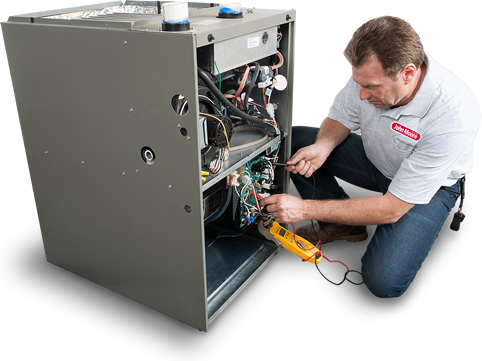 *If your heating system fails within one year of the maintenance, the cost of the $69 tune-up can be applied toward any repairs.
*Mention this special.
Kitchen and mainline stoppages with accessible cleanout. 60-day warranty.
*Mention this special.