Energey Efficient Spring Electrician Services
Over the past 50 years, Spring, Texas has blossomed from a small town into a bustling city all its own, and John Moore is proud to have grown alongside the area. Starting as a plumbing company in 1965, our plumbers have helped thousands of Spring homeowners. In 1995, we expanded our services to include Spring electrical services like inspections, repairs, and upgrades and since then, we've upheld our promise to make electrical systems in Spring homes- both new and old- safer and more efficient.
Reliable Electricians in Spring, TX
While homes in Spring vary in age- from those in Cypresswood and Memorial Northwest built between the 1970s and 1990s to newer homes in WindRose and Gleannloch Farms- if your home is more than five years old, we highly recommend having your electrical system inspected by a professional electrical contractor in Spring, especially if you've recently added new appliances or notice that outlets and switches in your home aren't working as they should. If you live in an Old Spring home that was built before the 1970s and still uses two-pronged outlets, you should have your home's electrical system upgraded by an electrician in Spring to include a grounding system. From upgrading old wiring systems to replacing outdated breaker panels, our licensed electricians in Spring do everything we can to ensure that you and your family is safe and that your home's electrical system runs as efficiently as possible.
John Moore's Spring Electrical Services Include:
Electrical Repairs & Upgrades, Breaker Panel Inspection, Repair, and Replacement, Re-wiring, Electrical Inspections, High-Voltage Repair, Whole-home Surge Protection, Indoor and Outdoor Lighting, Overhead & Underground lines, Grounding, Electrical Outlets, Switches, & Dimmers, Ceiling Fan & Fixture Installation, Stand-by Generators, LED & Recessed Lighting, Code Corrections

Call John Moore at 713-730-2525 to schedule your electrical inspection today.
Breaker Panel Services from a Spring Electrical Contractor
Typically located in your garage, attic, or a closet in your home, your breaker panel (also referred to as a distribution board, electrical panel, or breaker box) routes all of the electricity that comes from your electrical provider to the proper appliance, light, or device in your home. When operating as it should, your electrical panel should only send the appropriate amount of electricity to each device. In the case of a power surge, it should shut off electricity to whatever area of your home is drawing too much electricity.
If your breaker panel is constantly tripping, it could mean several things: there's a problem with your home's wiring; an appliance or device in your home is drawing too much electricity; your home's electrical system isn't properly grounded, or there is a problem within the distribution panel itself. Sometimes, fuses inside your distribution panel will catch on fire and quickly burn out if they're overloaded. If you notice burn marks or an acidic smell coming from your breaker panel, or you notice that a certain breaker on your panel won't reset, our Spring electricians may need to replace some components or your entire distribution panel.
An Electrician in Spring for Older Homes
Older Spring homes may still run on an outdated breaker system. If your home was built before the 90s, our Spring electrical contractors recommend learning what breaker panel your home uses and checking IsMyPanelSafe.com to determine whether or not your breaker panel is up to date. If you find that your breaker panel is outdated or has been recalled, then you should have it replaced with a newer, safer panel by our electrical contractors in Spring as soon as possible. Because of the high-risk of electrocution and explosions, it's important to always call a licensed Spring electrician whenever you notice a problem that may be traced back to your breaker panel rather than make repairs and upgrades yourself.
Rewiring from Electrical Contractors Spring, TX
Our electrical contractors Spring want you to understand that the insulated wires running through the walls of your home carry electricity from your breaker panel to various lights and outlets around your house. Ideally, these insulated wires should stay undisturbed behind your walls, but sometimes the insulation on these wires will corrode over time or rodents will chew through them. When this happens, there is a potential for wires to fray or touch one another, creating sparks and the conditions for an electrical fire. If you notice flickering lights or a strange smell of smoke coming from your outlets or behind your walls, your wires may need to be inspected and replaced by a licensed electrician in Spring, Texas. If there are rodents in your home, though, it's important to have them removed before rewiring your home.
As with breaker panels, wiring systems have come a long way. In older homes, wiring systems may comprise knob-and-tube wiring, aluminum insulation, and non-copper wires- all of which are inefficient and more prone to start electrical fires. If you live in an Old Spring home built before the 1970s that haven't had any electrical upgrade, you should call our Spring electrical contractors for an electrical inspection and strongly consider upgrading the wiring system in your home. Similarly, if you live in a home built before the 1990s, your wires may have brittle insulation because of the type of plastic used to insulate wires during the time your home a certain breaker.
Get Instant Electrical Help in Spring!
Connect with a John Moore Expert Using a Single Click
Click this button so you can:
Schedule a Job | View Memberships | Learn About Financing
Kitchen and mainline stoppages with accessible cleanout. 60-day warranty.
*Mention this special.
Fall Furnace Tune-Up & Inspection
With a No-breakdown Guarantee!*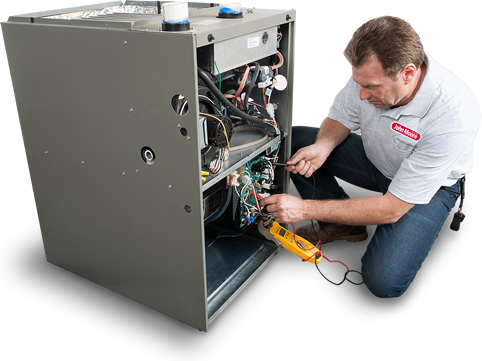 Get a 30-point inspection and tune-up to keep your system in optimal condition!
*If your heating system fails within one year of the maintenance, the cost of the $69 tune-up can be applied toward any repairs.
*Mention this special.