Spring Branch Pest Control Service
Two Decades of Reliable, Reputable Pest Control Service in Spring Branch, TX
Your Neighborhood Pest Control Company in Spring Branch
Insect Control & Animal Removal Services in Spring Branch
Like all of Houston, Spring Branch weather is humid subtropical with scattered forestry and the potential for heavy rains. This climate makes Spring Branch an excellent habitat for many creepy-crawlies and furry creatures that make their way into homes. Because many of the homes in Spring Branch are generally older with holes and cracks in their exterior, they are at a higher risk for animal and insect invasions and infestations. Infestations can also happen in newer homes if they haven't been properly sealed off. The good news is that John Moore has been performing pest control in Houston and Spring Branch homes for two decades. We know the different types of roaches, rodents, ants, and animals that are commonly found in the area, how to get rid of them, and how to ensure they stay out of your home and yard for the long haul.
John Moore's Pest Control Services Include:
Standard Pests: roaches, spiders, indoor ants, millipedes, centipedes, wasps, moths, flies, Termites, Mosquitos, Rodents and other wildlife (possums, raccoons, squirrels, bats, and snakes), Bed bugs, Fleas and ticks, Bees, Fire ants

Think you hear something in your attic? Call John Moore for pest control services in Spring Branch at 713-730-2525.
John Moore's Free Termite Inspection in Spring Branch
You may spot a termite problem by the dirt tunnels they build around your home or by the damage they leave behind. But sometimes, you may not even know that you have a termite problem because termites often eat through wood from the inside out. A group of termites known as 'the workers,' can only be seen if you break through their dirt tunnels (in the case of formosan termites) or if you look inside of a wood beam or fixture that they're devouring (in the case of drywood termites). So when is it worth you getting a termite inspection?
Because you live in a city that is at high-risk of termite infestations, it's recommended to have your home inspected for termites every year. If you haven't had your home inspected for termites recently, or suspect that termites may be snacking away at your home, you can call John Moore's pest control team for a free termite inspection. If termites are found, we will determine which type of termite is present in your home: drywood termites, formosan termites, or subterranean termites. All three of these destructive termites have been found in every metropolitan area across Texas, including Spring Branch. We will use this information along with the age of your home and where we found the termites to customize a termite treatment plan for your home. All of our liquid and foaming termiticides have been deemed safe by the EPA to use in residential homes.
Top Mosquito Control Company in Spring Branch, Texas
Living in a city known for its low-lying land and bayous can be a challenge when it comes to mosquitoes. With heavy rains and standing water, mosquitoes have many opportunities to breed throughout the year in Houston. Citronella candles, mosquito traps, and bug spray may lessen the amount of mosquitoes that hang around your yard, but since mosquitos are so prevalent in Spring Branch, these methods often fail to completely eliminate mosquitoes around your home. Besides having to put up with itchy bites, you also have to worry about West Nile and Zika with cases being reported all across Texas.
Your best chance for a mosquito-free yard is with John Moore's bi-monthly Mosquito Plus Program. First, we will inspect what is causing mosquitoes to populate in your yard and help you eliminate those factors. This may involve you finding ways to remove or sanitize areas of standing water in your yard. If they are traveling from a body of water outside of your property, we will strategically repel mosquitos away from your yard so that they stay away from your home for good. With John Moore's bi-monthly mosquito treatment program, your yard will be treated every other month with the industry's most effective mosquito repellent, which has been safety-tested by the EPA and deemed safe for humans and pets. We also offer one-time mosquito treatments that rid mosquitoes temporarily while you host guests.
Want to get rid of mosquitoes in your yard for good? Call John Moore in Spring Branch at 713-730-2525 and ask about our bi-monthly Mosquito Plus treatment program.
Remove Rodents & Other Animals with Spring Branch Pest Experts
If you think that rats, mice, and wildlife like raccoons and possums only infiltrate homes during the wintertime, think again. Besides seeking warmth in homes, they're also looking for food, water, and protection from predators. Sometimes, you won't even know they're living, breeding and colonizing in your home until they've infested. When you share your home with rodents and wildlife, you not only have to worry about sighting them in your hallway and eating your food, you also have to worry about exposing your family to disease such as rat-bite fever and salmonella.
Even if you have a small suspicion that you have rodents or other wildlife in your home, it's time to call John Moore. The quicker we address your rodent problem, the easier it is to manage and clean up— and we may be able to prevent a full-scale infestation if we catch the sneaky rodents earlier on. Before we set up bait boxes and traps around your home, we seal off any openings where mice and rats may enter. Once all rodents in your home have been trapped, we will disinfect your attic and crawl spaces to cover up any territorial scent left behind to prevent other animals from being attracted to your home.
If you have a wildlife animals such as possums, bats, and reptiles, in your home, Texas State law requires us to humanely catch and release them into a animal sanctuary.
Get Instant Pest Control Help in Spring Branch!
Connect with a John Moore Expert Using a Single Click
Click this button so you can:
Schedule a Job | View Memberships | Learn About Financing
Fall Furnace Tune-Up & Inspection
With a No-breakdown Guarantee!*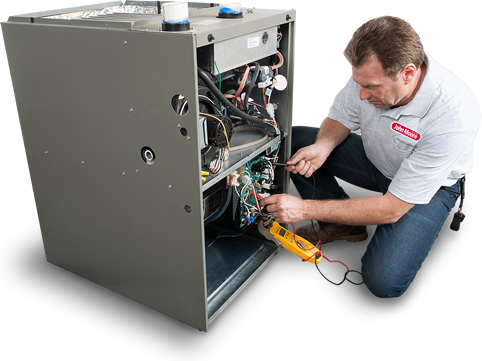 *If your heating system fails within one year of the maintenance, the cost of the $69 tune-up can be applied toward any repairs.
*Mention this special.
Kitchen and mainline stoppages with accessible cleanout. 60-day warranty.
*Mention this special.