John Moore – Reliable, Professional Plumbers in Shenandoah since 1965
One thing's for sure about the homeowners in this small South Montgomery city: you all take pride in the upkeep of your homes. Although many homes in Shenandoah are newer, certain parts—like their plumbing system—still need tender love and care. Water heaters need to be serviced, drains need to be cleaned, and pipes may need to be replaced.
No matter how old your home is, John Moore is here to provide maintenance services, major plumbing repairs, and upgrades like water filtration system installs and whole-home repiping with state-of-the art PEX piping. We even perform sewer line repairs on older Shenandoah homes built in the 70s. Just like you, we take pride in everything we do, so you can always expect quality products and top notch plumbing services from us.
John Moore's Plumbing Services Include:
Plumbing repair & inspections, Tankless and standard water heater repair & installation, Whole-house re-piping services, Rooter & drain clean services, Sewer stoppage & replacement, Water softeners & filtration, Slab leak detection & repair, Sinks, tubs, faucets, garbage disposals
Have a water leak or waste water that won't drain? John Moore's customer care center is always open to take your call at 713-730-2525.
Water Stains on Your Ceiling; a Sure Sign it's Time for PEX Repiping in Your Shenandoah Home
Are you noticing water spots on your walls and don't know where they are coming from? If you own an older home in Shenandoah, your leak may be coming from galvanized pipes that have rusted through. Rusted galvanized piping is fairly common in homes built before the 80s. In newer homes, leaks and low water pressure can be caused by PVC pipes that have buckled due to poor installation. In either case, water leaks can lead to costly damage in your home, meaning you should consider upgrading to more reliable pipes as soon as you notice rust, a leak, or low water pressure in your home.
Through a horizontal or whole-house repipe, John Moore will install a cutting edge piping solution called PEX piping. Unlike galvanized pipes, PEX piping does not rust or corrode, and PEX piping systems are designed with less connections so they're not prone to rupturing under high water pressure like PVC pipes.
Whole-House Water Filtration & Quality Systems for Shenandoah Homes
Buying bottled water can be a pain, and it only addresses the water you drink. What about the water you use for cooking and bathing? Because Houston's water is full of inorganic contaminants from pesticides, drilling wastes, and sewage, many homeowners are having whole house water filtration systems installed in their homes.
John Moore offers whole-house filtration systems that eliminate almost all of the harmful contaminants and by-products in Houston's water, so you can feel good about your home's water quality. Installing a whole-house water filtration system is like using bottled water for bathing, cooking, drinking, and washing—only without the contaminants that come from the plastic bottle! John Moore's certified plumbers can also install a water softener to prevent hard water damage to your fixtures, appliances, skin, and hair.
Want healthier, non-damaging water? Call John Moore at 713-730-2525 to learn about water filtration systems.
Get Help from a Local Shenandoah Plumber!
Connect with a John Moore Expert Using a Single Click
Click this button so you can:
Schedule a Job | View Memberships | Learn About Financing
Fall Furnace Tune-Up & Inspection
With a No-breakdown Guarantee!*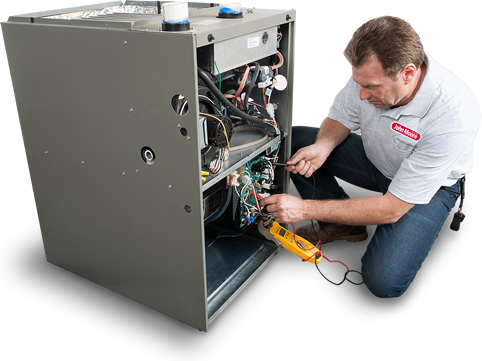 *If your heating system fails within one year of the maintenance, the cost of the $69 tune-up can be applied toward any repairs.
*Mention this special.
Kitchen and mainline stoppages with accessible cleanout. 60-day warranty.
*Mention this special.