Trusted Electricians in Shenandoah, TX
Shenandoah Electrical Services from Insured, Licensed Electricians
Safe, Energy Efficient Homes in Shenandoah
Inspections, Rewiring, Repairs and Beyond
Signs of electrical issues in your home may not be a big deal at first, but we recommend you take notice as you see them. While some issues like lights that flicker or plugs that stop working seem like mere inconveniences, they could be signs of bigger issue to come and should not be put off for later. If you begin to notice a burning smell that doesn't have a source – or see sparks, even – it is time to call John Moore for an inspection. What may start small as a bit of faulty wiring in your walls or a short circuit in your electrical panel could lead to a very serious issue like an electrical fire.
Notice: If there is a fire in your home, call 911 or your local fire department. If you notice smoke, sparks, or hear a buzzing sound coming from behind your walls, immediately call your electrical service provider to turn off your home's electricity and then call John Moore.
John Moore's Electrical Services Include:
Electrical Repairs & Upgrades, Breaker Panel Inspection, Repair, and Replacement, Rewiring, Electrical Inspections, High-Voltage Repair, Whole-Home Surge Protection, Indoor and Outdoor Lighting, Overhead & Underground Lines, Grounding, Electrical Outlets, Switches, & Dimmers, Ceiling Fan & Fixture Installation, Stand-by Generators, LED & Recessed Lighting, Code Corrections
Call John Moore at 713-730-2525 to schedule your electrical inspection today!
Breaker Panel Inspection in Shenandoah, Texas
Your breaker box is the main hub of your home's electrical system. The breaker box, also sometimes referred to as the distribution board, electrical panel, or breaker panel, may be located in your garage, attic, an exterior wall, or a closet. The purpose of this panel is to distribute power to each outlet, appliance, and light in your home. As electricity is distributed, the breaker box monitors the output and ensures that there isn't an overload. Should there be a power surge or overcurrent (when an appliance pulls unsafe amounts of electricity), the breaker box will shut off electricity to that part of your home.
If a breaker is constantly tripping, there may be an issue with your electrical system. Perhaps an appliance is drawing too much electricity, the system isn't properly grounded, or there may be an issue with the panel itself. Sometimes after constant tripping, a breaker may be overloaded, which may result in a fire.
Older homes in Shenandoah may still run on an outdated breaker panel that may be missing the cut-off safety feature, which could lead to a dangerous electrical overload. If your home was built before the 1980, we recommend learning what breaker panel your home uses and checking IsMyPanelSafe.com to determine whether or not your breaker panel is up to date. If you find that your breaker panel is outdated or has been recalled, then you should have it replaced with a newer, safer panel as soon as possible.
Rewiring Services in Shenandoah
The electrical wiring system within your walls carry electricity from your breaker box to your home's various outlets, lights, and appliances as you use them. Unfortunately, as time goes by, the insulation around your wiring may disintegrate, melt, or be withered away by rodents, which can leave your wiring exposed. Should two exposed wires touch, this could cause sparks behind your walls, which could lead to an electrical fire. If you notice flickering lights or a strange smell of smoke that doesn't appear to have a source, your wires may need to be replaced.
As with breaker panels, wiring systems have come a long way. In older homes, wiring systems may still be comprised of aluminum wiring with rubber insulation, which are no longer used in contemporary electrical outfitting as builders and electricians have discovered that these are inefficient and more prone to starting electrical fires as they age. If you live in a home built before the 1970s that hasn't had any electrical upgrades, you should call for an electrical inspection and strongly consider upgrading the wiring system in your home to the modern, safer copper wiring with a PVC insulator. Similarly, if you live in a home built before the 1990s, your wires may have brittle insulation because of the type of plastic used to insulate wires during the time your home was constructed. Whether age or rodents have compromised your wiring, we're here to help.
Get Instant Electrical Help in Shenandoah!
Connect with a John Moore Expert Using a Single Click
Click this button so you can:
Schedule a Job | View Memberships | Learn About Financing
Kitchen and mainline stoppages with accessible cleanout. 60-day warranty.
*Mention this special.
Fall Furnace Tune-Up & Inspection
With a No-breakdown Guarantee!*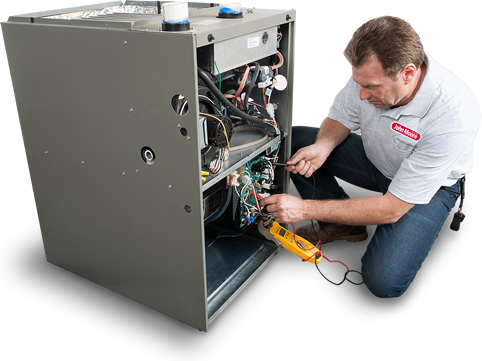 Get a 30-point inspection and tune-up to keep your system in optimal condition!
*If your heating system fails within one year of the maintenance, the cost of the $69 tune-up can be applied toward any repairs.
*Mention this special.