Reputable Electrical Services in Seabrook
Seabrook's Trusted Name in Home Services
Inspections, Replacements, Rewiring, and Moore!
Caring for the Electrical System of Your Seabrook Home
As with any home, it is important to have your electrical system inspected every few years to ensure that everything is in perfect working order and prevent any electrical issues. When your electrical system is working properly, your breaker box distributes electrical current through the wiring behind your walls to power your appliances, your electronics, your lights, and so on in a way that's safe and energy efficient. But as your home ages, so does its electrical system, which can unfortunately compromise the safety of your wiring and electrical panel. As these components age, circuits and fuses may short out, wire insulation can become brittle or may be chewed through by pests, grounding systems can be disturbed, and in older homes, electrical systems may be missing critical safety features altogether.
Notice: If you notice smoke or sparks coming from an outlet, immediately call your electrical provider and ask them turn off your home's electricity. Call the Seabrook Fire Department via 9-1-1 dispatch to extinguish any fires before calling John Moore.
John Moore's Electrical Services Include:
Electrical Repairs & Upgrades, Breaker Panel Inspection, Repair, and Replacement, Rewiring, Electrical Inspections, High-Voltage Repair, Whole-Home Surge Protection, Indoor and Outdoor Lighting, Overhead & Underground Lines, Grounding, Electrical Outlets, Switches, & Dimmers, Ceiling Fan & Fixture Installation, Stand-by Generators, LED & Recessed Lighting, Code Corrections
Call 713-730-2525 to schedule one of John Moore's licensed electricians to inspect your electrical system today.
Breaker Panel Repairs and Replacements in Seabrook
Your home's breaker panel is the center of all electrical activity within your home. The breaker panel, which is sometimes referred to as a distribution panel or an electrical panel, is responsible for distributing power among your home's various outlets, appliances, lights, and anything in between. Your breaker panel may be located in a guest bedroom, closet, attic, garage, or even on an exterior wall of your home. If your home is more than five years old, it is highly recommended that you begin scheduling regular breaker panel inspections. Homeowners should have their breaker panel inspected every few years to ensure that nothing has been damaged by age, pests, or out-of-date equipment.
It is highly advised that you make sure that your home doesn't have an outdated or recalled breaker panel. If you live in one of Seabrook's historic seaside homes built before 1970 with the original electrical system in place, your electrical panel may not always turn off in the case of a power surge, which could potentially lead to sparks or fire. If you are experiencing lights that don't work or outlets that have no power, you may have faulty components in your electrical panel.
Keeping Seabrook Homes' Wiring Systems Up-to-Date
Modern wiring is made of copper wires insulated with PVC. Wiring must be insulated to prevent the live wires from coming in contact with each other or another conductor, which could cause sparks, possibly leading to a fire. Older wiring insulation is known to brittle over time, especially in Seabrook's warm, humid conditions. And even new wiring isn't immune to pests.
Older wiring methods found in Seabrook homes built before 1970 may be made of aluminum wire, insulated by a cheap rubber that deteriorates quickly over time, which can lead to the aforementioned exposed wire issue. Another issue with out-of-date wiring systems is that when powering modern appliances, the aluminum wires may overheat, which could melt insulation and cause sparks and fires. Flickering lights or lights that don't work may be signs of faulty wiring. If you have two-prong, ungrounded outlets in your home, you should have your wiring and electrical system upgraded to a newer, safer, more efficient system as soon as possible.
Get Instant Electrical Help in Seabrook!
Connect with a John Moore Expert Using a Single Click
Click this button so you can:
Schedule a Job | View Memberships | Learn About Financing
Kitchen and mainline stoppages with accessible cleanout. 60-day warranty.
*Mention this special.
Fall Furnace Tune-Up & Inspection
With a No-breakdown Guarantee!*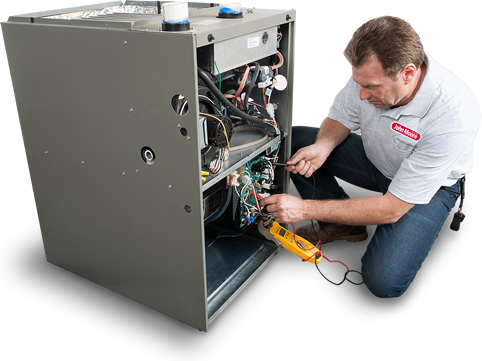 Get a 30-point inspection and tune-up to keep your system in optimal condition!
*If your heating system fails within one year of the maintenance, the cost of the $69 tune-up can be applied toward any repairs.
*Mention this special.