John Moore – The Plumbers Rosenberg Families Have Trusted since 1965
Rosenberg is a perfect home away from the city in Fort Bend, housing the county seat and boasting access to the Brazos River and many beautiful parks. Whether you love the outdoors or just enjoy living in a quiet town away from the business of Houston, Rosenberg is ideal for families of all sizes and has plenty of unique and beautiful homes.
But every home needs some help with plumbing from time to time, and that's why your neighbors have been calling John Moore since 1965. John Moore offers a full range of services, and our trained and licensed experts are ready to provide courteous service that gets the job done right the first time.
John Moore's Plumbing Services Include:
Plumbing repair & inspections, Tankless and standard water heater repair & installation, Whole-house re-piping services, Rooter & drain clean services, Sewer stoppage & replacement, Water softeners & filtration, Slab leak detection & repair, Sinks, tubs, faucets, garbage disposals
Do you need of a plumber to fix a major leak or sewage backup in your home today? Call John Moore at 713-730-2525 or contact us online to schedule our next available plumber.
Potable Water Repiping for Rosenberg Homeowners Prevents Interior Damage Caused by Rusty, Leaky Galvanized Pipe
Your home deserves pipes that always work, not pipes that betray their purpose with leaks and breaks. Each of these problems can create its own hazards, and leaks can be especially dangerous as they cause conditions ripe for mold and threaten the structural integrity of your walls, not to mention annoyingly low water pressure in your home. When your pipes start to go, call John Moore for a hassle free repiping experience that won't disrupt your life.
John Moore works exclusively with PEX piping to make your home's potable water system better and more reliable than it was before. Strong, flexible, and expandable, PEX is the latest in plumbing technology that won't leak, break, or corrode like galvanized or PVC piping. Our whole home repipes are backed by a 25 year warranty on parts and a 10 year warranty on labor.*
*Excluding acts of God (flood, storms, etc.) and vandalism.
Hazardous Chemicals Effectively Eliminated with Water Quality Solutions in Rosenberg Homes
Most of the Greater Houston Region, including Rosenburg, suffers from both trace chemical contamination and hard water, meaning that hazardous chemicals could be building up in your body over time from tap water and that it may be hard to clean your home, cook, or keep your pipes running right because of calcium and magnesium buildup. Water should not do any of these things, and here at John Moore we offer a range of services to make sure your water is doing its job.
Our whole-home filtration system will restore your trust in your tap water by eliminating trace chemicals, bacteria, and other potential contaminants as the city's water enters your home. You can even add on carbon block filters to add an extra layer of security. We also offer FlowTech solutions to fight limescale buildup in your home's bathrooms and kitchen. Finally, we install water softeners to break up that calcium and magnesium in your pipes and hot water heater. Over time this buildup can cause damage and even reduce proper flow, so regular maintenance is key to keeping the water in your home reliable.
Want more from your home's water supply? Call John Moore today at 713-730-2525 to get help.
Get Help from a Local Rosenberg Plumber!
Connect with a John Moore Expert Using a Single Click
Click this button so you can:
Schedule a Job | View Memberships | Learn About Financing
Fall Furnace Tune-Up & Inspection
With a No-breakdown Guarantee!*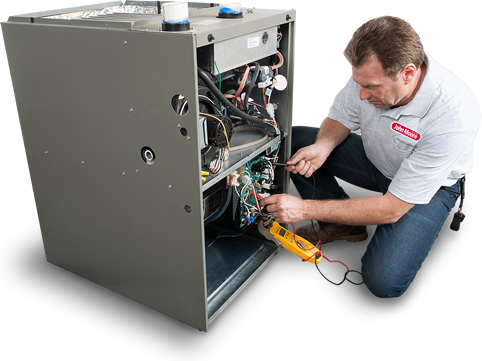 *If your heating system fails within one year of the maintenance, the cost of the $69 tune-up can be applied toward any repairs.
*Mention this special.
Kitchen and mainline stoppages with accessible cleanout. 60-day warranty.
*Mention this special.