Licensed & Insured Electricians in Rosenberg
Rewiring, Installation, and Tune-Ups in Rosenberg, Texas
Rosenberg Electricians You Can Count On
Faulty Breakers, Out-of-Date Wiring, or Overdue Repairs?
Does your home have lights that flicker, outlets that don't work, or constant power outages? These are all imminent signs that something could be wrong with your homes electrical system. The problem could lie within your distribution panel or the wiring system running throughout your home. Although these issues may not seem like a cause for alarm, we recommend they be addressed as soon as possible to avoid larger hazards such as electrical fires or even explosions in your breaker panel. If your home is in need of electrical work due to an aging wiring grid or outdated installation standards, trust the work to the name Houston homeowners have trusted for over 50 years: John Moore.
Notice: If you are dealing with an electrical emergency such as smoking outlets or a fire, contact your power company immediately to shut electricity off to your home and call the Rosenberg Fire Station at (832) 595-3600 or via 9-1-1 dispatch to put out any fires before calling John Moore.
John Moore's Electrical Services Include:
Electrical Repairs & Upgrades, Breaker Panel Inspection, Repair, and Replacement, Rewiring, Electrical Inspections, High-Voltage Repair, Whole-Home Surge Protection, Indoor and Outdoor Lighting, Overhead & Underground Lines, Grounding, Electrical Outlets, Switches, & Dimmers, Ceiling Fan & Fixture Installation, Stand-by Generators, LED & Recessed Lighting, Code Corrections
Have the licensed professionals at John Moore take a look at your electrical system. Call 713-730-2525 to make your electrical appointment with our trusted team!
Breaker Panel Inspection, Repairs, and Replacement
Your home's breaker panel, which is also sometimes referred to as a distribution panel, breaker box, or circuit breaker, is the heart of your home's electrical system. It distributes all the electricity that comes from your energy provider to the various outlets, lights, and appliance around your house. Your breaker panel also provides a critical safety function: shutting off power to areas in the home if they are drawing unsafe amounts of electricity.
For homes built before the 1990s, it is highly recommended that you have an annual breaker panel inspection. We recommend that homeowners learn what kind of electrical panel they have and make arrangements for a replacement if their model is outdated to avoid costly repairs and potentially dangerous electrical mishaps.
Signs that your panel could be outdated or malfunctioning may be innocuous at first, but non-functioning outlets or rooms that lose power could be signs of potential electrical danger. John Moore's licensed and insured electricians can inspect for these issues and many more to ensure your home's electrical system is safe and sound. We can also install or replace grounding rods for added safety and security in the event of a lightning storm.
Rewiring Out-of-Date and Faulty Electrical Systems in Rosenberg
Your home's wiring is just as crucial to powering your home as the breaker panel. Copper wires with PVC insulation have become standard in homes built after 1990, as copper is able to conduct electricity with enough electrical resistance to prevent the wire from overheating. PVC insulation is wrapped around each copper wire because it remains intact over long periods of time in both hot and cold conditions and is significantly stronger than older insulation methods.
Many older homes in Rosenberg have outdated wiring system, which could include knob-and-tube wiring, brittle rubber insulation, or non-copper wires, typically made of aluminum. Pests and rodents can also interfere with a home's wiring system. These wiring methods and scourges can lead to higher electric bills, outages, and in some cases, sparks and fires if exposed wires come into contact with another conductive surface, such as another wire. It's important to note that even if your home does have updated copper wiring, it is not immune to pests. If you believe there is an issue with your electrical system, no matter the age, we recommend you have it inspected as soon as possible.
If you are experiencing outages, flickering lights, or switches and plugs that don't work, call John Moore to prevent a potentially dangerous problem.
Get Instant Electrical Help in Rosenberg!
Connect with a John Moore Expert Using a Single Click
Click this button so you can:
Schedule a Job | View Memberships | Learn About Financing
Kitchen and mainline stoppages with accessible cleanout. 60-day warranty.
*Mention this special.
Fall Furnace Tune-Up & Inspection
With a No-breakdown Guarantee!*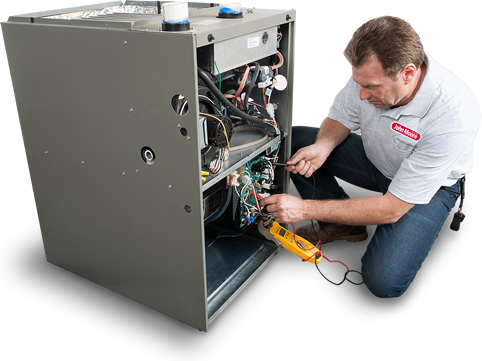 Get a 30-point inspection and tune-up to keep your system in optimal condition!
*If your heating system fails within one year of the maintenance, the cost of the $69 tune-up can be applied toward any repairs.
*Mention this special.