John Moore: Bringing Unparalleled Service and Plumbing Expertise to Pearland Residents Since 1965
Pearland has grown by leaps and bounds in the last decade, and people from across Texas are moving to this thriving city south of Houston to build lasting families and homes. But many homes in the area are starting to age, and sometimes your home's plumbing begins to fight back. Whether you're experiencing leaky pipes, low water pressure, or any other plumbing issue, John Moore's plumbers are here to help.
We have customized solutions for every home plumbing problem, and our service is unparalleled. John Moore has worked in your neighborhood for over 50 years, and our commitment to excellence and professionalism has earned us a proud reputation throughout Pearland.
John Moore's Plumbing Services Include:
Plumbing repair & inspections, Tankless and standard water heater repair & installation, Whole-house re-piping services, Rooter & drain clean services, Sewer stoppage & replacement, Water softeners & filtration, Slab leak detection & repair, Sinks, tubs, faucets, garbage disposals
Are you having plumbing troubles today? Want better, reliable service? Call John Moore now at 713-730-2525 or contact us through our webpage.
Pearland Homeowners with Watermarks, Low Water Pressure Should Consider a PEX Whole-Home Repipe by John Moore
Home piping systems are complex, and many are prone to unexpected breaks and leaks. Even more modern systems built within the last few decades can create problems if improperly installed or poorly maintained. What can you do for your home if you start seeing watermarks on your walls, discolored water from the faucet, or notice low water pressure in your home? When your pipes begin to fail, the best option is most likely a whole-home repipe. Fortunately, John Moore offers the best home repiping services in the region because we work exclusively with PEX piping.
PEX is a new material that represents the latest in plumbing and synthetic materials technology. Designed to last a lifetime, PEX piping will not break, bust, or corrode like other pipes. Flexible, expandable, and lightweight, PEX piping is the perfect upgrade that will hold up under any weather. Likewise, it has fewer and stronger connections than even modern PVC piping, meaning fewer chances for leaks.
Water Quality Solutions in Pearland
Pearland's water supply may not have some of the quality issues that inner loop Houston faces regularly, but the water in this area is still hard. Have you noticed limescale buildup around your faucets? Fight back with a FlowTech water conditioning system and get rid of limescale. We also have water softener solutions for your home's hot water heater that break up calcium deposits, first in the heater itself and then in your pipes as the water moves through your home's plumbing system.
Are you still worried about the quality of your homes drinking water? Pearland's water is still susceptible to many of the contaminants that plague Houston's water, like nitrates and trace levels of arsenic and uranium. Our whole-home filtration system lets you take the guesswork out of your tap water and ensures a safe, tasty water supply for you and your family.
Are you ready for better water quality in your home? Contact us today to learn more.
Get Help from a Local Pearland Plumber!
Connect with a John Moore Expert Using a Single Click
Click this button so you can:
Schedule a Job | View Memberships | Learn About Financing
Fall Furnace Tune-Up & Inspection
With a No-breakdown Guarantee!*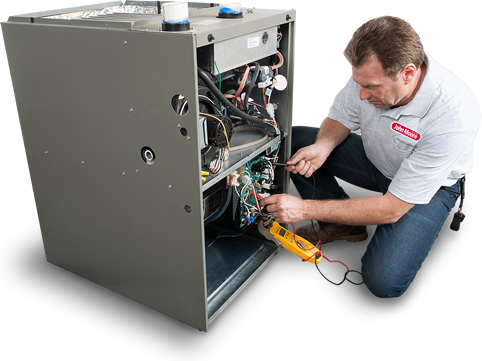 *If your heating system fails within one year of the maintenance, the cost of the $69 tune-up can be applied toward any repairs.
*Mention this special.
Kitchen and mainline stoppages with accessible cleanout. 60-day warranty.
*Mention this special.