John Moore: Memorial's Trusted, Full-Service Plumbers Since 1965
For over fifty years, John Moore has been delivering a full range of plumbing services to Memorial homeowners.
Dotted with mature trees and remodeled 1950s ranch style homes, Memorial is undoubtedly one of the most attractive areas to live in Houston. But below the surface of sprawling trees and well-kept homes are pipes and main lines with decades of wear and tear. Inside your home, rust eats its way through galvanized pipes leading to water leaks while blocked sewer lines can spew waste-water back up into your drains and toilets. And over time, the hard water in the area can cause damage to your fixtures, clothes, and even your hair and skin.
Because your home is worth a lot, you should do everything to protect it. John Moore's plumbing solutions are designed to safeguard your home from water leaks, sewage backups, and hard water build-up for many years to come. And if you're concerned about the water you drink and bathe in, we have a solution for that too.
John Moore's Plumbing Services Include:
Plumbing repair & inspections, Tankless and standard water heater repair & installation, Whole-house re-piping services, Rooter & drain clean services, Sewer stoppage & replacement, Water softeners & filtration, Slab leak detection & repair, Sinks, tubs, faucets, garbage disposals
Are you experiencing a major leak or sewage backup? Call 713-730-2525, we schedule appointments 24/7.
Avoid Damaging Water Leaks: Update Your Home's Galvanized Pipes with a PEX Whole-Home Repipe by John Moore
It can take a long time for galvanized pipes to rust through and leak, but if you have an older home with a galvanized pipe potable water system, it's important to pay attention to early warning signs of rust, such as rust spots on pipes or brown-tinted water.
When rust eats through galvanized pipes, it causes leaks that can lead to extensive water damage to your home. We've also seen leaks from PVC pipes that that have buckled under high water pressure because of weak connections.
If you're looking for an experienced plumber to fix a leak or perform a repipe, John Moore has performed hundreds of horizontal and whole-house repipes in Memorial over the years. With a whole-house repipe, you can rest assured that every pipe in your home is replaced with a more durable solution called PEX piping. Not only is PEX piping immune to rust, but it also has less connections than PVC pipes, which reduces the likelihood of ruptures, leaks, and water damage in your home.
Whole-home Water Filtration & Softening Solutions Bring Peace of Mind, Improved Water Quality to Memorial Homes
Quality homes. Quality living. Quality schools. Everything in Memorial says "quality," but what about your water?
With arsenic and barium levels at the very top of the allowable limits in Harris County, your water may not be as quality as you would like it to be. Aside from thousands of contaminants that pose risk to our health, Houston water has high concentrations of calcium, magnesium, and limescale in many areas. And you've probably already witnessed what hard water can do to faucets, appliances, clothes—and even our skin and hair.
With John Moore's water treatment solutions, you can ensure that every drop of water that flows through your pipes is top quality so that it's easy on your plumbing system and optimal for drinking, bathing, washing, and cooking. You can't control the water that's coming into your home, but you can certainly control how it comes out.
To learn more about whole house filtration systems and water softeners, contact us today.
Get Help from a Local Memorial Plumber!
Connect with a John Moore Expert Using a Single Click
Click this button so you can:
Schedule a Job | View Memberships | Learn About Financing
Fall Furnace Tune-Up & Inspection
With a No-breakdown Guarantee!*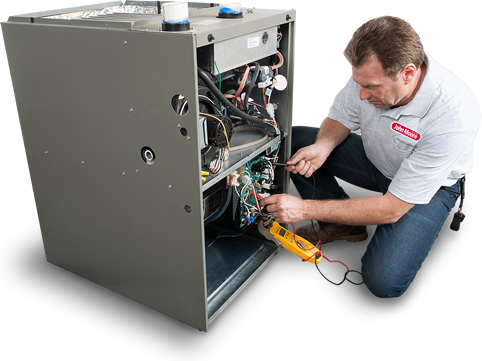 *If your heating system fails within one year of the maintenance, the cost of the $69 tune-up can be applied toward any repairs.
*Mention this special.
Kitchen and mainline stoppages with accessible cleanout. 60-day warranty.
*Mention this special.