Pest Control Service in Memorial
John Moore: Expert Insect and Animal Removal in Memorial City, Texas
Call the Memorial Exterminator With 20 Years of Pest Experience
Pest Control Service in Memorial for Removal of Mice, Insects, and Wildlife
Like John Moore, Memorial has been around for a long time. But with time comes older homes that are easily infiltrated by pests. Mice, squirrels, and ants find their way through cracks, holes and crevices in the exterior of your house to find warmth and shelter in your walls, air ducts, and attic. Take it from us— we get calls from Memorial homeowners with pest problems all the time. Just know that if it happens to you, John Moore's pest control experts are only a call away to help you get rid of your uninvited guests for good
John Moore's Pest Control Services Include:
Standard pests: roaches, spiders, indoor ants, millipedes, centipedes, wasps, moths, and flies, Termites, Mosquitos, Rodents and other wildlife (possums, raccoons, squirrels, bats, and snakes), Bed bugs, Fleas and ticks, Bees, Fire ants

If you're dealing with an infestation of rodents or insects in your home, call the Memorial pest control experts right away at 713-730-2525
Effective Termite Treatment in Memorial, TX
Memorial homes are prone to termite damage, not only because many of the homes are older but also because there are several destructive termite types in the area. The Eastern Subterranean termite can easily eat its way through wooden structural beams, windows, drywall, and furniture in your home as well as vegetation around your yard. These termites are commonly found in Memorial because they thrive in the warm, humid Houston weather. But termite damage can also happen in newer homes if there is moisture build-up in wall cavities from damaged plumbing, gutters, or a leaky roof. The Formosan termite is another termite commonly found infesting Memorial homes.One sign that you may have a formosan termite issue is the dirt tunnels they use to travel around your home.
By calling John Moore, you'll receive a free termite inspection where we look for signs of termite activity, determine what type of termite(s) are snacking on your home and yard, and how they are getting inside. We will then provide you with a termite protection plan that may include various termiticide chemical barriers, spray, foam and wood treatments. Every termiticide that John Moore uses has been evaluated and deemed safe for residential use by the EPA. It's important to enroll in an annual termite protection plan with continuous treatments since termites are very active in Houston and will start new colonies.
Searching for Reliable Mosquito Control in Memorial, TX?
Houston is known for an active mosquito population, and that includes Memorial, too. With bayous, lakes and rainy weather, mosquitoes are a part of everyday life for Memorial homeowners. But you shouldn't have to deal with the annoyance or worry about yourself or your family catching West Nile or Zika around your home. And guess what? You don't have to.
John Moore's Bi-Monthly Mosquito Plus program will tackle your mosquito problem from its underlying cause, and we continue to treat your property every other month to prevent them from coming back. Mosquito removal may also involve targeting any standing water around your home where they breed. And, as an added bonus, our bi-monthly Mosquito Plus program also excludes standard pests, including roaches, ants, and spiders, from entering your home.
Call John Moore today at 713-730-2525 for a free quote on our Bi-Monthly Mosquito Plus Treatment program.
Eliminate Rodents or Wildlife from Your Home with John Moore's Pest Control Service in Memorial
House mice, deer mice, squirrels and possums have been known to get into homes in Memorial, where they thrive in the areas subtropical climate. Sometimes, these rodents and wildlife animals can go unnoticed for months. And with warmth and easily accessible food in your home, they begin to breed and ultimately cause an infestation in your walls, attics, and air ducts.
While we perform exterminations for mice and rats using glues traps and snap boards safely placed in areas like your attic where children and pets can't reach them, John Moore is required by law to remove wildlife from your home and place them in state park or animal sanctuary at least ten miles away. With all rodent and wildlife infestations, we will assess your home for entry and exit points, which we seal with a steel wire mesh that mice, rats, and wildlife can't readily bite through. If we find anything around your home that may be attracting rodents or wildlife like piles or trash, wood, or foliage, we may also make recommendations that will prevent these pesky critters from feeling welcome to loiter around your home. Finally, we release a disinfectant spray (DSV) in your attic and any other affected areas that will neutralize any bacteria and territorial pheromones, ensuring that your home is disease-free and won't attract any other rodents or wildlife.
Get Instant Pest Control Help in Memorial!
Connect with a John Moore Expert Using a Single Click
Click this button so you can:
Schedule a Job | View Memberships | Learn About Financing
Fall Furnace Tune-Up & Inspection
With a No-breakdown Guarantee!*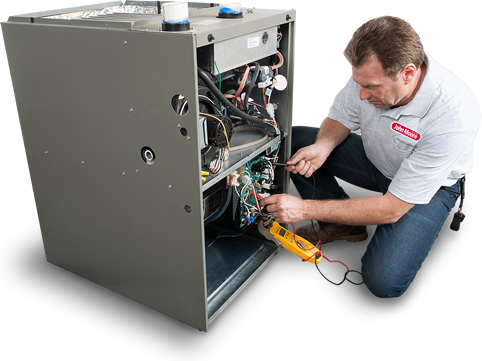 *If your heating system fails within one year of the maintenance, the cost of the $69 tune-up can be applied toward any repairs.
*Mention this special.
Kitchen and mainline stoppages with accessible cleanout. 60-day warranty.
*Mention this special.