Expert Electricians in Memorial
Call on John Moore for Electrical Services in Memorial City, Texas
Frequent Power Surges? Flickering Lights? Outdated Electrical System?
Over 50 Years of Service Excellence in Memorial
John Moore is proud to have provided Memorial homeowners with quality home services since 1965. Starting as a plumbing company, John Moore has helped thousands of homeowners over the years. In 2005, we began offering electrical services, only hiring Houston's most qualified master electricians. Today, we can say that we've fixed hundreds of Memorial home's electrical systems, whether it's rewiring an old home with a safer wiring system, replacing a recalled breaker panel, installing recessed lighting, or bringing an old home up to code.
If you have outlets that don't work, circuits that won't reset, experience frequent power surges, or want to install new light fixtures inside or outside of your home, John Moore's electricians can help. If you live in an older home with an outdated electrical system still intact, we can bring your home into the 21st century with GFCI grounded outlets, PVC insulated copper wires, and a new breaker panel with top-of-the-line safety features. Even if you just want a routine inspection to ensure your electrical system functions as it should, you can call on the name Memorial homeowners trust: John Moore.
Notice: If you're dealing with a sparking live wire, smoking breaker panel, or electrical fire of any kind, please call your electrical service provider immediately to shut off power to your home and call 911 or the Village Fire Department at (713) 468-7941 to extinguish any fires before calling John Moore.
John Moore's Electrical Services Include:
Electrical Repairs & Upgrades, Breaker Panel Inspection, Repair, and Replacement, Rewiring, Electrical Inspections, High-Voltage Repair, Whole-Home Surge Protection, Indoor and Outdoor Lighting, Overhead & Underground Lines, Grounding, Electrical Outlets, Switches, & Dimmers, Ceiling Fan & Fixture Installation, Stand-by Generators, LED & Recessed Lighting, Code Corrections

Ready for an electrical system that functions as it should? Call 713-730-2525 to schedule our next available electrician today.
Electrical Panel Inspection, Repairs, and Replacements in Memorial
Your home's electrical panel— also commonly referred to as a breaker panel or distribution panel— divides all the electricity that comes into your home and distributes it to your various appliances, lights, and outlets. Two critical functions of your electrical panel are grounding any excess energy that enters into your system, and turning off power to any areas in your home that are drawing unsafe amounts of electricity. If you live in a home built before the 1990s that uses its original distribution panel, you may want to check to make sure that it hasn't been discontinued or recalled. Some older electrical panel models fail to shut off power in the case of a power surge, potentially leading to explosions or fires. If your electrical panel is outdated, call a licensed electrician as soon as possible to have it replaced with a new, safe electrical panel.
It is recommended to have your electrical panel inspected every few years and before remodeling your home or adding any new appliances. Sometimes, circuits in an electrical panel can malfunction, leading to a circuit that won't reset after it trips. If this happens, you should call a licensed electrician to replace the burnt circuit with a new one. Because of the high levels of electricity that your electrical panel handles, you should never attempt to replace any components by yourself unless you are a qualified electrician or else you may electrocute yourself.
Rewiring Memorial Homes to be Safer and More Efficient
Your home's electrical wires are like the veins of your electrical system, carrying electricity to the various lights, outlets, and appliances throughout your home. Modern electrical wires are made of copper and insulated with PVC plastic. The copper wire is conductive, but also provides just enough electrical resistance to ensure that your wires don't overheat. The PVC plastic prevents the wire inside from creating sparks by coming into contact with another wire or conductive surface. Older homes built before the 70s may have a wiring system that relies on aluminum, which is known to overheat, melt its insulation, and sometime start fires inside the walls of homes. Likewise, wiring systems built before the 90s utilized a different kind of plastic insulation that is known to brittle over time, especially in Memorial's summer heat. If you live in an older home with its original wiring system still intact, you may want to call John Moore for a wiring inspection to ensure that your system is safe.
If you notice flickering lights, outlets that don't work, or smell smoke or hear a buzzing sound coming from behind your walls, you may have an issue with your electrical wires. Rodents are known to chew through wires and their insulation, which could lead to lights not working or— in extreme cases— spark a fire from within your walls. If we notice that your home has rodents in addition to wiring malfunctions, we will refer our pest control team to rid your home of any rodents so that the same problem doesn't happen again.
Get Instant Electrical Help in Memorial!
Connect with a John Moore Expert Using a Single Click
Click this button so you can:
Schedule a Job | View Memberships | Learn About Financing
Kitchen and mainline stoppages with accessible cleanout. 60-day warranty.
*Mention this special.
Fall Furnace Tune-Up & Inspection
With a No-breakdown Guarantee!*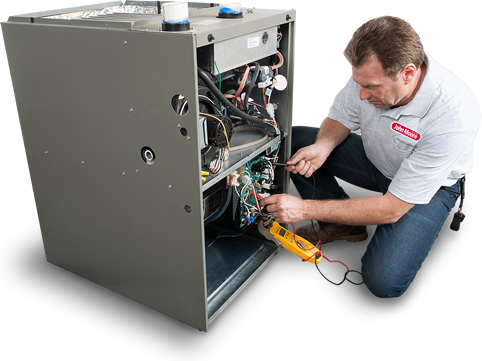 Get a 30-point inspection and tune-up to keep your system in optimal condition!
*If your heating system fails within one year of the maintenance, the cost of the $69 tune-up can be applied toward any repairs.
*Mention this special.