Truested Manvel Plumbers for You and Your Home
John Moore, Providing Quality, Top-of-the-Line Plumbing for Manvel Homeowners since 1965
Many families in Manvel, the rural getaway from the rush of Houston, are still deeply rooted to the land and in touch with their agrarian heritage. Manvel homes are a statement of pride for residents, and the area is a great place to raise families of all ages. But deep within the walls of older Manvel homes are pipes that are starting to rust and decay.
If you notice that your signs that your plumbing system is beginning to fail- like water marks or low water pressure- it may be time to call in John Moore to take a look. Our certified plumbers offer a full range of services and are committed to providing courteous and professional service that builds trust with our clients.
John Moore's Plumbing Services Include:
Plumbing repair & inspections, Tankless and standard water heater repair & installation, Whole-house re-piping services, Rooter & drain clean services, Sewer stoppage & replacement, Water softeners & filtration, Slab leak detection & repair, Sinks, tubs, faucets, garbage disposals
Are you worried about your home's plumbing system? Call John Moore today at 713-730-2525 or contact us online for help.
Prevent Leaks & Pipe Failures: Update to Flexible, Anti-Corrosive PEX Pipes with the John Moore Repiping Experts
Age can be a determining factor in home piping integrity, but even newer PVC pipes are prone to leaks. Regardless of the pipe material in your walls, you should call us immediately if you notice mold or any water leaks along your wall. Even low water pressure may be a sign of pipe failure, and failing pipes can threaten the integrity of your home's structure if a leak goes undetected long enough.
In most cases of potable pipe failure, John Moore will recommend a whole-home repipe where we replace your homes old potable water distribution system with an entirely new one. If a few pipes in your home are starting to rust, chances are the other pipes aren't far behind. And because we're committed to long-term solutions, John Moore uses only the best piping replacement material available today– PEX piping.
What is PEX? This new kind of pipe is made of cross-linked polyethylene, a flexible and lightweight material that requires fewer connections than PVC. PEX is also anti-corrosive, so it won't rust through like galvanized pipes. Expandable and durable, PEX is the answer for homeowners tired of worrying about their home's piping system.
Water Quality Solutions for Whole-Home Filtration & Contaminant Removal
Your family depends on water for everything from hydration to washing clothes, taking showers and baths, and cooking. However, according to Manvel's annual water quality reports there are traces of all sorts of contaminants like arsenic and radium in your city's water supply. Although it's only a very small amount of each contaminant, and none of them are above the allowable limits, long-term exposure to even small doses of these contaminants may be harmful, especially if you or anyone living in your home has a weak immune system or an autoimmune disease.
If you are worried about the quality of your homes tap water, John Moore can install a whole-home water filtration system that filters contaminants out of all the water in your home. And if Manvel's hard water is taking its toll on your fixtures, pipes, skin, and hair, we also offer proprietary water softeners and a maintenance plan that will eliminate buildup of calcium and magnesium in your hot water heater and pipes. And to fight limescale, we can install a FlowTech system that c
Expect more from your home's tap water. The first step to Improving your home's water is calling us at 713-730-2525 and scheduling a no-obligation consultation.
Get Help from a Local Manvel Plumber!
Connect with a John Moore Expert Using a Single Click
Click this button so you can:
Schedule a Job | View Memberships | Learn About Financing
Fall Furnace Tune-Up & Inspection
With a No-breakdown Guarantee!*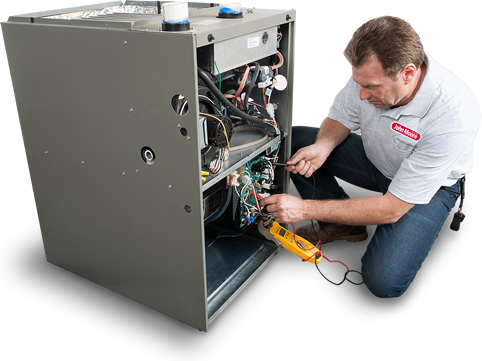 *If your heating system fails within one year of the maintenance, the cost of the $69 tune-up can be applied toward any repairs.
*Mention this special.
Kitchen and mainline stoppages with accessible cleanout. 60-day warranty.
*Mention this special.