Complete Service for La Porte from One of Houston's Oldest Names in Plumbing: John Moore
Stepping into La Porte, TX is like taking a step back in time: antique stores, old architecture, and homes dating back to the 1950s.
While there's something to be said about preserving the old, some things cannot remain—like an old plumbing system. Over time, parts of your system, like your pipes, toilets, and sewer line can become damaged, putting your home at risk for water damage.
When you're dealing with leaky pipes, water heaters that don't work, an old sewer line that is causing sewage backup, or even poor water quality, it may be time to consider something new. But if you're stuck on good old-fashioned service to get the job done, remember that John Moore is one of the oldest names for plumbing services in La Porte and across the Houston Gulf Coast area. We've been around since 1965 because we deliver quality work and quality products.
John Moore's Plumbing Services Include:
Plumbing repair & inspections, Tankless and standard water heater repair & installation, Whole-house re-piping services, Rooter & drain clean services, Sewer stoppage & replacement, Water softeners & filtration, Slab leak detection & repair, Sinks, tubs, faucets, garbage disposals
Have a water leak or a water heater that doesn't work? Call John Moore at 713-730-2525 any day, any time.
Repairing & Modernizing the Galvanized Piping Common in La Porte Homes: Whole-Home & Horizontal Water Repiping
Many homes in LaPorte were built way before the 80s, which means they probably have galvanized pipes that are rusting.
Brown tinted water coming out of your faucets or water marks on your ceilings and walls mean it's time to change your pipes out. Rust can eat its way through galvanized pipes and cause leaks in your home and extensive water damage to your walls and furnishings. Because rust typically forms in your pipe from the inside out, you may not see it for many years, but it doesn't mean it's not there.
To protect your home from damage, John Moore's certified plumbers will perform either a horizontal repipe or whole-house repipe. A whole house repipe is the ideal solution for homes with galvanized pipes because it means that every pipe will be replaced with an advanced piping solution called PEX piping. PEX piping is flexible and does not rust, so it's very possible that you may never have to deal with a water leak again.
Replace Water Contaminants with Peace of Mind: Water Softeners & Filtration Systems for La Porte, TX
Your water may be deemed safe for drinking, but did you know that inorganic contaminants like barium and nitrate tested at the top of the allowable threshold, according to City of LaPorte's Water Quality Report in recent years?
And those are only two of the thousands of other contaminants that are found in our water supply.
Why expose yourself to potentially harmful water when you don't have to? John Moore installs whole house filtration systems to ensure every drop of water coming from your tap is purified for drinking, cooking, washing, and bathing. And if you're dealing with dry hair and dry skin from hard water, John Moore can also advise you on the best water softener systems for your home.
For more information on improving the water quality in your home, schedule an appointment with a certified John Moore plumber in La Porte.
Get Help from a Local La Porte Plumber!
Connect with a John Moore Expert Using a Single Click
Click this button so you can:
Schedule a Job | View Memberships | Learn About Financing
Fall Furnace Tune-Up & Inspection
With a No-breakdown Guarantee!*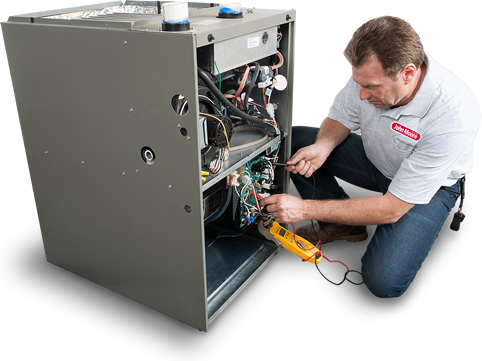 *If your heating system fails within one year of the maintenance, the cost of the $69 tune-up can be applied toward any repairs.
*Mention this special.
Kitchen and mainline stoppages with accessible cleanout. 60-day warranty.
*Mention this special.