Reliable, Licensed Katy Electricians
Electrical Panel Repairs & Rewiring in Katy, Texas
Our Licensed Electricians Will Solve Your Electrical Problems for Good
Call John Moore for a Safer, Energy Efficient Electrical System
Serving Katy homes since 1965, John Moore has seen the area grow into the sprawling suburban city it is today. From Old Katy to Cinco Ranch, we've seen our fair share of electrical problems in Katy homes: switches and light fixtures that don't work, blown circuit breakers, outdated knob-and-tube wiring, and power surges caused by appliances and other electronics drawing too much electricity. Whether you live in one of Katy's older homes or a house built during the turn-of-the-century, it's important to have your home's electrical system regularly inspected by a licensed electrician at least once a year. You should also call a licensed electrician if you notice any issues with your home's electrical system before they cause major problems for you and your home.
John Moore's Electrical Services Include:
Electrical Repairs & Upgrades, Breaker Panel Inspection, Repair, and Replacement, Re-wiring, Electrical Inspections, High-Voltage Repair, Whole-home Surge Protection, Indoor and Outdoor Lighting, Overhead & Underground lines, Grounding, Electrical Outlets, Switches, & Dimmers, Ceiling Fan & Fixture Installation, Stand-by Generators, LED & Recessed Lighting, Code Corrections

Are you experiencing electrical problems? Call 713-730-2525 to schedule the next available John Moore electrician today!
Breaker Panel Inspection, Tune-up, and Repairs in Katy, Texas
If you notice that outlets and light switches aren't working as they should, one culprit could be your home's electrical panel. Also commonly referred to a circuit or breaker panel, your home's electrical panel directs power to the various rooms of your home. When you flip a switch or plug something into an electrical outlet, a signal is sent to your electrical panel which then directs the charge needed to the corresponding device, be it a light or appliance. But over time, electrical panels can start to have problems.
Electrical providers recommend that you have your panel inspected every year after they reach 5 years of age. John Moore offers an electrical panel inspection and tune-up where one of our licensed electricians will test all the circuits of your panel, make sure that it is grounded correctly, and confirm that it sends the correct amount of power to all areas of your home. If we do notice that your panel's circuits are shorting or that your panel is outdated, we will recommend the necessary repair and replacement options to ensure your home's electrical system works as it should.
If you live in an older Katy home, we highly recommend that you check to see if your electrical panel is outdated. You can find your electrical panel inside of your garage or on the side of your home. If you notice that your panel appears on this list of outdated panels, then we highly recommend calling John Moore to replace it. Older, recalled panels are known to send unsafe amounts of energy to lights and appliances without tripping, which could result in a fire or electrocution.
Calling John Moore for an electrical panel inspection could save you money on your electricity bill and prevent electrical emergencies from destroying your home and harming you or your loved ones.
Re-Wiring Katy Homes to be Safer and More Energy Efficient
If your home's electrical system is giving you problems like flickering lights or switches and outlets that don't work, another culprit could be the wires running through the walls of your homes. Many things can happen to the wires in your walls: rats and other pests can chew through them, they can overheat and melt their insulation, and they can spark fires if they touch another wire with faulty insulation. Older homes may even have an outdated wiring system, which could include knob-and-tube wiring, aluminum insulation, or non-copper wires. All of these wiring methods are inefficient, leading to higher electric bills, outages, and in some cases, fires.
Get Instant Electrical Help in Katy!
Connect with a John Moore Expert Using a Single Click
Click this button so you can:
Schedule a Job | View Memberships | Learn About Financing
Kitchen and mainline stoppages with accessible cleanout. 60-day warranty.
*Mention this special.
Fall Furnace Tune-Up & Inspection
With a No-breakdown Guarantee!*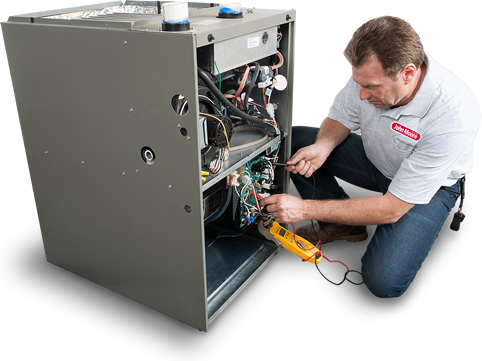 Get a 30-point inspection and tune-up to keep your system in optimal condition!
*If your heating system fails within one year of the maintenance, the cost of the $69 tune-up can be applied toward any repairs.
*Mention this special.