Jersey Village Pest Control
The Go-To Service Company for Everything Pest Control in Jersey Village, TX
A Professional Jersey Village Exterminator
Don't just choose John Moore because we're your neighbor. Choose us because we've been serving Jersey Village and Houston since 1965. We started out as a simple plumbing company, but have since evolved into a reliable, affordable, and professionals full-home-service provider. We added Jersey Village pest control to our repertoire in 1998, and since then have gone above and beyond to rid homes of pests. Our Jersey Village exterminators also take measures to ensure that all your household pests stay gone for good. What many homeowners don't realize is that there is a lot more work to be done even after roaches and/or rodents have been removed from your home. We've seen many attics soiled with rodent urine and droppings that can pose a serious health risk for you and your family. Other times, we run into damaged electrical wires, walls that have been chewed through, or contaminated air conditioning ducts.
A Reliable Team of Jersey Village Exterminators
If areas of your home are destroyed or contaminated from pests, then you've come to the right place! In addition to our professional Jersey Village exterminators providing reliable pest control services, they also provide the services necessary to help you with the clean-up and/or repairs! Not only will our exterminators in Jersey Village disinfect your home, but you'll also have access to John Moore's electricians, A/C services, and renovation services to get your house back to where it used to be.
John Moore's Jersey Village Pest Control Services Include:
Standard pests: roaches, spiders, indoor ants, millipedes, centipedes, wasps, moths, and flies, Termites, Mosquitos, Rodents and other wildlife (possums, raccoons, squirrels, bats, and snakes), Bed bugs, Fleas and ticks, Bees, Fire ants
Worried about a mice or roach problem in your home? Call one of the top pest control services in Jersey Village at 713-730-2525 for a free inspection.
Termites? Rely on Us for Pest Control in Jersey Village
Have you ever wondered if your home is at risk for termite problems? If you live in Jersey Village, then the answer is always an inadvertent "yes". The general Houston area is populated with several different types of termites because of our humid, subtropical climate conditions that make it optimal for termites to nest. As the area begins to warm and become humid, colonies of termites emerge in search of food and a habitat, which means many things in your home are up for grabs— your fence, deck, cabinets, structural beams in your home, and your furniture.
Even if you don't think you have termites, homeowners in the Gulf Coast area should have their homes checked annually by our Jersey Village pest control company. This is because of the prevalence of termites in the area. With John Moore's free termite inspection from a licensed exterminator in Jersey Village, you have nothing to lose. If we don't find anything, you don't pay anything. But if you do have termite activity, early detection is important in preventing costly damages. Our termite treatment plan will be determined by the location of the infestation and the type of termites found by our Jersey Village exterminators. And as always, there's no obligation to go with us if we do find termites.
Before our exterminators in Jersey Village treat your home, we will provide you with termite treatment disclosure documents that include the area to be treated, a label of recommended termiticides and their descriptions, and the warranty that is included. All of the termiticides we use have been cleared by the EPA (Environmental Protection Agency), and all of our Jersey Village exterminators are trained and certified to safely exterminate termites in your home.
Got Mosquitos? Call a Qualified Exterminator in Jersey Village
Mosquito-transmitted diseases are a real threat for Jersey Village homeowners. Jersey Village is often presented with heavy rainfalls that create areas of standing water that allow mosquitoes to breed. In addition to our climate, an abundance of lakes, ponds, bayous, and marshy land in the city makes Houstonians a prime target for female mosquitoes in search of protein and iron (found in our blood) to make their eggs.
When you call John Moore for mosquito control, our Jersey Village pest control professionals will first identify any conditions that are leading them to your property. To keep mosquitoes from entering your property, we will treat your yard with a special mosquito repellent and chemical barrier every other month under our Mosquito Plus program. With this program, we will not only eradicate mosquitoes from your property, but you can also say goodbye to other common invaders like spiders, moths, cockroaches, and ants as well!
For expert mosquito control in Jersey Village, call 713-730-2525.
Our Jersey Village Pest Control Company Handles Rodents, Too
As Houston continues to expand and undergo construction, mice, rats, and other animals are forced out of their natural habitats in search for new ones. Unfortunately, your home may have just what they're looking for. But how exactly do they get in? You'd be surprised to learn that mice can squeeze their way into a hole as small as a dime. Bigger rodents and wildlife animals can get in through larger holes around utility lines or through damaged sections of your home.
Rodents and other animals can keep coming back if you let them. By getting the help of an expert pest control company in Jersey Village, like John Moore, you can have your home safeguarded from repeat rodent and wildlife invasions. As part of our rodent and wildlife exclusion process, we will seal openings with steel wire mesh screens and apply adhesives to seal flashing. In addition to the standard exclusionary practices of our exterminators in Jersey Village, we will also disinfect areas of your home with a DSV spray to cover up any scent and pheromones that other animals may trace back to your home. For wildlife animals like racoons, birds, and squirrels found in your home, we are required by Texas State Law to release them into a nature reserve at least 10 miles away from your home.
Get Instant Pest Control Help in Jersey Village!
Connect with a John Moore Expert Using a Single Click
Click this button so you can:
Schedule a Job | View Memberships | Learn About Financing
Fall Furnace Tune-Up & Inspection
With a No-breakdown Guarantee!*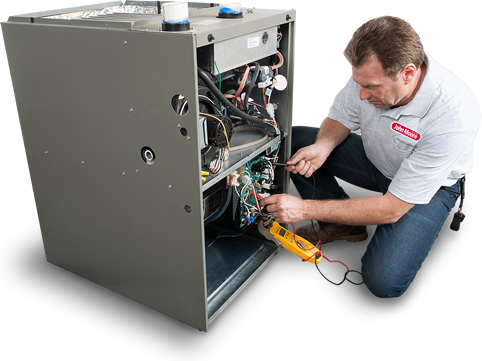 *If your heating system fails within one year of the maintenance, the cost of the $69 tune-up can be applied toward any repairs.
*Mention this special.
Kitchen and mainline stoppages with accessible cleanout. 60-day warranty.
*Mention this special.