Licensed Electricians in Humble
Electrical Inspections, Panel Replacements, Rewiring & Moore
Flickering Lights? Loose Sockets? Blown Fuses? Call John Moore!
John Moore, Helping Humble Homeowners Since 1965
As the quiet town of Humble has grown over the years, so have we. John Moore is proud to have provided Humble area homeowners with reliable home services since 1965, first as a plumbing company and now as a whole-home service provider. Our electrical services department started in 2005, and since then we have helped hundreds of Humble homeowners have safer, more energy efficient homes.
Whether we're updating wiring systems, replacing outdated breaker panels, or simply performing a routine inspection of an electrical system, our number one goal is to ensure that you, your home, and your family are safe from electrical fires and mishaps. If you have switches or outlets in your home that don't work, a breaker that frequently trips, or an electrical system that is altogether outdated, don't hesitate to call the company Humble homeowners have trusted for over 50 years: John Moore.
John Moore's Electrical Services Include:
Electrical Repairs & Upgrades, Breaker Panel Inspection, Repair, and Replacement, Re-wiring, Electrical Inspections, High-Voltage Repair, Whole-home Surge Protection, Indoor and Outdoor Lighting, Overhead & Underground lines, Grounding, Electrical Outlets, Switches, & Dimmers, Ceiling Fan & Fixture Installation, Stand-by Generators, LED & Recessed Lighting, Code Corrections
Our licensed electricians are ready to improve your home's electrical system. Call 713-730-2525 to schedule your inspection.
Distribution Panel Inspection, Repairs, and Replacement in Humble, Texas
Your home's distribution panel (also commonly referred to as a breaker panel, breaker box, or electrical panel) is in charge of dividing and routing all of the electricity that comes into your home to the correct appliances, light fixtures, and outlets. As appliances age, they can begin to draw more power than they should. If too much power is drawn from your breaker box you may experience a power surge. When this happens, whatever breaker the appliance is connected to should "trip" or turn off, protecting not only the appliance but also your electrical system and your home. Older electrical panels may not trip in the event of a power surge, putting your appliances, electrical devices, and even your home at risk of explosions and fires. If you live in an older Humble home built before the 1990s, we highly recommend learning what kind of electrical panel you have and checking to see if it's an outdated or recalled model. If you do happen to have an outdated electrical panel, you should have it replaced as soon as possible.
Because breaker panels can run into many issues as they age- from fuses that explode and burn out inside the panel to infiltration by pests- it is highly recommended that you have your electrical panel inspected every few years or whenever you install a new appliance, like a fridge or air conditioning system. If you notice that a circuit in your panel won't reset or constantly trips, that's usually an indication that components of your breaker panel need to be replaced. Distribution panels process enough energy to fatally electrocute someone if replacement is not handled properly, so we highly recommended calling a licensed, insured electrician to replace any parts or install a new breaker panel.
Whole Home Re-Wire Services for Humble, Texas
The electrical wires running through the walls of your home carry the electricity sent from your breaker panel to the various lights, appliances, and outlets of your home. Modern electrical wires are made out of copper and are typically insulated with a PVC plastic that prevents the electrical current moving through the wire from coming into contact with another conductor, which can cause sparks and lead to a fire. Before the 1970s, it was common for contractors to build homes with aluminum wires that were insulated with plastic or rubber that would become brittle over time. If you live in an older Humble home and haven't had your wiring system upgraded, we highly advise that you call our licensed electricians to inspect your electrical system and replace any old wires with well-insulated copper wiring because aluminum wire is more susceptible to starting electrical fires.
In newer homes, electrical issues associated with electrical wiring are often caused by rodents chewing through wire insulation, but they can also be caused by faulty installation or wear over time. If you notice lights flickering in your home, hear a buzz coming from behind your walls, or smell smoke with no identifiable source, your electrical wires may be the culprit. If we do find that rats or mice have chewed through the insulation of your wires, we will refer our pest control team to exterminate the rodents in your home before installing new wires so that the same problem doesn't happen again.
Get Instant Electrical Help in Humble!
Connect with a John Moore Expert Using a Single Click
Click this button so you can:
Schedule a Job | View Memberships | Learn About Financing
Kitchen and mainline stoppages with accessible cleanout. 60-day warranty.
*Mention this special.
Fall Furnace Tune-Up & Inspection
With a No-breakdown Guarantee!*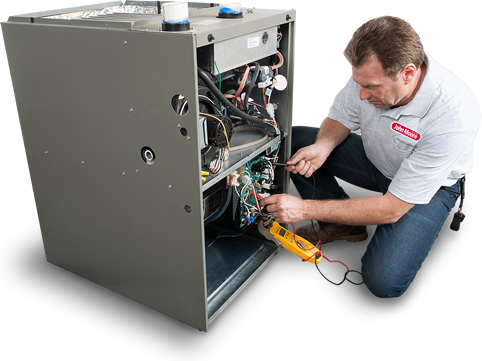 Get a 30-point inspection and tune-up to keep your system in optimal condition!
*If your heating system fails within one year of the maintenance, the cost of the $69 tune-up can be applied toward any repairs.
*Mention this special.