Houston Heights Pest Control
John Moore, the Experts in Pest Control and Animal Removal for the Heights, Texas
Who Can I Call for Pest Control Services in the Heights?
Why You May Need an Exterminator in the Heights
Although a large portion of the Heights has been renovated, many older homes and businesses are prone to infestations. As structures age, more cracks and openings form that allow insects and animals to creep their way in. Add that to the plethora of restaurants in the Heights with scrap-filled dumpsters and you're bound to have little critters loitering in the area and ultimately infiltrating your home. In addition, Houston itself is literally a hotbed for insects, like termites and mosquitoes, because of its subtropical climate. The weather makes it ideal for them to breed and thrive. Be prepared with one of the leading pest control companies in the Heights: John Moore.
John Moore's Pest Control Services Include:
Standard Pests: roaches, spiders, indoor ants, millipedes, centipedes, wasps, moths, flies, Termites, Mosquitos, Rodents and other wildlife (possums, raccoons, squirrels, bats, and snakes), Bed bugs, Fleas and ticks, Bees, Fire ants

Need a pest control service in the Heights that knows what they're talking about? Call John Moore at 713-730-2525.
Effective Termite Treatment in the Heights
If you think you have a termite problem, it may be difficult to diagnose. Some termites, like the formosan termite and subterranean termites, will leave behind clues like dirt tunnels or tracks around your home. But then there's drywood termites that are pretty much undetectable. The good news is that John Moore provides free termite inspections in the Heights. Because there are three types of termites that are prevalent in the area, we will need to determine the type before formulating a termite treatment plan for you. This information along with the location of the termites, the age of your home, and the layout of your home will help us come up with the best termite treatment plan for you.
All the termiticides we use have been cleared by the FDA and deemed safe for use around kids and pets. We may also use a wood treatment on exposed, infested areas of wood in your home to kill off termites. When used with liquid or foam termiticides, this wood treatment has proven to be effective at exterminating termites. Whatever strategy we choose for your home, we will keep you informed every step of the way.
Mosquito Treatment in Houston Heights
With low-lying land in the Heights, it shouldn't come as any surprise that mosquitoes feel at home here. Anywhere that water is able to collect and stand provides the ideal grounds for  mosquitoes to breed. This can make the outside of your home uninhabitable. Outdoor gatherings, yard work, or doing anything in your yard becomes a nightmare when your ankles are getting bit by mosquitoes. Besides ruining the comfort of your own home, families also have to worry about exposure to diseases such as West Nile or Zika Virus.
If you're looking for the best way to treat a mosquito problem, John Moore provides expert mosquito control in the Houston Heights. We don't just spray and go; we target the root causes of your mosquito problem and offer solutions to keep your yard mosquito-free all year long. With our Mosquito Plus program, you'll get continuous treatment of your yard that will also come with treatment of other standard pests in and around your home such as ants, spiders, millipedes, centipedes, and roaches. We can even perform a one-time mosquito treatment when you have guests coming over.
For mosquito control in the Houston Heights, call the experts at John Moore: 713-730-2525.
Pest Control Including Rodent & Animal Removal in the Heights
With a mix of beautiful older homes and newer townhomes, The Heights is one of the most desired places to live in Houston. But even the most beautiful homes – young or old –  are subject to a rodent problem. Most homes just aren't designed with pest control factors in mind. You'd be amazed at the different ways they can get in: cracks in the foundation, gutters & downspouts, chimneys, and openings to utility lines. And as your home ages, they have even more access due to cracks and damage on the exterior.
So if you need to remove mice, rats, squirrels, or possums from your home, don't worry, it's actually pretty common in the Heights—and Houston in general. But keep in mind, you want to tackle the problem quickly to avoid exposure to diseases, like salmonella, and damage to your electrical wires, wood, appliances and insulation. If you're concerned about taking it on yourself, you can rely on John Moore's 20 years of expertise in the pest control industry. We use a three-pronged approach that involves sealing off any openings in your home, trapping the rodents, and disinfecting your home to cover up the scent that may attract related animals into your home.
For wildlife animals that enter your home like birds and bats, we are required by Texas State Law to release them to a natural park at least ten miles from your home.
Get Instant Pest Control Help in Heights!
Connect with a John Moore Expert Using a Single Click
Click this button so you can:
Schedule a Job | View Memberships | Learn About Financing
Fall Furnace Tune-Up & Inspection
With a No-breakdown Guarantee!*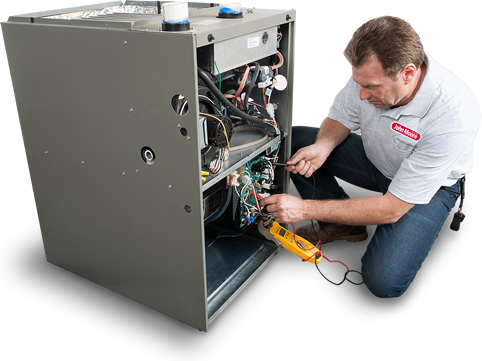 *If your heating system fails within one year of the maintenance, the cost of the $69 tune-up can be applied toward any repairs.
*Mention this special.
Kitchen and mainline stoppages with accessible cleanout. 60-day warranty.
*Mention this special.