John Moore, Friendswood's Friendly Neighborhood Plumbers Since 1965
What can be more perfect than a city called Friendswood with lush landscaping, great schools, beautiful parks, and natural trails? Hardly anything except to have a perfect home where everything works—including your plumbing. No sewage backup. No leaky pipes. No overflowing toilets. And top quality water for you and your family to drink and use.
With John Moore, you'll find top quality plumbing products and services to match your quality of life in Friendswood. Whether you're dealing with rusty pipes, a blocked main line, or poor water quality in your home, John Moore offers long-lasting solutions that keep these issues at bay for many years to come.
John Moore's Plumbing Services Include:
Plumbing repair & inspections, Tankless and standard water heater repair & installation, Whole-house re-piping services, Rooter & drain clean services, Sewer stoppage & replacement, Water softeners & filtration, Slab leak detection & repair, Sinks, tubs, faucets, garbage disposals
Need a plumber in Friendswood to address a leaky pipe or sewage backup ASAP? Call John Moore at 713-730-2525.
Galvanized Pipe the Main Culprit for Most Friendswood Whole-Home Repipes
Do you know what types of pipes comprise your potable water system? If your home was built before the 1980s, you will likely have galvanized pipes. If your home uses a galvanized pipe potable water system, by now it may be time to check for leaks and rust. It's only a matter of time before rust eats through the galvanized pipe, causing pinholes and water leaks that can cause damage to your home. If you don't see obvious signs like water spots on your ceiling or brown-tinted water coming from your tap, check for rust spots on the potable pipes in your attic.
If you notice rust in your pipes or water marks on your ceilings and walls, the best thing to do to protect your home is have a certified plumber replace your rusted pipes with PEX piping. PEX piping is a cutting edge pipe solution designed to withstand corrosion and high water pressure, so you won't have to worry about water damage to your home. Because of its proven reliability, John Moore uses PEX pipes for all horizontal and whole-house repipes.
Improve Water Quality with a Complete Suite of Filtration and Treatment Solutions
No city's water is perfect, but what if you found out that Friendswood water tested at the top of the allowable limits for barium, a contaminant that has been traced to the discharge of drilling wastes and metal refineries?
And what if the same goes for fertilizer contaminants in your water? Well, this is actually true according to the 2015 Friendswood Consumer Confidence Report. Although your water is deemed safe for drinking, inorganic contaminant levels that fall just below the threshold can lead to some long-term health concerns.
With a whole house water filtration system, you can ensure that the water you use for drinking, cooking, bathing, and washing is free from harmful contaminants. And because Friendswood purchases water from the City of Houston— and Houston water is known to be hard— you may also want to look into water softening systems that will prevent hard water damage to your faucets, fixtures, and appliances. Don't let water quality dictate your quality of life. Take control today.
For more information on water quality, water softeners, or water filtration systems, contact John Moore at 713-730-2525.
Get Help from a Local Friendswood Plumber!
Connect with a John Moore Expert Using a Single Click
Click this button so you can:
Schedule a Job | View Memberships | Learn About Financing
Now through November 30th!
Upgrade Your Hot Water Before Winter!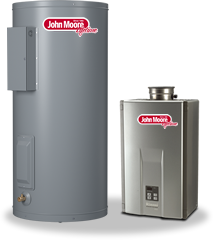 *Expires 11/30/22
*$300 off tank-style heaters and $500 off tankless heaters.
*Mention this special.
Fall Furnace Tune-Up & Inspection
With a No-breakdown Guarantee!*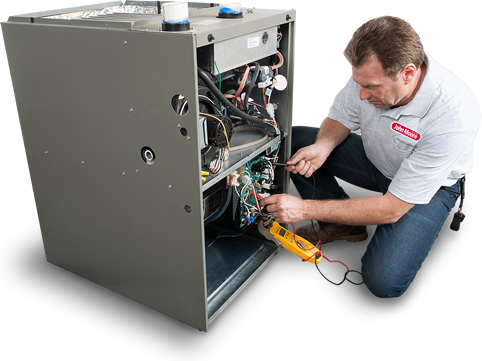 *If your heating system fails within one year of the maintenance, the cost of the $69 tune-up can be applied toward any repairs.
*Mention this special.
Kitchen and mainline stoppages with accessible cleanout. 60-day warranty.
*Mention this special.
Don't Be Left In the Dark!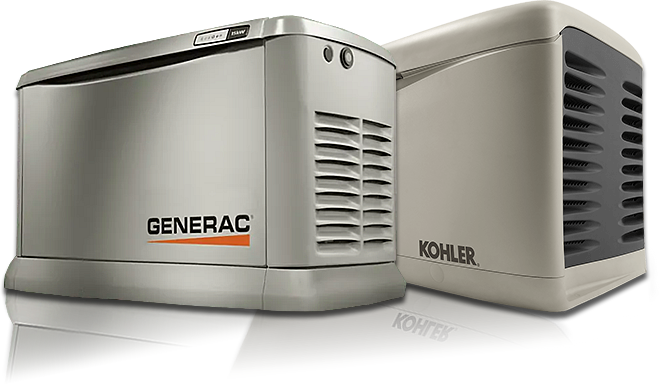 $1,000 OFF
Whole-House Generator
*While Supplies Last
Get Quote > Electrical > Generators
*Mention this special.