Leading Fresno Pest Control Company
20 Years of Expert Pest Control Service in Fresno, TX
Need an Exterminator for Your Fresno Home?
Fresno Pest Control and Animal Removal
With twenty years serving the Houston-Sugar Land-Galveston area, John Moore's pest control specialists know a lot about the local pests and the conditions that drive them into your home. Although Fresno is on the outskirts of Houston, you're likely dealing with the same pests as the rest of the metropolitan area: house mice, deer mice, termites, ants, mosquitoes and cockroaches. That's because we all live in an area that offers the warmth and humidity that many of these pests need to live, breed and thrive. Combine these conditions with bodies of water and lush areas of nature, and you have lots of potential invaders waiting right outside of your door.
As one of the most recognized names in Houston pest control, John Moore receives hundreds of calls from homeowners, like you, needing help with everything from a mice infestation to a squirrel in the attic. Bugs and animals on your property are not only a nuisance, they sometimes carry diseases that can be transmitted through bites, scratches, contaminated food, or breathing in tainted dust. Why take a risk when you have access to one of the top pest control companies in Fresno? Our pest control specialists are just a call away.
John Moore's Pest Control Services Include:
Standard pests: roaches, spiders, indoor ants, millipedes, centipedes, wasps, moths, and flies, Termites, Mosquitos, Rodents and other wildlife (possums, raccoons, squirrels, bats, and snakes), Bed bugs, Fleas and ticks, Bees, Fire ants
Need some reliable pest control service in Fresno? Call John Moore at 713-730-2525 for fast service and a free estimate.
Free, Expert Termite Inspections for Fresno Homeowners
Did you know that by living in Texas, your home has a 70 percent chance of being infested by termites within ten to twenty years of construction if it isn't properly treated? One way to reduce the threat of termite attacks is to treat the soil beneath your home before it is constructed. Unfortunately, home builders aren't required to perform pretreatments with termiticides, so most Fresno homes are probably lacking in termite protection.
It's true, termites chew through wood quickly, but not to panic. Your house won't cave in overnight. If you think you have termites in your home, the best thing to do is take the time to educate yourself on the type of termites in the area and your treatment options. There are several different types of termites in Texas, including drywood termites, formosan termites, and subterranean termites. Knowing which type of termite you have is critical to your extermination strategy. If you're unable to tell which kind is chomping away at your fence, home, or furniture, you can retain the services of a competent termite control company, like John Moore. We offer free termite inspections in Fresno, and we have specialized equipment, knowledge, and credentials to perform exterminations both safely and effectively.
Professional Mosquito Treatment in Fresno, TX
All mosquitoes need water to breed. So in places like Fresno and Houston that are susceptible to mosquito problems, elimination and population-control will usually involve high-performing insecticides as well as the removal or treatment of standing water from your property. Mosquito prevention is becoming more and more important because of mosquito transmitted viruses like West Nile and Zika.
With John Moore's bi-monthly Mosquito Plus plan, you can ensure your yard stays mosquito-free all year long. When you enroll in our Mosquito Plus program, a mosquito control specialist will treat your home with a top-rated repellent every other month. Not only does this program address mosquitoes, it also gets rid of other common pests like spiders, roaches, house ants, centipedes, wasps, and moths. And if you have guests coming to your home and need a temporary solution, John Moore offers a one-time mosquito treatment that lasts anywhere from one to three months.
To learn more about John Moore's mosquito control services in Fresno, TX , call 713-730-2525.
Rodent & Wild Animal Removal in Fresno, TX
Did you know it only takes about twenty days for mice to reproduce? One litter can have as many as fourteen mice. Now, multiply that by the amount of times one mouse can breed in a year and you'll have close to a hundred mice. Because mice reproduce so quickly, we highly advise homeowners to have their home inspected as soon as they suspect they have rodents in their home. The most common signs to look for are droppings, messes in the kitchen, scratching sounds coming from your attic and, of course, the mice themselves.
Even if you just see one mouse or rat in your home, you should have your entire home inspected. Rodents are great at hiding in dark spaces like your attic, crawl space, and air ducts, so it's not uncommon to find that a whole colony has started in your home without you knowing. Because rodents are known to carry disease, we recommend that homeowners leave the dirty work to us. We are trained to handle all kinds of rodents and animals, and we can properly seal any openings around your home to prevent more from coming in. As part of our process, our pest control specialists will also disinfect your home to neutralize any contaminated areas that may endanger your family's health. To comply with Texas State Law, we humanely catch and release wild animals such as squirrels, possums, raccoons, and bats into a nature reserve more than ten miles from your home.
Get Instant Pest Control Help in Fresno!
Connect with a John Moore Expert Using a Single Click
Click this button so you can:
Schedule a Job | View Memberships | Learn About Financing
Fall Furnace Tune-Up & Inspection
With a No-breakdown Guarantee!*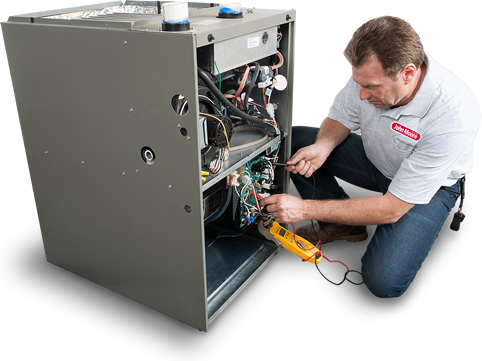 *If your heating system fails within one year of the maintenance, the cost of the $69 tune-up can be applied toward any repairs.
*Mention this special.
Kitchen and mainline stoppages with accessible cleanout. 60-day warranty.
*Mention this special.