A Reliable Cypress Electrician
With its mix of suburban communities and rural homes, Cypress presents our electricians with a wide array of electrical issues to solve every day. Whether our Cypress electrical contractors are upgrading the wiring system of an old ranch house or replacing burnt-out circuits in the breaker box of a suburban home, one thing is certain: John Moore's licensed and insured electricians in Cypress are committed to keeping homes safe and energy efficient.
Call Our Electricians in Cypress After You've Dealt With Any Immediate Emergency
Notice: Immediately call your energy provider if you are dealing with an explosive outlet, sparking live wire, or electrical fire and have them turn the power off to your home. Call 911 or the nearest Cypress Volunteer Fire Department to extinguish any fires before calling John Moore.
John Moore's Cypress Electrical Services Include:
Electrical Repairs & Upgrades, Breaker Panel Inspection, Repair, and Replacement, Rewiring, Electrical Inspections, High-Voltage Repair, Whole-Home Surge Protection, Indoor and Outdoor Lighting, Overhead & Underground Lines, Grounding, Electrical Outlets, Switches, & Dimmers, Ceiling Fan & Fixture Installation, Stand-by Generators, LED & Recessed Lighting, Code Corrections

For electrical inspection, replacements, and upgrades from John Moore's licensed Cypress electricians, call 713-730-2525.
Have Our Electricians in Cypress Take a Look at Your Breaker Panels
Your breaker panel— also known as a distribution, electrical, or circuit panel— is the heart of your home's electrical system. It divides all of the electricity from your energy company and routes it to the appropriate light fixture, appliance, or outlet in your home. The two most important safety features of your breaker panel are grounding any excess electricity and tripping any circuits that draw too much power from the system. For instance, if an appliance like your AC begins drawing an unsafe amount of power, your circuit breaker should trip the circuit, turning off power to your AC. From there, you should be able to turn the circuit back on, although you may want to consult an HVAC specialist to diagnose why your AC is drawing too much electricity.
Older Home Service from Our Cypress Electrical Contractor
Older homes built before the 1990s may have an outdated or recalled breaker panel that either doesn't include those safety features or is prone to malfunctioning. If you see your breaker panel on the list of outdated or recalled panels, you should have it replaced with a new panel by our licensed electricians in Cypress as soon as possible so that your home isn't at jeopardy of an explosion or electrical fire. It is recommended that you have your circuit breaker inspected every few years and before adding any new appliances or making any renovations.
An Electrician in Cypress for all Your Fuse and Breaker Panel Needs
Sometimes, fuses in your breaker panel can quickly catch fire and burn out within the panel. When this happens, you may lose power to a part of your home without the ability to reset that circuit. Because your circuit breaker processes a lot of electricity, you should always call a licensed Cypress electrician to diagnose any problems (like a burnt fuse) and make the necessary replacements.
Our Electrical Contractors Cypress Are Wiring Experts
Hidden behind your home's walls, your Cypress electrical wiring system carries electricity from your breaker panel to the appliances, lights, and outlets around your home. These wires should be made of copper and insulated with PVC plastic. Older wiring systems may use aluminum in place of copper and utilize a different type of plastic for insulation. Whereas copper provides a slight amount of electrical resistance, aluminum wires can overheat and potentially melt their insulation. Furthermore, pre-1990s wire insulation is known to brittle over time, leading to exposed wires that can touch one another and spark a fire. If your home is more than 30 years old and uses its original wiring system, you may want to upgrade to newer, more efficient wires.
Some indicators of wiring issues in both new and old homes include flickering lights, switches, and outlets that don't work, or the smell of smoke and a humming sound coming from behind your walls. If you notice any of these signs, call a licensed electrician to diagnose the problem and provide you with the appropriate repair. In some cases, rodents will chew through insulation and wires within a home. If we find signs of a rodent infestation in your home, we will refer our pest control team to exclude mice and rats from your home so that the same problem doesn't happen again.
Get Instant Electrical Help in Cypress!
Connect with a John Moore Expert Using a Single Click
Click this button so you can:
Schedule a Job | View Memberships | Learn About Financing
Kitchen and mainline stoppages with accessible cleanout. 60-day warranty.
*Mention this special.
Fall Furnace Tune-Up & Inspection
With a No-breakdown Guarantee!*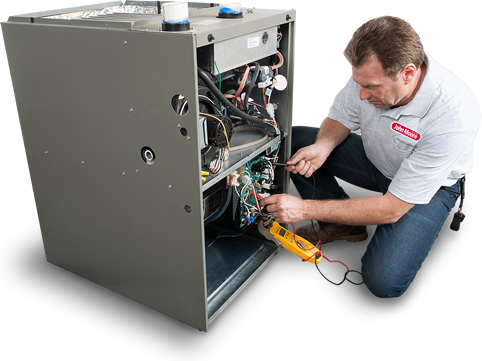 Get a 30-point inspection and tune-up to keep your system in optimal condition!
*If your heating system fails within one year of the maintenance, the cost of the $69 tune-up can be applied toward any repairs.
*Mention this special.