John Moore - The Name Conroe Has Counted On Since 1965
Conroe Plumbers
As one of the fastest growing city in the United States, Conroe has a lot of things to look forward to, like newer homes, modern amenities, and many economic benefits. But large growth means a bigger demand for home services, including plumbing. After all, it's only a matter of time before you'll need a plumber to rescue you from a broken water heater, clogged drain, sewage backup, leaky pipe, or an overflowing toilet.
That's where John Moore comes in. Just like Conroe, we've grown over the years to meet the needs of our growing city. Our plumbers are committed to providing you with responsive, reliable plumbing services. Put simply, we show up like we say we will— even to the farthest corners of the Houston area. Our Conroe Plumbers are also equipped to perform water filtration installations and preventative services such as drain cleaning, water heater maintenance, and water filtration installs.
John Moore's Plumbing Services Include:
Plumbing repair & inspections, Tankless and standard water heater repair & installation, Whole-house re-piping services, Rooter & drain clean services, Sewer stoppage & replacement, Water softeners & filtration, Slab leak detection & repair, Sinks, tubs, faucets, garbage disposals
Need a plumber right away to handle a leak? Call John Moore's customer care center to schedule an appointment at 713-730-2525.
Conroe Plumbing
Low water pressure? Water spots on your ceiling? These are signs that you may have a leak in your potable water system and possibly need to replace your pipes. Although leaks are more common in older homes with galvanized pipes that have rusted through, they can also happen in newer homes with PVC pipes. Most often, the failure can be linked to PVCs joint connections and improper installation practices. If your pipes aren't connected properly, the joints can easily weaken under water pressure and begin to leak or rupture.
Because a burst pipe can lead to extensive damage in your home, John Moore recommends having a licensed Conroe plumbing expert take a look as soon as you suspect a leak. Depending on the condition of your pipes, we may recommend a horizontal repipe or whole-house repipe, where we will replace the pipes in your home with a more durable piping solution, PEX Piping. PEX piping has fewer and stronger connections than PVC pipes to prevent buckling under high water pressure, and it does not rust like galvanized pipes.
Plumbing Contractor in Conroe
You've invested in your home, so you might as well do what you can to protect it. That includes protecting it from hard water that can damage your faucets, water heaters, appliances— and even your skin and hair. John Moore offers top rated whole-house water softening systems that eliminate the minerals that make your water hard.
What's even more important is your family's health. With traces of drilling waste, pesticides, and sewage waste in your water, why take a risk when you can have a reverse osmosis or whole-house water filtration system installed by John Moore? Whether you want healthier water to drink or your entire home's water supply purified, we have water filtration solutions to meet your needs. Don't settle for questionable water quality when you can have clean, healthy water right at your tap. Our Conroe emergency plumbing services ensure that we can take care of your plumbing issue as quick as possible.
For more information on different water filtration systems, call John Moore today at 713-730-2525 to schedule a consultation.
Get Help from a Local Conroe Plumber!
Connect with a John Moore Expert Using a Single Click
Click this button so you can:
Schedule a Job | View Memberships | Learn About Financing
Fall Furnace Tune-Up & Inspection
With a No-breakdown Guarantee!*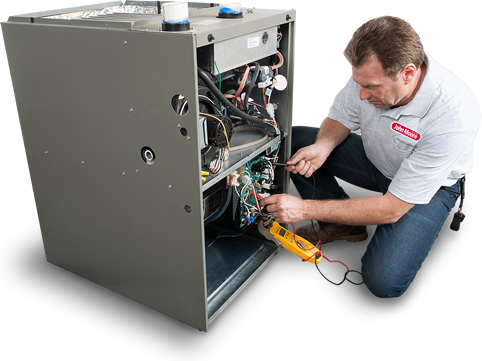 *If your heating system fails within one year of the maintenance, the cost of the $69 tune-up can be applied toward any repairs.
*Mention this special.
Kitchen and mainline stoppages with accessible cleanout. 60-day warranty.
*Mention this special.