John Moore: Neighborhood Experts for Repipe, Water Filtration, & All of Your Plumbing Needs.
John Moore has been a household name for more than five decades. Before subdivisions like Cinco Ranch and Grand Lakes started sprouting up, our plumbers were being called out to assist Katy homeowners with water heater replacements, repipes, main lines repairs, and drain cleanings. But, my, how things have progressed since 1965! Modern day communities like Cinco Ranch come with modern day demands for the home. And John Moore is ready to respond.
Whether you need a water softener, a whole house water filtration system, or pipes that won't rust or leak, we offer advanced plumbing solutions that address today's plumbing challenges. One thing we admire about Cinco Ranch is the value placed on families and their homes. That's why we are prepared to address your needs with solutions that protect what your home and your family for many years to come.
John Moore's Plumbing Services Include:
Plumbing repair & inspections, Tankless and standard water heater repair & installation, Whole-house re-piping services, Rooter & drain clean services, Sewer stoppage & replacement, Water softeners & filtration, Slab leak detection & repair, Sinks, tubs, faucets, garbage disposals
Dealing with a major leak or clogged drain? Call 877-703-2525 any time, any day to schedule a licensed plumber right away.
PVC Leaks and Ruptures? Call John Moore for Repiping Services in Cinco Ranch.
If you own a Cinco Ranch home with PVC potable water pipes, you may notice leaks and low water pressure as time goes on. Although PVC pipes are known to be durable, they can leak at the joints if they aren't installed properly. Over time, PVC pipes also tend to bust at the connection points that weaken after years and years of being under pressure. Unfortunately, these PVC leaks and ruptures can lead to costly damage to your walls and and ceilings.
John Moore's certified plumbing experts take a comprehensive approach to ensure you have a leak-free potable water system for many years to come. We perform horizontal and whole-house repipes using a more flexible, leak-resistant piping solution called PEX piping. Because PEX piping has less connections than PVC piping, it can handle a lot more water pressure. Not only are our pipe products warrantied, we also back our work 100%.
Cinco Ranch Homeowners Turn to John Moore for Water Softeners and Water Filtration Systems
It doesn't matter how old your home is— no home is immune to hard water, especially when you're dealing with Katy's mineral-filled hard water. As water penetrates the ground and into our waterways, it gathers minerals like calcium, magnesium, chalk, and lime— all culprits that cause hard water. Over time, these minerals can build up leading to costly damage to your fixtures and appliances. This can even happen if you have surface water supplied from Houston.
Your best bet against buildup is to install a water softener. Water softeners extend the life of your plumbing system components by eliminating minerals that make your water hard. But you shouldn't wait until you start seeing buildup to install a water softener; get ahead of it to avoid costly damage to your home.
Concerned about the quality of your water or hard water damage? Schedule a free water filtration system consultation.
Get Help from a Local Cinco Ranch Plumber!
Connect with a John Moore Expert Using a Single Click
Click this button so you can:
Schedule a Job | View Memberships | Learn About Financing
Fall Furnace Tune-Up & Inspection
With a No-breakdown Guarantee!*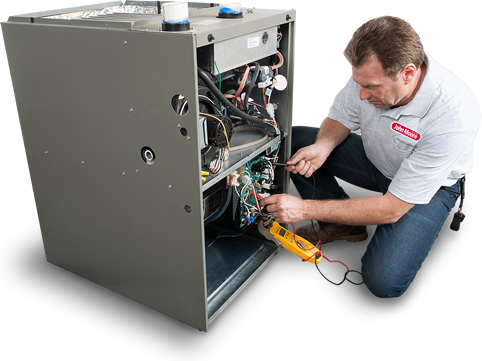 *If your heating system fails within one year of the maintenance, the cost of the $69 tune-up can be applied toward any repairs.
*Mention this special.
Kitchen and mainline stoppages with accessible cleanout. 60-day warranty.
*Mention this special.