John Moore: The Trusted Name in Channelview Plumbing since 1965
This home along the ship channel has everything a fisherman, boater, or active outdoors family could ask for from a town. And Channelview homes are a reflection of the community's pride and history. As this city is ripe with industry from the Port of Houston, it has grown rapidly in recent years.
But many homes in Channelview are starting to show their age, and plumbing maintenance will become critical for families in this area with time. Even new homes are not exempt from potable piping mishaps, main line stoppages, and poor water quality. Whatever your situation, John Moore is here with a solution for any plumbing problem your home might face.
John Moore's Plumbing Services Include:
Plumbing repair & inspections, Tankless and standard water heater repair & installation, Whole-house re-piping services, Rooter & drain clean services, Sewer stoppage & replacement, Water softeners & filtration, Slab leak detection & repair, Sinks, tubs, faucets, garbage disposals
Dealing with a major plumbing issue like a leak or sewage backup right now? Call John Moore at 713-730-2525 or contact us online to schedule our next available plumber.
Repiping with PEX Piping the Perfect Solution to Prevent Rusting and Pipe Failure
Do your walls have water damage from leaky pipes? Have you noticed low water pressure in your showers and faucets? Pipe failure is a dangerous problem that can jeopardize your home's structural integrity and family's safety, creating the perfect conditions for rot and mold. While John Moore is able to perform pipe repair and partial replacements, if your homes pipes are rusting or falling apart, we highly recommend whole-home repiping for families that can make the investment. And with our 0% down financing, we can help you plan your upgrade to a reliable potable water system in your home.
When repiping homes, John Moore works almost exclusively with PEX piping, a new plumbing material that outperforms all metal and PVC pipes. Flexible, expandable, lightweight, and less prone to leaks thanks to fewer required connections, PEX is built to last a long time. When you repipe your home with John Moore, we back our parts with a 25 year warranty and our labor with a 10 year warranty.*
*Excludes vandalism and acts of God such as lightning and storms.
Water Quality in Channelview Homes – Which Water Quality Solution Is Best for Your Home?
Water quality can be a serious concern for families with growing children or even for single person households. Although our water supply is safe for day to day use, trace chemicals and contaminants can build up in your system over time and cause eventual problems. This is where water filtration comes in, and John Moore's customized whole home-filtration systems are the perfect answer for families wanting to cut down on bottled water expenses while ensuring a safe source of tap water in their home. And for homeowners dealing with hard water and calcium buildup in their pipes, we also offer whole-home water softeners to prevent calcium and limescale buildup on your faucets, fixtures, and appliances.
Do you want better quality water in your home? John Moore can help! Contact us online to schedule a free consultation.
Get Help from a Local Channelview Plumber!
Connect with a John Moore Expert Using a Single Click
Click this button so you can:
Schedule a Job | View Memberships | Learn About Financing
Fall Furnace Tune-Up & Inspection
With a No-breakdown Guarantee!*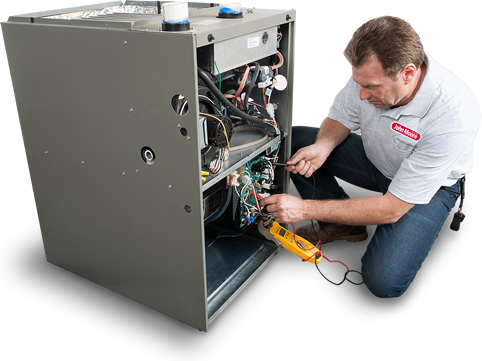 *If your heating system fails within one year of the maintenance, the cost of the $69 tune-up can be applied toward any repairs.
*Mention this special.
Kitchen and mainline stoppages with accessible cleanout. 60-day warranty.
*Mention this special.