Electrical Services in Channelview, TX
Licensed & Insured Electricians in Channelview, Texas
Is Your Electrical System in Need of an Upgrade?
Dependable Service in Channelview Since 1965
John Moore began in 1965 as a plumbing company committed to providing the best service to Houston-area homeowners. Over the last 50 years, we've added HVAC services, pest control, and eventually electrical services to our growing list of home services, by employing top-of-the-line licensed professionals. To date, John Moore has helped thousands of Houston-area homeowners feel secure in their homes.
When it comes to your home's electrical system, it's important to keep a critical eye on any light fixtures, appliances, and outlets that don't work as they should. Flickering lights, humming sounds, and outlets that aren't working could mean that there is a bigger problem building up either in your walls or electrical panel. If these problems go unaddressed for too long, you could be at risk of an electrical fire in your home.
Notice: If you are currently dealing with sparking wires or an electrical fire, immediately call your power company and ask them to temporarily discontinue power to your home. Call 911 or Channelview Fire Department at (281) 452-5782 to extinguish any fires before you call John Moore.
John Moore's Electrical Services Include:
Electrical Repairs & Upgrades, Breaker Panel Inspection, Repair, and Replacement, Rewiring, Electrical Inspections, High-Voltage Repair, Whole-Home Surge Protection, Indoor and Outdoor Lighting, Overhead & Underground Lines, Grounding, Electrical Outlets, Switches, & Dimmers, Ceiling Fan & Fixture Installation, Stand-by Generators, LED & Recessed Lighting, Code Corrections
Call 713-730-2525 for electrical inspections, replacements, and repairs from the home service company Channelview homeowners trust!
Inspection, Repairs, and Replacements for Your Distribution Panel
Your distribution panel is the central component for all electrical activity in your home. In addition to disseminating power throughout your home, your distribution panel also performs two critical safety functions: grounding excess electricity that enters the system and turning off power to areas of your home that draw unsafe amounts of electricity. Some older distribution panels fail to shut power off in the event of a power surge, which could lead to a fire or even an explosion in your panel. Although many homes in Channelview have been renovated over the past 20 years, many homes are still relying on the original electrical systems and panels. You may want to check your distribution panel to ensure that it isn't a model that has been recalled.
As panels age, they are not immune to malfunction. Some examples are short circuits, burnt-out fuses, or small explosions within the panel. If you have a circuit that won't reset or notice burn marks on the face of your panel, chances are a component of your distribution panel has malfunctioned and needs to be replaced. Unless you are a qualified electrician, you should never attempt to replace these parts yourself as you could risk electrocuting yourself.
Providing Safer, Energy Efficient Homes in Channelview
Your electrical wiring is essential to safely and efficiently powering your home. Modern electrical wiring systems use copper wires that are insulated with a PVC plastic. Copper is used because although it is conductive, it provides enough electrical resistance to ensure that your wires don't melt their insulation. PVC plastic is used because in comparison to older insulation methods, PVC is known to be much more durable, even in Houston's warm, humid climate. Some wiring systems found in homes built before the 1970s use aluminum wires instead of copper. Aluminum can overheat, melting the non-PVC insulators used at the time, which could expose the wiring, sparking fires within the walls of older homes. If you live in an older Channelview home with the original wiring system still intact, you may want to call a licensed electrician to inspect and upgrade the wiring system in your home.
Newer homes are also vulnerable to wiring mishaps, primarily from rodents and other pests that are known to chew through wires and their insulation. If you notice flickering lights, outlets that don't work, or hear a buzzing sound from within your walls, then there may be an issue with your home's wiring system. If we notice that rodents have chewed through your home's wires, we can then refer our pest control team to solve the rodent issue in your home so that they don't destroy your new system as well.
Get Instant Electrical Help in Channelview!
Connect with a John Moore Expert Using a Single Click
Click this button so you can:
Schedule a Job | View Memberships | Learn About Financing
Kitchen and mainline stoppages with accessible cleanout. 60-day warranty.
*Mention this special.
Fall Furnace Tune-Up & Inspection
With a No-breakdown Guarantee!*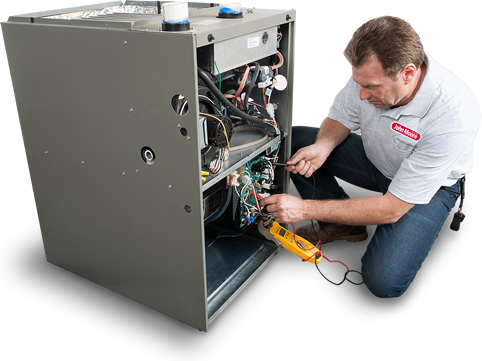 Get a 30-point inspection and tune-up to keep your system in optimal condition!
*If your heating system fails within one year of the maintenance, the cost of the $69 tune-up can be applied toward any repairs.
*Mention this special.