John Moore: Briar Forest's Go-To Plumbing Experts
Since 1965, the plumbers at John Moore have provided Houston communities like Briar Forest with top-notch plumbing services.
In the region of Houston situated between Gessner, Westheimer, Dairy Ashford, and Buffalo Bayou lies the community of Briar Forest. Residents of Briar Forest can surely feel the metropolitan center of Houston expanding in their direction; with Houston's Energy District right around the corner and the Houston Rockets' training facility in the neighborhood, Briar Forest is currently positioned for urban status and is no longer regarded as part of the city outskirts.
However, Briar Forest was once considered quite a commute from the center of Houston, back when plumbers were using galvanized steel and CPVC piping for the potable water lines in Briar Forest homes. Many of the single-family residential houses are to this day still equipped with these older potable water pipes that will soon become a liability to the homeowner, if they have not already. Both CPVC and galvanized water pipes are prone to deterioration, contamination, and water line leaks.
John Moore's Plumbing Services Include:
Plumbing repair & inspections, Standard and tankless water heater repair & installation, Whole-house repiping services, Rooter & drain clean services ,Sewer stoppage & replacement, Water softeners & filtration, Slab leak detection & repair, Sinks, tubs, faucets, garbage disposals
If you've got an emergency leaking out of your water pipes, give the experts at John Moore a call now at 713-730-2525 for immediate help.
Update Your Briar Forest Home with All-New PEX Piping, Included in a John Moore Repipe
You probably don't think much about the pipes concealed behind your walls until there is a problem. Water marks on the ceiling or mold growth from leaks will make any homeowners uneasy—and rightfully so. Water marks, mold, and leaks are all warning signs of failing potable water pipes. Did you know that once the leaks start, they normally don't stop? Especially for homes with CPVC and galvanized pipes, which are both commonly found in Briar Forest homes, a leak is an indication of brittle CPVC pipes cracking, or rusted galvanized steel pipes deteriorating. When your piping system starts to go bad, you can be sure that more leaks and water lines issues will soon follow.
Repairing a hole by replacing a segment of your water pipes is always an option, but be prepared to undergo this procedure several times in the coming years. To save you the time, money, and effort, the plumbers at John Moore suggest a better solution: a whole-home repipe. During a whole-home repipe, our expert plumbers replace all the pipes in your house with PEX piping, the most affordable, reliable piping product on the market. After the new PEX pipes are installed, your home will be set with a high-functioning, potable water system for decades to come
Purify the Briar Forest Tap Water in Your Home with a Whole-Home Filtration System
The City of Houston's drinking water system supplies potable water to Briar Forest. Although clean and safe to drink, this water supply carries trace amounts of contaminants that pose health risks. Briar Forest's tap water contains trace amounts of contaminants, including arsenic that seeps from the surrounding industrial plants, and chloroform that enters as a water treatment by-product.
No one wants to drink, cook, wash, and bathe in the health risks that stream through the City of Houston's tap water. Thankfully, the expert home services team at John Moore installs whole-home water filtration systems in Briar Forest houses and throughout the greater Houston area. Forget faucet filters. We install the filter right at the start of you water supply to ensure no toxins wind up in your laundry, on your dishes, or in your drinking water.
Our team of water experts also offers Carbon Block Filters that provide the highest level of water treatment. With a Carbon Block Filter, you can rest assured that your potable water supply is fresh, clean, and free of regular city water impurities.
Call the experts at John Moore at 713-730-2525 or contact us online to start fresh with a whole-home filtration system.
Get Help from a Local Briar Forest Plumber!
Connect with a John Moore Expert Using a Single Click
Click this button so you can:
Schedule a Job | View Memberships | Learn About Financing
Fall Furnace Tune-Up & Inspection
With a No-breakdown Guarantee!*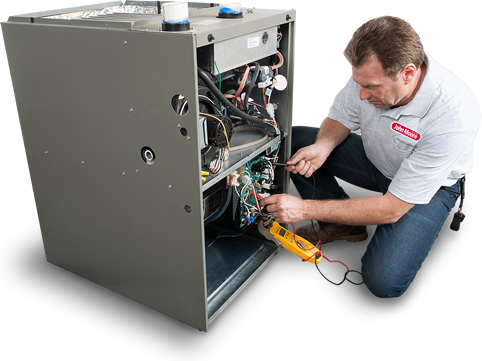 *If your heating system fails within one year of the maintenance, the cost of the $69 tune-up can be applied toward any repairs.
*Mention this special.
Kitchen and mainline stoppages with accessible cleanout. 60-day warranty.
*Mention this special.