John Moore, the Trusted Neighborhood Plumbers of Bellaire
When you live in one of the best areas in town- like Bellaire- with the best homes, best schools, and best location, why stop at having the best plumbing solutions for your home? Whether you're performing a home restoration that involves new plumbing components, or you have an emergency like a leaky pipe, a backed up sewer line, or an overflowing toilet, why settle for anything less when you're used to having the best?
With John Moore, you'll see the difference in our level of responsiveness, professionalism, and trade knowledge. And we only offer top performing plumbing products for repipes, main line repairs, water filtration systems, and more. There's a reason why we've been around since 1965— it's because of homeowners like you who refuse to settle for less than the best.
John Moore's Plumbing Services Include:
Plumbing repair & inspections, Tankless & standard water heater repair & installation, Whole-house re-piping services, Rooter & drain clean services, Sewer stoppage & replacement, Water softeners & filtration, Slab leak detection & repair, Sinks, tubs, faucets, garbage disposals
Have a water leak or a water heater that doesn't work? John Moore's customer care center is opened 24-7 at 713-730-2525 to take your call.
Water Repiping: An Integral Part of any Home Renovation Project for Bellaire Homes
Just because you can't see the pipes behind the walls of your kitchen and bath doesn't mean you shouldn't include them in your home renovation. Old, rusty pipes can sprout leaks that can damage your newly restored home. Especially if your home has galvanized pipes, you should check to see if they're in good condition. Why? It's only a matter of time before rust eats through the pipes and sprouts leaks that can ultimately lead to drywall damage.
So if you're restoring an old home or concerned about a leak, John Moore offers an advanced piping solution called PEX piping that does not rust like galvanized pipes. PEX piping also has many advantages over PVC pipes. Its designed with less connections and more flexibility to prevent buckling or bursting from high water pressure. If you're planning a renovation or your home has a leak, low water pressure, or rust-tinted water, call on John Moore, the service leader in horizontal and whole-home repipes.
Water Quality Solutions in Bellaire
Although your water may be deemed safe for drinking, are you okay with your family drinking and bathing in water that has traces of arsenic or barium? Unfortunately, Houston's water supply has traces of thousands of poisonous contaminants. Why risk you and your family's health when there is a solution?
With a whole-house filtration system, you can eliminate harmful contaminants and by-products from all the water you use from your tap. And if you're concerned about Houston's hard water damaging your appliances, skin, hair, and clothes, John Moore can recommend the best water softening systems that keep your fixtures and appliances free from damage caused by calcium, magnesium, and limescale buildup.
For more information on water filtration systems, schedule an appointment with a certified John Moore plumber in Bellaire.
Get Help from a Local Bellaire Plumber!
Connect with a John Moore Expert Using a Single Click
Click this button so you can:
Schedule a Job | View Memberships | Learn About Financing
Fall Furnace Tune-Up & Inspection
With a No-breakdown Guarantee!*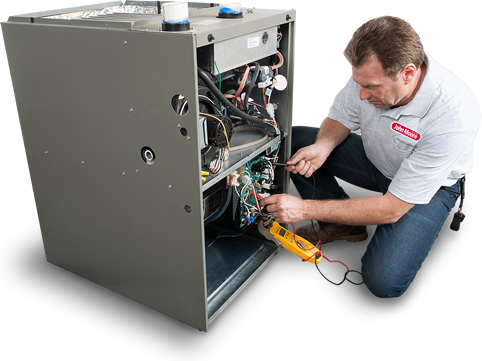 *If your heating system fails within one year of the maintenance, the cost of the $69 tune-up can be applied toward any repairs.
*Mention this special.
Kitchen and mainline stoppages with accessible cleanout. 60-day warranty.
*Mention this special.