John Moore, the Name Baytown Homeowners Have Counted on for Plumbing Services Since 1965
Baytown- with its waterways, Nature Center, and Eddie Gray Wetlands Education Center- is a great place for families to explore and have fun. And after a long day of being outside, you can return to take a warm shower and drink a cool glass of water to relax in the comfort of your Baytown home. But as every homeowner knows, sometimes the comfort of even the most settled home can be compromised when plumbing issues arise.
Drain clogs, leaks, sewage backup, and poor water quality are just some of the plumbing issues John Moore's plumbers have solved countless times in Baytown over the past 50 years. Over this time, we've grown to offer not only a full-range of home services, but also better plumbing solutions that use the latest technology to restore comfort to your home for many years to come.
John Moore's Plumbing Services Include:
Plumbing repair & inspections, Standard and tankless water heater repair & installation, Whole-house re-piping services, Rooter & drain clean services, Sewer stoppage & replacement, Water softeners & filtration, Slab leak detection & repair, Sinks, tubs, faucets, garbage disposals
Is a plumbing issue compromising your home's comfort right now? Schedule an appointment with our next available plumber by calling 713-730-2525.
Over 50 Years of Potable Water and Whole-Home Repipes in Baytown, TX
Clean, clear water for drinking, bathing, cooking, and washing clothes is one of the greatest comforts a home has to offer. You can thank your home's potable water distribution system for making water easily accessible from every faucet in your home. But as the years pass, the pipes that make up your home's potable water system may rust, develop pinholes, or rupture, leading to leaks and low water pressure throughout your home. If your home uses galvanized pipes to distribute water, you will notice rust spots and brown tinted water after about 15 years. And if your home uses PVC pipes, you may encounter a rupture, which tends to happen at connection points because PVC potable piping systems use joints that aren't well suited to hold through years and years of being under pressure.
If you notice water spots on your ceiling and walls, brown-tinted water coming out of your faucets, or low water pressure in your home, you can call on John Moore for a solution that will restore your home's potable piping system: a PEX repipe. John Moore began using PEX piping at the turn of the century because PEX is the most reliable piping system available today. It's made from crosslinked polyethylene, which is a flexible, anti-corrosive material, so it won't rust like galvanized pipes and won't rupture like PVC. And when John Moore repipes your whole home with PEX piping, we give you a 25 year warranty on parts, and a 10 year warranty on labor.*
*Excludes acts of God (flood, lightning, etc.), vandalism, or riots.
Pro-Grade Water Quality Solutions for Baytown Homes, Installed by Licensed Plumbers
The City of Baytown strives to deliver clean water to all homes in the area. But due to pesticides and industries in the area, there are still traces of inorganic, organic, and even radioactive contaminants in the water. In the 2016 Baytown Water Quality Report, traces of magnesium, sulfates, and nitrates that could affect you and your family's health were found in Baytown's drinking water. Although the amount found was still within the allowable limit, it is highly recommended that homes have a water filtration system installed, especially if you or anyone in your household has a weak immune system or an autoimmune disease.
Thanks to advances in whole-home filtration technology, John Moore now provides some of the best solutions for water purification in your home. And because Baytown also has hard water that can damage your faucets, fixtures, clothes, skin, and hair, we also offer whole-home water softening solutions.
You deserve to feel comfortable with the water in your home. Schedule a consultation with a John Moore plumber to learn more about our water quality solutions.
Get Help from a Local Baytown Plumber!
Connect with a John Moore Expert Using a Single Click
Click this button so you can:
Schedule a Job | View Memberships | Learn About Financing
Fall Furnace Tune-Up & Inspection
With a No-breakdown Guarantee!*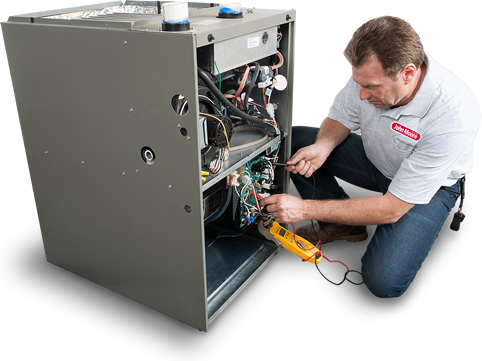 *If your heating system fails within one year of the maintenance, the cost of the $69 tune-up can be applied toward any repairs.
*Mention this special.
Kitchen and mainline stoppages with accessible cleanout. 60-day warranty.
*Mention this special.