Faucet Repair & Replacement Houston
Faucet Repair & Replacement by Local Houston Plumbers Since 1965
Licensed plumbers helping with your faucet needs from minor repairs to complete faucet replacement
Signs that You Need a New Faucet
Some faucets may even be damaged beyond the possibility of repair. But how will you know when it is time to call John Moore to plan your faucet replacement? Here are some common problems and symptoms to look for.
Corrosion and rust are the primary and worst enemies of a faucet. They can cause your faucet handles to stick or break and can even prevent water flow. Look for off color water, listen for squeaking handles, and feel for extra resistance when you turn the water on and off. If your unit seizes up so that the handles cannot be manipulated at all or the faucet has rusted through, it must be replaced completely. Corrosion in fixtures creates a water quality issue and can present a health hazard when rust makes its way into the water. Although John Moore provides water quality solutions for homes, we cannot get a rusty faucet to supply clean water and recommend replacement for your family's safety and health. You may also need to consider repiping if you notice a rusted faucet as the rest of your plumbing system may be experiencing the same problems.
Leaky faucets, faucets with broken valves, and faucets with busted handles are some other problems that may indicate you need a new faucet. Although most of these scenarios can be more easily addressed than rust, it may be prudent to replace an older unit if it has already been through several repairs.
Homeowners normally think of bathroom and kitchen fixtures as whole items rather than considering the many parts that make them work. In everyday life, we think of our sinks, our showers, and our tubs as a single unit, but when something happens with the faucet of a given fixture, the entire fixture becomes somewhat useless. Plumbing is a world of many working parts, and faucets are no exception.
Faucets 101
Faucets work to mediate the flow and temperature of water into the basin, tub, or shower and can create real problems if damaged or improperly cared for.
A working faucet, on the other hand, can add beauty to your bathroom or kitchen, tying together the room's design. Best of all, a functional faucet allows you to calibrate and customize the perfect clean up experience. So what are the parts of the faucet and what are their functions?
The handles control temperature and water pressure while the water flows from the spout. The base is the fitted component of a faucet that allows the faucet to sit on the sink, tub, or wall. Most spouts also contain a mesh
aerator
and a
cartridge
or
stem
. The cartridge or stem helps to control temperatures while the aerator disperses the stream to prevent excess splashing. Cartridges are typically a little more complex than stems and appear mostly in shower and tub faucets whereas stems appear in sink faucets. In addition to controlling temperature, cartridges and stems control water pressure through a series of holes and stops that close or open as the faucet handle is turned.
Optional Faucet Components
There are a vast variety of add-ons you may want to consider if you are looking for an upgraded faucet.
In addition to the primary spout, some faucets will include a
filter spout
that connects directly to an add-on
filtration system
. Other faucets may include a spray head that detaches from the base and includes a hose for improved mobility and reach. In the kitchen, spray heads make it easier to clean dishes, produce, and other and kitchen goods. And in the shower, spray heads are perfect for washing your lower back and other areas that can be difficult to reach with a static faucet. Whatever faucet upgrades you are interested in, John Moore is here to help you find the perfect fit
Why get your Faucet from John Moore?
While it is possible to purchase a faucet on your own and then call us for installation, John Moore encourages customers to shop with us to find the perfect faucet.
One common mistake homeowners make when purchasing faucets on their own is to think that the faucet of their dreams will fit on any fixture imaginable. While it may be obvious that shower heads won't fit on a sink, it's easy to mistake jacuzzi faucets for tub faucets or try to add a small kitchen faucet in the bathroom. Selecting a faucet can be a complicated journey, and working with us ensures that you don't waste money on a faucet that won't fit or a faucet that's intended for a different kind of fixture.
Purchasing through John Moore means purchasing quality. As with any item we place in a client's home, John Moore is dedicated to providing only the best faucets on the market. We work with the plumbing industry's premiere crafters and vendors to find faucets that will revolutionize your home washing experience. Our vendors range from Kholer to Delta and Moen, and we offer thousands of faucet styles.
When you buy with us, we warranty and install the faucet for you and will ensure that the new item is properly fitted to your fixture. Whereas it can be all too easy to buy a faucet that is just a size too big or small if you are trying to repair your sink or tub on your own, John Moore is here to get the installation right the first time.
Our team will also check for common problems with your pipes and fixtures upon installation to ensure that you are not installing a new faucet over a damaged system. Whether there is a damaged pipe that needs repiping, a busted water heater that will not allow the new faucet to properly regulate temperatures, or water quality concerns in your home-, John Moore can recommend any additional repairs needed immediately. Our commitment to whole-home service ensures the longevity of your home's plumbing system and can save you thousands by catching any problems early. And with our faucet replacement service, you can rest assured that your new faucet will last for years.
Picking the Perfect Faucet for your Family
When you choose to change or upgrade the faucets in your home, John Moore will consult with your family to better understand your personal style preferences and get you on the right track to finding a faucet that matches these ideals, but the choice is ultimately up to you. So what should you look for in a faucet? Again, it all depends on personal preference. While a good faucet will not overwhelm a room, their traditional metallic coloring attracts attention and can center an entire space. Here are some basic elements to consider:
Typically, you will notice pinhole leaks and rust on these pipes first because 1) they are usually the only exposed water distribution pipes in your home, and 2) there is usually more horizontal pipe in a home than vertical pipe in the walls. But even though there's a high probability that you will notice leaks coming from your horizontal pipes, there is still a likely chance that the branching lines and vertical pipes in your home are also rusting, and even leaking, which is why John Moore recommends having your whole-home repiped if you notice leaks caused by rust anywhere in your home.
Antique styles tend to be more ornate and call to mind times gone by with scrollwork, patina finishes, or baroque handles. Rustic styles bring to mind the country, with oversized
spouts
, handles in the shape of well pumps, and darker finishes. Classic or traditional faucets, on the other hand, bring a clean and finished look to any space. With their understated but practical features, classic faucets are the most common style seen in most homes and can work with almost any home design. Modern or contemporary faucets are close cousins of classic faucets but tend to be sleeker and may trade out the rounded look of a regular faucet with blocky or squared design. Modern faucets may play with shape and expectations in other ways too, creating cascade or waterfall flow effects with extra wide spouts
Upgrades
Because customization is king in the world of faucets, upgrades of all kinds are available through John Moore.
Do you want more out of your shower experience? Consider a detachable showerhead with extended hose or wall mounted shower jets to accompany your main showerhead. Want to seamlessly transition from cooking tasks to cleaning without spreading bacteria from raw meat? Hands free or motion sensing faucets may be the best bet for you. Why be satisfied with less?
Below is a simple chart covering more common upgrades available today.
| UPGRADE | PURPOSE |
| --- | --- |
| Pull Down or Commercial Style/Detachable Spout | Allows you to manipulate water flow direction and move the spout freely to better clean a given surface. Usually seen with larger kitchen sinks and reminiscent of industrial or restraint kitchen sinks. |
| Separate Sprayer | Used for cleaning produce and dishes, this sprayer moves freely from the base with a hose and is usually operated with a lever or button to control flow |
| Wall mounted sprayers for showers | While not technically a faucet, additional sprayers can be attached when you purchase a new showerhead and are used to increase water contact with your body. |
| Touch free/Motion Sensitive Faucet | Great for home cooks who have their hands full or who need to watch out for cross-contamination, these faucets come with a sensor that activates flow as soon as your hands are under the spout. |
| Digital Temperature and Pressure Controls | These faucets allow you to set a precise temperature for your water and pressure, with some units even offering an option to save your favorite settings for future use |
| Waterfall Spout | Extra wide spouts allow for a broader flow of water. While this effect is primarily just for aesthetic preference, it allows more water to flow from the faucet at any time and that the flow covers a wider surface area for a faster clean up. |
John Moore's Faucet Installation Process
After careful consultation with your family to select the perfect faucet...
One of our expert plumbers will install your new fixture. We take care to protect your home and belongings and will begin the process by shutting off water to the area we are working on. For sinks, we can typically shut off supply to just one fixture at a time so that your family can continue to enjoy water throughout the rest of the house while we work. For tubs and showers, the water for the whole house will typically need to be shut off as there is no separate valve to isolate just the tub or shower. Fortunately, faucet replacement is typically a quick process and should not place too much strain on your family.
Next, we create access to the faucet, typically making a small hole in the drywall or removing a cover plate to facilitate removal. Although this step may seem intimidating, John Moore's team of experts will repair any changes made after the faucet is replaced. After that, the valves will be taken out and the new valve and fixture added. Sealant putty or adhesive may need to be added to keep the fixture in place, and this will then be allowed to dry before the cover plate is replaced and the water supply is restored. While every home is different, most replacements take only one visit from John Moore and do little to disrupt the rest of your daily life.
Replacements when You Want Them
Scheduling an Appointment
Although John Moore installations typically provide years of enjoyment and use, mistakes can happen. If there is a problem with a faucet you have purchased and had installed through John Moore, we will repair it anytime within a year of initial installation. The faucets we sell also come with their own manufacturer's warranty. Warranties typically cover faulty equipment and problems stemming from everyday use and regular wear and tear. Acts of God and user abuse are not covered under either John Moore's labor warranty or most manufacturer warranties.
Warranties You Can Trust
Although John Moore installations typically provide years of enjoyment and use, mistakes can happen.
If there is a problem with a faucet you have purchased and had installed through John Moore, we will repair it anytime within a year of initial installation. The faucets we sell also come with their own manufacturer's warranty. Warranties typically cover faulty equipment and problems stemming from everyday use and regular wear and tear. Acts of God and user abuse are not covered under either John Moore's labor warranty or most manufacturer warranties.
Kitchen and mainline stoppages with accessible cleanout. 60-day warranty.
*Mention this special.
Fall Furnace Tune-Up & Inspection
With a No-breakdown Guarantee!*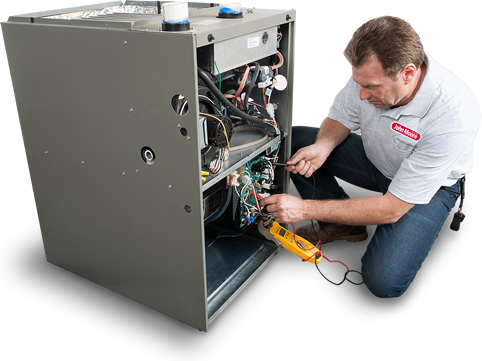 Get a 30-point inspection and tune-up to keep your system in optimal condition!
*If your heating system fails within one year of the maintenance, the cost of the $69 tune-up can be applied toward any repairs.
*Mention this special.
Hot Water Never Felt So Good!
*Traditional water heaters only. Price is per unit.
*Mention this special.