John Moore Plumbing: Custom Solutions for Your Home's Plumbing, Piping, & Waste Disposal Needs
Built by oil industry professionals and technicians, the city of Humble values hard work and dedication to excellence. Its bustling economy has attracted businesses from across the state and country, and its quiet neighborhoods offer peace and comfort for families looking to get away from the rush of inner loop Houston.
With 50 years of service to this area, John Moore knows that expertise is important to Humble's homeowners, and our technicians are trained, licensed, and ready to help you solve whatever plumbing problems your family is facing.
Like much of the Greater Houston Region, Humble residents struggle with hard water, a chemical tasting tap water, and environmental water contaminants. Likewise, aging homes in the region may notice problems with their wastewater plumbing systems. Other problems with your property can also interfere with plumbing, from sinking foundations to wandering tree roots that can destroy sewage lines.
John Moore's Plumbing Services Include:
Plumbing repair & inspections, Tankless and standard water heater repair & installation, Whole-house re-piping services, Rooter & drain clean services, Sewer stoppage & replacement, Water softeners & filtration, Slab leak detection & repair, Sinks, tubs, faucets, garbage disposals
Are you experiencing a plumbing emergency right now? Call John Moore at 713-730-2525 or contact us through our website to get help now.
Does Your Humble Home Need a Whole-Home Repipe? We Can Help.
Have you noticed water damage on your walls or rust spots on the pipes in your attic? If so, a repipe could be the answer for greater home comfort and security in the safety of your drinking water. While older homes in Humble are likely to still use galvanized pipes that rust and wear down over time, pipe technology has come a long way in recent years and more permanent solutions are available for families planning for a long future in their current home.
While John Moore can perform horizontal pipe replacement for a temporary fix, a whole-home repipe lets you live free from potable water worries. With our PEX replacement piping, you never need to worry about rusting galvanized piping or busts associated with modern PVC piping. PEX is flexible, low cost, and expands easily to accommodate your water usage.
Concerned about Humble's Water Quality? Rest easy with our Water Softening and Filtration Solutions.
Want better tasting water in your home? Tired of hard water that destroys your laundry, appliances, and fixtures? While these problems seem like simple inconveniences on the surface, poor tasting water could mean chemicals in your water while hard water can destroy pipes, hot water heaters, and tubs. Fortunately, John Moore offers a variety of water quality improvement solutions.
For better drinking water, we offer carbon filtration that removes contaminants and chemicals to create safe, reliable tap water when you need it. We also offer whole home water softeners to eliminate calcium and magnesium, which not only improving the quality of the water in your home but also extends the life of your faucets, pipes, and hot water heater.
Ready for better, cleaner water in your home? Call John Moore today at 713-730-2525 or schedule a visit from us to determine what water quality improvements will work best for your family's needs.
Get Help from a Local Humble Plumber!
Connect with a John Moore Expert Using a Single Click
Click this button so you can:
Schedule a Job | View Memberships | Learn About Financing
Fall Furnace Tune-Up & Inspection
With a No-breakdown Guarantee!*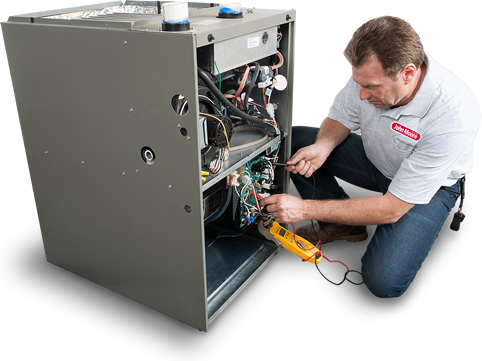 *If your heating system fails within one year of the maintenance, the cost of the $69 tune-up can be applied toward any repairs.
*Mention this special.
Kitchen and mainline stoppages with accessible cleanout. 60-day warranty.
*Mention this special.